by Mike Hays
The story of the Waldron family of Central Nyack is like a northern version of Gone With the Wind. The family's union sympathies were so strong that the week the father died, in October 1861, two brothers enlisted following in the footsteps of two other brothers who had already enlisted in May 1861. One brother stayed home to take care of the farm with the mother and younger sisters. Towt, the youngest, didn't survive, and Carroll returned near death, half-starved from 10 months spent in the notorious Andersonville prison. The large family raised many children in the area. Today the Waldron family is commemorated in Waldron Avenue.
Union Support in Rockland County
Union sympathies were not strong in Rockland County in 1860. Abraham Lincoln lost to Stephen Douglas in the election 2,369 to 1,410. In Orangetown the vote was 2:1 in favor of Douglas. Om May 1, 1861, the 17th Regiment of New York State Volunteers was formed under Captain James H. Demarest. Well-known county names appear among the enlistees, Lydecker, Christie, Blauvelt, Garrabrant, and Mabie. Moses Leonard one of the founders of the Knickerbocker Ice Company was head of the draft board. The quota was 696 men, 258 volunteered and 2,901 were draftable. So, while the county didn't vote for Lincoln, they did support him providing 558 men for service of which 89 died of wounds or illness.
The Waldron Family
John Del La Montagne Waldron was the sixth generation of Waldrons that immigrated from the Netherlands. The Waldrons lived for many generations in Harlem on Manhattan Island. John Waldron caught the "go west young man" fever and headed to Illinois where Carroll was born in 1837. Things "out west" must not have worked out for at some point prior to 1850, the family moved to a Central Nyack farm. John was one of the three trustees of the Nyack School, chairman of the Whig party, and served on the temperance committee.
John D. and Caroline Waldron had seven children over 17 years, the first five were boys, the last two girls. William J. was the oldest, followed by Victor, Carroll, Edgar, Towt, Elisann, and Sarah. They would be some of the first to go to the new Nyack School, later Liberty School.  In 1854, Edgar and Towt planted a large willow tree in the southwest corner of the school yard. The willow survived until a winter storm in 1900. Edgar and Towt also planted a weeping willow west of the village on their farm. The boys put a penny with their initials on one side in a hole in the sapling. In 1874, a hurricane blew the willow tree down crushing an outhouse. When the tree was split up, the penny was found and returned to the Waldron family.
Four Brothers at War
In 1861, the willow planting brothers, Towt (age 20) and Edgar (age 21) enlisted. The older brothers had reasons not to enlist. William (34) had a wife and children, Victor (27) was unfit due to a problem with his neck, and Carroll (24) had just built a new shop. The thinking was the war would last just three months. Towt enlisted as corporal and soon became a sergeant. His father didn't want him to go in any event. When John Waldron died, in October, Carroll and William decided to enlist. They joined up with the 17th Infantry of New York and were sent to Washington DC serving under General Daniel Butterfield and, for a time, under Captain Demarest of Haverstraw who was later killed in action.
The 17th was the first to capture a Confederate battery at Hanover Courthouse during the Peninsula campaign in 1862.  The 17th was heavily involved in the second battle of Bull Run, losing 11 officers and 200 men. On August 30, both Edgar and Towt were wounded. Towt, unable to leave the field of battle because of bullet and shrapnel wounds in his leg, was captured by the victorious Rebels. After an exchange of prisoners, Towt was sent to a hospital in Washington and seemed to be doing well until he died of lockjaw. Edgar escaped the battle with a wound to his wrist.
Carroll Re-enlists
When the 17th was disbanded in 1863, Carroll transferred to the 147th New York Volunteers known for their Zouave-style uniforms with colorful baggy pants and hat. A still existent photo of Carroll in his uniform was restored after the war by Nyack photographer I. M. Van Wagner.  As a skillful wheelwright, Carroll often traveled with the teamsters but went into action with the rest of the troops when needed. In May of 1864 at the Battle of the Wilderness, Carroll was captured and marched south with other prisoners to the notorious Andersonville Prison where he remained until the approach of Sherman's march to the sea. Some 27,000 prisoners were moved, marching to another prison in Florence, SC, where Carrol was able to escape for a few weeks before recapture along the Pee Dee river. He was moved again to near Wilmington NC where he received his parole in late February 1865.
Moved to a Virginia hospital, Carrol was gaunt, feverish, and near death. His mother was summoned with the message, "if you wish to see your son alive, come immediately." She arrived with brother Victor, and Cousin John W. Towt of Nyack along with a salt packed coffin. His condition improved and the family left for home on March 18. It took Carrol six months to recover, and he was plagued by bouts of malaria the rest of his life.
The Family After the War
Towt (1841-1862) was buried in Oak Hill Cemetery in the Civil War veterans section. In his honor, the G.A.R. post was named the Waldron Post No.82.
Edgar (1840-1922) served his two-year enlistment. In 1863, he returned to Central Nyack. He worked as a farmer and was involved in subdividing some of the Waldron family property for new houses near the old Nyack Turnpike toll gate. Edgar married Emma Cross. In the 1880s, they moved to take up raising oranges in Daytona Beach Fl. Edgar died in Florida in 1922.
William (1828-1899) spent much of his 2-year service in the hospital due to an unspecified illness. He went into the grocery business with Caleb Rhodes on Broadway in Nyack. He was more generally known as a farmer in Valley Cottage not far from Central Nyack. He died in 1899 and is buried at Oak Hill Cemetery.
Victor (1835-1913), the brother who stayed home, ran the 30-acre family farm, living at 3 Waldron Ave. Ads show him selling agricultural strawberry seedlings and grapevines, both cash crops in the Nyack area around the time of the Civil War. He is buried at Oak Hill.
Carroll (1837-1922), the best known of the brothers because of the diaries and stories he left behind, married Ina Kilburn in 1866. The shop he left behind when he left in 1861 had closed. He worked as a wheelwright and a sleigh maker in A. L. Christie's carriage factory in Nyack. He was known for his skill in making a sleigh known as the Albany Swell.
Carroll and Ina made an unsuccessful attempt to settle a land grant in Nebraska in 1873, then returned to Central Nyack. He was active in the local veteran's post and the temperance movement. Carrol and Ina raised 11 children. After the death of his wife in 1899, he moved to New Jersey to live with one of his daughters, and then on to Chicago and finally California. He was known to take boy scouts camping in the Los Angeles hills while 70+ years of age. He died at the age of 85 and, as he wished, his ashes were not scattered on southern soil.
A War Without End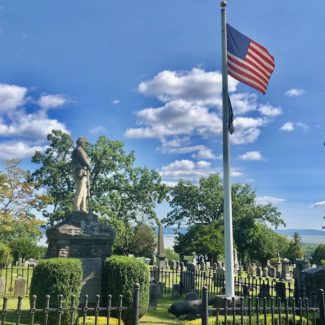 For veterans, the war was never over, even for northerners whose farms and towns were spared the direct effect of war. Local veterans would gather to relive war stories at the Waldron G.A.R. post. Ceremonies were held to remember the war dead on Decoration Day. William was able to settle back into village life. Carroll was plagued with recurring bouts of malaria. Both Carroll and Edgar became restless and migrated south and west. The family paid a high price for the Union, their sacrifices commemorated in the name of Waldron Avenue and Waldron Court.
Source:
"I preferred to take my chances with the boys", the Memoirs of Carrol Scott Waldron, 17th & 146th New York Volunteers, Edited by Edmond Cocks, Military Images, 1993.
Michael Hays is a 35-year resident of the Nyacks. He grew up the son of a professor and nurse in Champaign, Illinois. He has recently retired from a long career in educational publishing with Prentice-Hall and McGraw-Hill. He is an avid cyclist, amateur historian and photographer, gardener, and dog walker. He has enjoyed more years than he cares to count with his beautiful companion, Bernie Richey. You can follow him on Instagram as UpperNyackMike.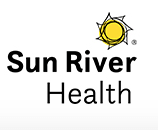 Nyack People & Places, a weekly series that features photos and profiles of citizens and scenes near Nyack, NY, is brought to you by
Sun River Health
, and
Weld Realty
.