by Bill Batson
To celebrate their 125th anniversary, the Piermont Library commissioned an oral history project to add the life stories of residents to their archive.
Piermont Remembers provided online "Oral History Chaperones" to conduct and record 22 interviews.
The collection includes:
Ann Lepori's grandmother, who only spoke Italian, describes crosses being burned across the street from an integrated neighborhood known as the Mine Hole.
Dennis Hardy remembers when Tom Kelly, son of famed Piermont Train Station clerk Belle Kelly, brandished a pearl handled revolver.
Barbara Williams described her job helping workers who could only sign their names with an X learn how to read and write.
Daniel Goswick advocates for Thomas Pomplin, a black Piermont Firefighter who died in 1854 and was never given the recognition he deserved for his bravery.
Tom Chapin sings about the village's beloved and storied local music venue, the turning point
Mayor Bruce Tucker remembers how Sandy taught the village the perils of climate change and rising sea levels.
View a selection of these and other excerpts from the project by clicking here.
Join us from 12pm-2pm on Sunday, September 26 outside the library for a celebration of their 125th birthday! Bring a picnic to enjoy and listen to some live music! Birthday cake will be served and QR codes will allow you to hear many of the oral history interviews,
Zoom Turns Isolation into Connection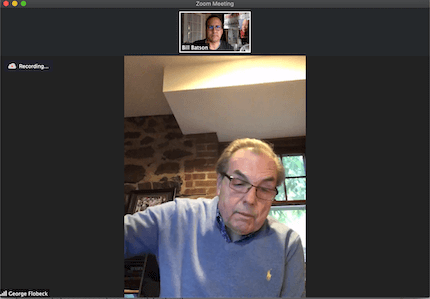 In late 2019, Piermont Library Board member Victoria Hertz asked that I develop a proposal for a community-based oral history project for the Hudson River village. Having organized the Nyack Record Shop Project, an oral history project in Nyack that brought together the cultural, civic, business, and the religious community in 2018 and One Good Story, a biographical film with vignettes of local artists for the Rockland Center for the Arts with David Bell in 2020, I eagerly signed on.
Like everything else in our lives, my discussions with Vickie were derailed by the global pandemic. However, as we all began to adapt to the demands of our extended quarantine, technologies emerged that allowed us to continue to function as a society, while still maintaining the social distance necessary to promote public health. Of those technologies, Zoom presented itself as a perfect platform to collect oral histories. In some ways, for people who have mobility issues or have moved away, Zoom is actually a more accessible oral history collection tool.
"The Library is glad to be kicking off this project to celebrate the 125th anniversary of our library. We have been able to craft a unique project that uses today's technology to capture the stories of yesteryear. Our goal is to capture each and every thread that makes up the weave of our little village." says Piermont Library Director Kristine Palacios
Piermont Historical Society Provides Early Bird Prospects
Piermont Remembers Participants
Bonnie and Tom Chapin
Connie Dillon
Daniel Goswick
George Flobeck
Denis Hardy
Anna Hickey
Helen Koza
Connie Lynch
John McAvoy
TessMcCormick-Raso
Roland Meyer
Audie Moran
PJ Mouquin
Mildred Oslica
Sally Savage
Anne Savoia-Lepori
Mildred Webber
Dana Stilley
Olivia Bullock Thomas
Charlie Samuels
BarbaraWilliams
Oral History Chaperones
Bill Batson
David Bell
Tristan Dunnigan
Lola Esnard
Betsy Franco Feeny
Barbara Schuelen
Kal Toth
Piermont Library
President – Cara Stepanian
Vice President – Judy Epstein
Treasurer – Mitch Eiss
Secretary – Danial Clark
Victoria Hertz
Len Hunt
Victoria Panetis
Kelly Ruby
Ed Stanford
Director Kristine Palacios
Piermont Historical Society volunteers provided a list of 25 Piermonters to kick off the Zoom-based oral history campaign, including Turning Point owner John McAvoy, nonagenarian Millie Weber, and former Piermont Mayor Chris Sander. PHS Board Chair Barbara Scheulen and Board members Betsy Franco Feeney and Lola Esnard are part of the working group that has been advancing the project.
The mission of the PHS is to preserve and protect the integrity of Piermont's architecture, history, and cultural heritage, and to celebrate the history of Piermont. They have been instrumental in creating a historic district in Piermont, preserving the Piermont train station and transforming it into a local history museum and creating documentaries and exhibits that focus on the unique and impactful history of the village, including histories of the paper industry, the railroads and the pier.
"The Piermont Historic Society treasures the memories of the people who are making this project so meaningful. The stories that make up the rich tapestry of Piermont are being told by people who lived, loved, and worked here–some whose families have been here for generations. Working with the library, we will ensure that these vignettes will keep Piermont's history alive for years to come," said Barbara Scheulen of the Piermont Historical Society.
Piermont Remembers Previews
As a person who has been involved in several oral history projects, there is one constant that will never cease to amaze me. Each oral history that you record is more fascinating than the last. There are some eyewitnesses to seminal events who share details that are as captivating as they are compelling. But even in those epic tales, the lines that linger with you are the human scale tragedies and triumphs and often the moments of discovery when the subject remembers the world that they discovered as children. And all of us have those stories.
Here are 2 examples from the oral histories collected so far:
Millie Weber
I was born in the first war. World War I. 1918. We lived in a two family house, there were 10 Children. Two of them were babies. I was one of the babies.
The doctor came to every house. My father was the only one that could take care of people, luckily. The doctor told him to feed them food that was as spicy as they could eat.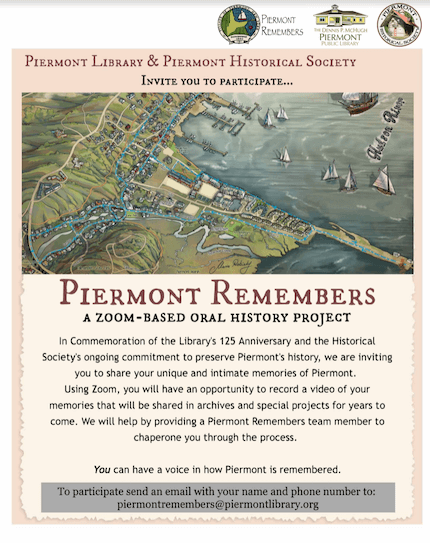 I was a baby, but I remember whenever I'm sick, I always wished I had hot peppers.
Mildred Oslica
It wasn't a regular parade. It was a parade of men dressed in work clothes. I learned later that these men. were the conservation corp. They built the park at Tallman Mountain. They came with shovels and picks and swords and hammers slung over their shoulders. You know, like rifles.
They built Tallman Mountain State park, which became our summer haven because they had two pools.
Families and the public will forever have access to these historical documents so that future generations can explore, in sometimes vivid detail, the lives of their loved ones.
An activist, artist and writer, Bill Batson is a candidate for the 97th District of the New York State Assembly. Nyack Sketch Log: "Nyack Sketch Log: Piermont Remembers" © 2021 Bill Batson. Visit billbatsonarts.com to see more.