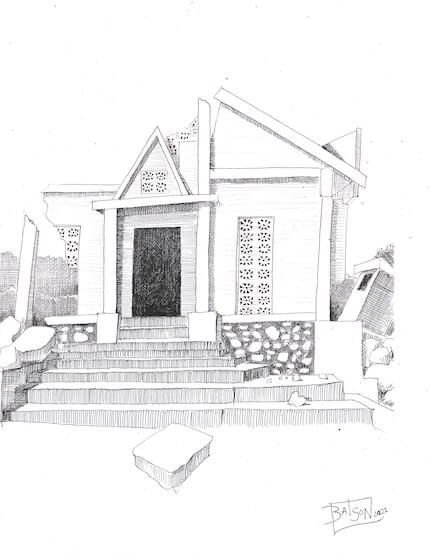 by Bill Batson
Days after the August 14 earthquake devastated their island homeland, I sat with Rev. Dr. Jacqueline Joseph and two of her sons, Pastor Amos Joseph and Dordy in the sanctuary of the Church of God on Burd St. in Nyack. They described how a church and school that the family had built, and a hospital under construction in the southern mountains of Fleurant, Haiti had been reduced to rubble.
No despair or frustration was detectable as we spoke about their plans to rebuild, only the unblinking optimism of a family of faith. The Josephs and their countrymen have drawn for a bottomless well of resilience to recover from the coups, earthquakes and hurricanes that have too frequently troubled the waters of their island nation.
Rockland County Haitian Relief
On Saturday, August 14th, a powerful earthquake shook the Caribbean with a magnitude of 7.2, leaving Haiti in a state of devastation.
At least 1300 people have died and more than 5700 injured.
Towns were destroyed, buildings were reduced to rubble and hospitals are overwhelmed.
Please help in donating any funds you can that will be used to purchase Medical Supplies, and much more.
Click here to contribute.
Rockland County Haitian Relief is organized by Konbit Neg Lakay,
The following Items can be dropped off at the locations below:
Non-Perishable Food
Personal Care Products
Baby & Infant Supplies
First Aid Kits
Blankets
Tents
Air Mattress
Solar Lights
Toiletries
Medical Supplies/Medicines
Feminine Products
Flashlights
Batteries
Extension Cords
Candles
Masks
Gloves
Wash Cloths
Water
Alcohol 95%
Hand Sanitizers
***No clothes or shoes***
Drops-Off Locations
Konbit Neg Lakay
16 E. Church Street
Spring Valley, NY 10977
(9am – 5pm)
Senator Elijah Reichlin-Melnick's Office
20 S. Main Street, Suite 103
New City, NY 10956
(9am – 5pm)
Assemblyman Mike Lawler's Office
1 Blue Hill Plaza, Suite 116
Pearl River, NY 10965
(9am – 5pm)
Assemblyman Ken Zebrowski's Office
67 N. Main Street
New City, NY 10956
(9am – 5pm)
Village of Spring Valley
200 N. Main Street
Spring Valley, NY 10977
(9am – 5pm)
Town of Ramapo
237 Route 59
Suffern, NY 10901
(9:30am – 4:30pm)
Nyack Center
58 Depew Avenue
Nyack, NY 10960
(10am – 4pm)
Titan Fitness Gym
139 Route 9W
Haverstraw, NY 10927
(9am – 7pm)
To Support the people of  Fleurant and to rebuild the church, school and hospital built click here
Or drop relief items @ 86 Burd Street, Nyack, NY 10960 or call (845) 596-1997
Read more to learn about the history of the Haitian Community in Hudson Valley and how you can help provide some relief the those impacted by recent hardships.
When was the church founded?
Our church was founded in 1972. The Haitian Churches of God were born out of Brooklyn. Out of our home. I opened my doors to various other people who would come in. We were a slow migration into the city from Haiti and people needed a place to pray, a place to worship.
We started off as a prayer meeting. Then we left Brooklyn and moved to Spring Valley. We did the same thing in Spring Valley.
Eventually we left Spring Valley and came to Nyack in 1974. We started this church. This used to be a laundromat.
We actually didn't start here. We originally started at the YMCA.
We started our church because we couldn't understand what they were saying in other churches.
So then we opened our doors and said, okay, why don't you come to pray at our house?
But at first we never had in mind to build a church.
What brought your family to the United States?
This is what God wanted. When I was in Haiti, I didn't pray to come to the United States. I was extremely poor, but I was comfortable. I was good. I had my peace. God actually utilized one of my sisters and it was me actually out of the family that came first and with a little bit of time my son came and then my husband came. But my oldest son, he was very small. He was an infant, very, very young.
Was Rockland County the largest Haitian Community outside Haiti at that time?
Yes. But now I believe Brooklyn is probably the biggest.
Why do you think Rockland became a destination for Haitians?
I think Rockland was very easy going. You know, people were very friendly in Rockland. You know, with the racism that was going on at the time, The schools that were segregated and all of that other stuff. It was not like that here in Rockland then.
We made a life for ourselves. Because remember, as Christians, our job is to embrace anybody and everybody and to be respectful to everybody. We found an opportunity to come here and to make another life for ourselves
How did the church grow?
Once we get together, as Haitians, we warm to each other. We're receptive to each other. And so two people who are having struggles get together, and we become strong. Then you want a 3rd and 4th and 5th.
My husband, we would work throughout the day and get home late at night. So I'm saying about 11 at night he would go to people's door, knock on the door if they let them in. Okay. If not, they stood behind the door and they would pray for the person and they would do that until late at night.
So it was like two jobs literally doing God's work and trying to make a life for ourselves.
When you left Haiti, what was it like?
Haiti was such a beautiful place. Well, it doesn't mean that you don't have hunger. It doesn't mean that you don't find it hard sometimes to find water to drink. You don't find it hard to find water to take baths. But it's a country where you feel comfortable, you feel that peace. You feel you don't have a problem. People were very kind and warm. So for example, the neighbor, if they have coffee, they will be, they will give you a call and it will be the same vice versa.
If somebody that passed away, the community, the village will stand with you and support you. They will cry. So they come every day to your home. It's a country I didn't want to ever leave. I feel my heart is in Haiti because but one of the saddest parts, even if I'm okay here, I would love for God to open some doors before I pass for me to go back to Haiti to continue my work.
But the Haitians, once they come here, they're not the same as they were. Everybody is taking care of themselves.
But God has been good. He brought me here to this country because in Haiti at that time, they would not accept me to be pastor, because I am a woman. But over here in the States, God has made me a pastor.
Tell me about the church and school you built in Haiti?
I wanted to build a church. I managed to get property and built a church in Fleurant.
After the church was built, the school was built, we were in the middle of the building of a hospital that was damaged in the last earthquake.
Everything, everything was leveled, All the structures. We were just waiting to reopen after COVID. We were actually completing some construction. We were just ready to reopen and now, everything is leveled.
50 years worth of work and ministry. And all of a sudden it's gone and now, today. Hurricane Grace hit Haiti. People are afraid to go indoors or outside.
So people are actually huddled and dealing with the rain and right now.
How big is the congregation?
Well yeah there were many generations that have worshipped with us. They moved on. Some moved to Florida. Opened up other churches. In Philadelphia. There's about 17 churches that come from this church.
We worship now on  facebook live facebook live.
Tell me more about your late husband Kenol Joseph?
(Pastor Amos Joseph answers) He believed in my mom, he believed in her. He would open his heart and give  to us. He would go the extra mile. When he retired he went to go stay in Haiti.  He actually got sick He was diagnosed with acute leukemia.
We had to come up with cash to fly my dad out of there. We had to put him on a private plane and then get them into the closest hospital possible which is which was in Florida
They tried some chemo work, but it just, it just didn't work.
He passed believing in the work.
What can people do to help Haiti?
Every time we make a call to Haiti, every time we talk to to any, any one of the members of our team, you kind of feel your heart tug because you know, this has gone  from assassination of the president to now having an earthquake to now having a hurricane.
We are putting  together supplies, humanitarian aid just to bring out there and give.  We've been on the phone day and night, you know, day and night, uh, talking about what's going on?
To support the people of  Fleurant and to rebuild the church, school and hospital built click here
Or drop relief items @ 86 Burd Street, Nyack, NY 10960 or call (845) 596-1997 or visit them on Facebook.
Click here to contribute Rockland County Haitian Relief organized by Konbit Neg Lakay.
An activist, artist and writer, Bill Batson lives in Nyack, NY. Nyack Sketch Log: "Hudson Valley Haitian Community Sends Help Home" © 2021 Bill Batson. Visit billbatsonarts.com to see more.