by Bill Batson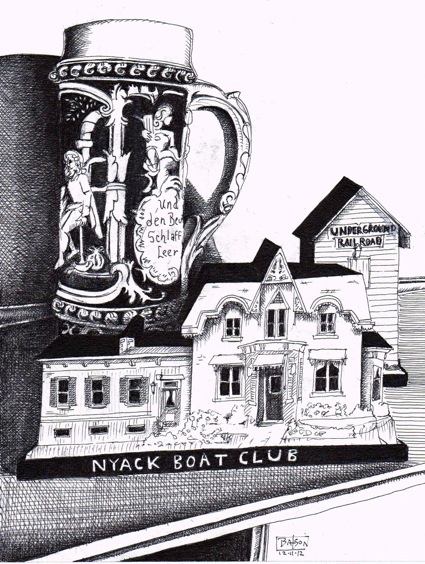 Over the past 30 years, John Rossi has created over 700 woodcut replicas of private homes and public buildings in Rockland County. You may have seen his distinctive miniatures on the back counter of Koblin's Pharmacy in Nyack or at the Brick Museum in Haverstraw.
Trained as a visual artist, Rossi worked in advertising and commuted from Congers to New York for 30 years. His formal degree came from the School of Industrial Art on 79th St. and 3rd Avenue in Manhattan. His love of art-making was inspired by the prolific work of his cousin Joe Certa, a member of the legendary Ghost Army, a World War II American military unit that used visual art to camouflage Allied troop movements and engage the enemy.
The advent of computer technology hastened Rossi's exit from Madison Avenue. Like many artists, retirement was not an occasion to work less, but an opportunity to get a head start on a second career.
The first beneficiary of his new creative direction was local craft merchant Eileen Greis. "I started making wood Santa Clauses and ginger bread houses for Christmas and shadow boxes and book ends for the rest of the year," recalled Rossi. The work for which he has become renown started with a humble tribute of a community based volunteer organization.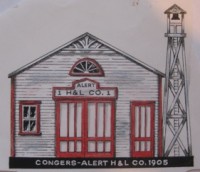 "In 1997, Eileen suggested that we do something for the anniversary of the Congers Fire Department.  She had an old book with a photo of their first fire house and I came up with the idea of creating a woodcut replica," Rossi said. And a genre was born.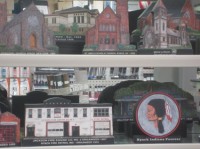 The popularity of that first effort has lead to the production of thousands of replicas. Rossi has created miniatures of 500 structures with some organizations ordering a hundred of a particular model. The display case in Koblin's near the pharmacy department is a veritable museum of Rossi's creations. Some of the buildings that Rossi has enshrined in wood and paint are the Nyack Boat Club, the old Nyack High School, the Underground Rail Road memorial and numerous local firehouses.
In addition to Koblin's, Rossi's work is available at the Tappan Pharmacy, the Gift Cupboard in Suffern, The Photo Shoppe on 9W in Haverstraw, and Dee-Dee's Half Price Card Shop in Nanuet.  The Nyack Library and New City Library have his small sculptures in their collections.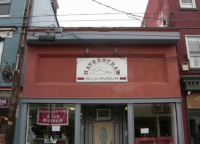 If you would like to see his vision on a grander scale, Rossi has created a miniature of the Haverstraw Brick Yards and the 1906 landslide at the Brick Museum in Haverstraw, where he served on the board. "We do fantastic business with John's work in our gift shop," reported the Brick Museum Board Chair, Pat Gordon, who recently awarded Rossi a plaque for his service as a board member.
Clearly profit has never been the sole fuel that powers Rossi's creative furnace. Each object that Rossi crafts celebrates the history of our communities, and speaks to the importance of historic preservation.
"When I retired in 1992, I saw that everything had changed since we moved to Rockland in 1967.  Developers were taking over the land and demolishing all the old buildings. So I started going around and taking photos of the farm houses and homes before they were taken down." These photos formed the basis for his early replicas.
You can't find a website with a catalog of Rossi's work. He fears that he could not keep up with the demand from internet orders. Or maybe he's ambivalent about the new media instruments that shortened his career in advertising.
But the irony is, if technology had not transformed the advertising industry, putting practitioners of pen and paper, paintbrush and pigment out of work, Rossi would not have opened his home-based wood working studio.
And even if a machine could produce the images and cut the patterns, mass-producing wooden replicas of architectural structures; it took the heart and soul of an artist to recognize that our man-made landscape is something to revere.
Hopefully, John Rossi's reverence for our community will  encourage us to covet the actual buildings that he commemorates as much as we do the folk art objects that he creates.
If you would like to have your home or office transformed into a woodcut miniature, contact John at (845) 268-7670.
You can also see his dioramas at the Brick Museum, located at 12 Main Street in Haverstraw. The museum's gift shop that sells Rossi's sculptures is open on Wed by appointment and Sat and Sun from 1-4p or by calling (845) 947-3505.
An artist and writer, Bill Batson lives in Nyack, NY. Nyack Sketch Log: "The Folk Art of John Rossi" © 2021 Bill Batson. Visit billbatsonarts.com to see more.
The Nyack Sketch Log is sponsored each week by Weld Realty.