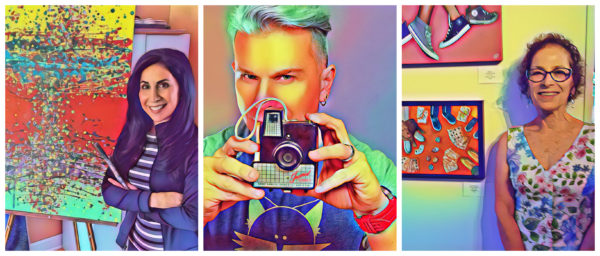 Although friendship may look different because of COVID-19, Lisa, Michael, and Aviva showed up for each other in order to make a difference. "Friendship to me just seems more important than ever before. We are all collectively living through uncharted times and stressful times, and this is when you need your friends the most," said Lisa D'Amico.
We all get by with a little help from our friends. You know the ones–those special people in our lives with whom we share our ups and downs, our trust and loyalty, and, in the creation of the Rockland Arts Festival, a commitment to the arts.
Artists Lisa D'Amico, Michael Craft, and Aviva Sakolsky have been lifelong friends with a shared love of the arts. So, when the coronavirus cancelled the in-person Rockland Arts Festival, they joined forces to ensure that the event would still go on in the safety of a virtual format. "We need the arts and friendship now more than ever. Just like friendship, the arts feed our souls, and enrich our lives," said Aviva Sakolsky. The Rockland Arts Festival is not only a celebration of the outstanding local talent but a show of support and commitment.

The Rockland Arts Festival hopes to bring the quality and diversity of the local arts to the community, along with a full calendar of free, live streaming arts events. "We also hope that this effort will provide much needed support to our exhibiting and performing artists, who are facing many event cancellations due to the COVID-19 crisis," said Michael Craft.
The Rockland Arts Festival will be hosted virtually from April 1 – 30, 2021 at www.RocklandArtsFestival.org with over 100+ visual artists giving viewers the unique opportunity to enjoy works ranging from ceramics to sculpture to watercolor–all from the comfort and safety of their homes. Plus every Sunday and Monday of April at 7p, there will be a live-streaming arts event hosted on the Rockland Arts Festival's Facebook page and available on Zoom. These family friendly events will include live music concerts, ballet performances, gallery tours, independent films, panel discussions and art demonstrations with the festival finale on Thursday, April 29th at 7p. The calendar of online events is on the festival's website and attendance is free to the public.
The Rockland Arts Festival is made possible with funds from the Decentralization Program, a re-grant program of the New York State Council on the Arts with the support of Governor Andrew M. Cuomo, the New York State Legislature, and administered by ArtsWestchester with additional support from PFLAG Rockland.