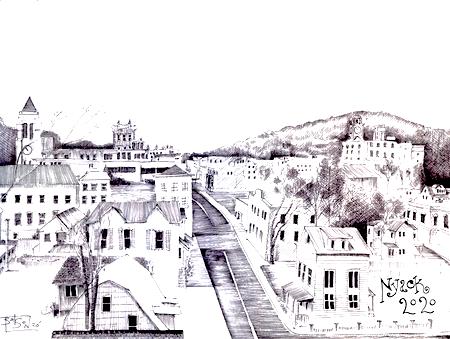 by Bill Batson
Since launching Nyack Sketch Log 9 years ago (on August 23, 2011), never more than now have I been so aware of the responsibility and utility of having a weekly column.
Six months ago, when COVID-19 knocked our world off its axis, this column joined our village-wide response to the pandemic. In March, Nyack Sketch Log announced the creation of the Nyack Mask Makers, an initiative I led with local artist Donna Davies Timm, which grew to 400 strong, making and distributing over 15,000 masks for frontline health care workers and the public. Thanks to everyone who shared that post and donated or volunteered. We showed that the digital medium that entertains, edifies, and, sadly, often misinforms, can also mobilize for good.
Nyack Sketch Log was called into the civic arena again in May when an unarmed African American man was killed by police in Minnesota. It was a murder that made the rally slogan "The whole world is watching" come true. A nation, stuck at home because of the pandemic, saw a life nonchalantly taken by an officer of the law, and we convulsed in rage. In subsequent columns, I examined the 400 year-old origins of systemic racism in America (400 Years of George Floyds) and the cultural workers that fuel and inform local Black Life Matters organizing (Black Lives Matter Culture).
Nyack Sketch Log also weighed in on issues less daunting than systematic racism and a global pandemic, but still seemingly intractable. One column called out Suez Water for being a terrible steward of our drinking water (Watershed Moment for Provocative Suez Proposal). And just last week, this column called on Orange & Rockland to bury our power grid (The Futilities of Above-Ground Utilities). Now, I'm not taking credit for a break-through on the persistent power outage front, but NyackNewsAndViews did report yesterday that O&R will bury the overhead electric lines that run along Lake DeForest causeway between Congers and New City. It's a start.
From my first post to my most recent, Nyack Sketch Log has been sustained by friends, families, and neighbors. Thank you all for allowing me to tell your stories and for listening to mine.
If you have enjoyed my column at any point during the last 9 years, I ask that you support the continuation of the Nyack Sketch Log by buying one of my books or some of NSL gear at the local venues below.
Where to find Nyack Sketch Log books and gear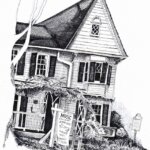 Edward Hopper House Museum and Study Center
82 North Broadway
(845) 358-0774
Books, Mugs, Cards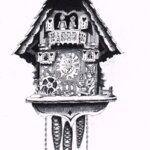 Hickory Dickory Dock
82 N Broadway
(845) 358-0774
Books & Mugs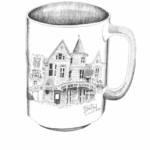 Hudson Market on Main
5 N Broadway
(845) 875-7559
Book, Mugs, Hats, Shirts, Bags, Magnets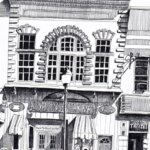 Koblins Pharmacy
96 Main St
(845) 358-0688
Mugs, Cards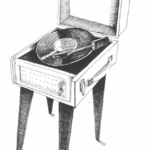 Main Street Beat
95 Main St
(845) 353-5426
Books, Bags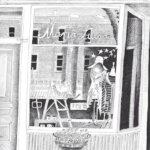 Maria Luisa Boutique
77 S Broadway
Books, Mugs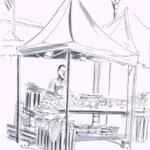 Nyack Farmers Market
Main Street Municipal Parking Lot
Visit me every Thursdays
Book, Mugs, Hats, Shirts, Bags, Magnets
House Portrait Commissions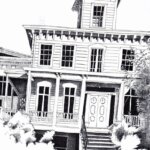 Nyack Historical Society Museum
50 Piermont Ave
Books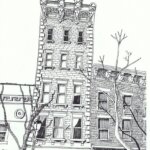 Pickwick Book Shop
8 S Broadway
(845) 358-9126
Books, Card
Donations are also welcome through PayPal via wrbatson@gmail.com.
Thanks again for your continued support and stay tuned for August 23, 2021, when I will hit publish on my 500th post and mark 10 years of storytelling.
Nine Years of Nyack Sketch Log
Liberty Street (8/23/11)
Wet and Wild Rogue Elephants (8/30/11)
The Lights Are Back On.  (9/6/11)
I Remember John Perry (9/11/11)
Jen White For Mayor (9/12/11)
Alien Archeologists (9/20/11)
Straight Lines Ruin Everything (9/27/11)
The Bull of Wall Street (10/4/11)
NSL Vs. Google Maps (10/11/11)
Brinks Robbery (10/18/11)
The Tappan Zee Bridge (10/25/11)
#RipVanWinkle (11/1/11)
A "Dirty Rat" of Route 59 (11/8/11)
To 10960 With Love (11/15/11)
Post Occupied Wall Street (11/22/11)
Soup Lines to Soup Angels (11/ 29/11)
Nyack Center (12/6/11)
Amazing Grace Church (12/13/11)
Pickwick (12/20/11)
Village Hall (12/28/11)
Warts and All: 1884 Map (1/3/12)
Vincent's Ear (1/10/12)
Fellowship of Reconciliation (1/17/12)
Couch Court (1/23/12)
Save our Green House (1/31/12)
Hoppermania (2/7/12)
Pilgrim Baptist Church (2/14/12)
St. Philip's A.M.E. Zion (2/21/12)
Nyack Water (2/28/12)
Nyack Library Part I (3/6/12)
Nyack Library Part II (3/13/12)
Maura's Kitchen (3/20/12)
Nyack's Little Schoolhouse (3/27/12)
The Rotary Clock (4/3/12)
Flash Sketch Mob (4/10/12)
Nyack Village Theatre (4/17/12)
Versus Walgreens (4/24/12)
Wright Bros. Real Estate (5/1/12)
Hacienda (5/8/12)
Underground Railroad (5/15/12)
Pie Lady… & Son (5/22/12)
Streamstudios (5/29/12)
The Office (6/5/12)
Hook Mountain Yacht Club (6/12/12)
Came, Saw, Sketched (6/19/12)
Flash Sketch Mob Finale (6/26/12)
Fire Department (7/3/12)
The Corner Frame Shop (7/10/12)
The Orchards of Concklin (7/17/12)
The YMCA (7/24/12)
Hollingsworth Memorial (7/31/12)
Hopper House (8/ 7/12)
Hopper Happens (8/14/12)
One-Year Anniversary (8/21/12)
Hudson House (8/28/12)
Elmwood Playhouse (9/4/12)
Koblin's Pharmacy (9/11/12)
Rockland Center for the Arts (9/18/12)
Carson McCuller's (9/25/12)
Amazing Grace Circus (10/2/12)
Historical Society of the Nyacks (10/9/12)
Art Café (10/16/12)
William Prime Batson (10/23/12)
1 Poltergeist Place, Nyack NY (10/30/12)
Brave New Normal (11/6/12)
Vets Rock (11/13/12)
Year Round Farmers' Market (11/20/12)
Main Street Revival (11/27/12)
Helen Hayes MacCarthur (12/4/12)
The Folk Art of John Rossi (12/11/12)
Hickory Dickory Dock (12/ 18/12)
25 Days Since Newtown (1/8/13)
Dr. King and Guns (1/15/13)
Health Care Reform (1/22/13)
Last Armoire Standing (1/913)
Int'l Order of Odd Fellows (2/5/13)
Sam Waymon Lived Here (2/12/13)
Kenya on the Hudson (2/19/13)
Anderson and the SS Columbia (2/26/13)
Local History on Map (3/5/13)
Fracking Finds Fresh Foe (3/12/13)
Mayor Jen White (3/19/2013)
Couch Court (3/26/13)
Planning for New Playgrounds (4/2/13)
Towering Treasures (4/9/13)
Postcard From Antarctica (4/16/13)
Frances Pratt and the NAACP (4/22/13)
Oak Hill Cemetery (4/29/13)
Stop on The Trip To Bountiful (5/7/13)
S. Nyack Mayor Tish DuBow (5/14/13)
Art Puts Nyack on the Map (5/21/13)
Community Agriculture (5/28/13)
It's Bike Season, Be Safe (6/4/13)
Strawtown Studio (6/11/13)
Mandela Meditation (6/ 18/13)
Amazing Grace Circus (6/25/13)
Vincent's Ear (7/2/13)
Piermont a la Paris (7/9/13)
Requiem for a Barn & Barge (7/16/13)
NSL Turns 100 (7/23/13)
Two Row Flotilla (7/30/13)
Solomon Northup (8/6/13)
Let Freedom Ring (8/13/13)
Small Business Cultivation (8/20/13)
Volunteer Fire Department (8/2713)
Yoga Reborn Here (9/3/13)
John Perry (9/10/13)
West Gate (9/17/13)
Tappan Zee Playhouse (9/24/13)
Hannemann's (10/1/13)
New York's Next Mayor? (10/8/13)
Nyack Boat Club (10/15/13)
Grace Church (10/22/13)
Hand House (10/29/13)
Sandy Still Stings (11/5/13)
Active Shooter (11/12/13)
First Reformed Church (11/19/13)
Pie Lady and Son (11/23/13)
Support our Nyack Center (12/3/13)
Mandela 1918-2013 (12/7/13)
Indoor Farmer's Market (12/10/13)
Avispa (12/17/13)
Living Christ Church (12/24/13)
Didier Dumas (1/7/14)
Martin Luther King Jr.'s Dreamcatcher (1/14/14)
Vytlacil (1/21/14)
William Prime Batson 1922-2019 (1/28/14)
Teagevity (2/4/14)
GW Bridgegate (2/11/14)
Carson McCullers (2/18/14)
St. Charles AME (2/25/14)
12 Years a Slave (3/3/14)
African American Entrepreneurs (3/4/14)
Green Mountain Energy (3/11/14)
OK Records (3/18/14)
Houses with a Secret (3/25/14)
The Hopper Years (4/2/14)
Mount Moor Cemetery (4/9/14)
Piermont Station (4/14/14)
Palisades Imperiled (4/22/14)
Jazz Age Speakeasy (4/29/14)
Neighborhood Knife Sharpener (5/6/14)
Hillburn Case (5/16/14)
Revolusun (5/20/14)
Gardens of Civic Virtue (5/27/14)
Gay Pride (6/3/14)
Women in the Military (6/10/14)
Liberty School (6/17/14)
O'Donohue's (6/24/14)
Southtown Farms (7/1/14)
Hip Hop Horray (7/10/14)
Farmer's Market Doubles Down (7/15/14)
Nyack Hospital's New Chapter (7/22/14)
Hummingbird Ranch (7/29/14)
Maria Luisa (8/5/14)
DSZ Barbers (8/12/14)
Towt House (8/19/14)
House Haunted by Art (8/26/14)
West Gate (9/2/14)
America's First Yogi (9/9/14)
Amazing Grace Circus (9/11/14)
Gluten Free Goodies (9/16/14)
Congregation Sons of Israel (9/23/14)
Fairy Tale Home (9/30/14)
United Hospice of Rockland (10/7/14)
Nyack on the Map (10/14/14)
Legally Haunted House (10/21/14)
Hitchcock Meets Hopper (10/28/14)
Tools of Many Trades (11/4/14)
Jerry Donnellan (11/11/14)
Toni Morrison Bench by the Road (11/18/14)
Rockland Non-Profits (11/25/14)
Nyack Sketch Log: The Book (12/2/14)
Hickory Dickory Dock (12/9/14)
Squash Blossom (12/16/14)
Guide to Giving (12/23/14)
Sam Waymon Soars (12/30/14)
Warts And All (1/6/15)
Goat Herding Tale (1/13/15)
Sweetpea Market (1/20/15)
Helen Hayes MacArthur (1/27/15)
NAACP President Frances Pratt (2/3/15)
Local History on the Map (2/10/15)
Art Cafe (2/17/15)
Flash Sketch Mob 2015 (2/24/15)
Women of Leadership (3/3/15)
Didier Dumas Redux (3/10/15)
Richard Anderson (3/17/15)
Strawberry Place (3/24/15)
Earth Day Edition (3/31/15)
Lent House Demolished (4/7/15)
Hand House (4/14/15)
School Street Syllabus (4/21/15)
Welcome Toni Morrison (4/28/15)
O'D's Last Call (5/5/15)
Kendell Brenner (5/12/15)
A Bench By the Underground Railroad (5/19/15)
Flash Sketch Mob is Back (5/26/15)
John Green Preservation Coalition (6/2/15)
Art Walk Founder (6/9/15)
Amazing Grace Still Soaring (6/16/15)
Summer Jazz (6/23/15)
Vytlacil Artist Residency (7/7/15)
Boat Builder (7/14/15)
International Order of Odd Fellows (7/21/15)
Neighborhood Knife Sharpener (7/28/15)
Hummingbird Ranch (8/4/15)
Nyack Needs A Skate Park (8/11/15)
Jazz Age Speakeasy (8/18/15)
Nyack Center Turns 25 (8/25/15)
Historical Society of the Nyack (9/8/15)
Piermont Happenings (9/15/15)
Avispa (9/22/15)
Elmwood Playhouse (9/29/15)
Pickwick Book Shop (10/6/15)
Pie Lady and Son (10/13/15)
Waymon Salutes Nina Simone (10/20/15)
Legally Haunted House (10/27/15)
FOR 100 Years Old (11/3/15)
Gallery of Metal and Stone(11/10/15)
House Haunted by Art (11/17/15)
Teagevity (11/24/15)
Orchards of Concklin (12/1/15)
Guide to Giving (12/8/15)
Tappan Zee Bridge (12/15/15)
Nyack Library Part I (12/22/15)
Nyack Library Part II (12/29/15)
Hillburn School (1/5/16)
ROCA (1/12/16)
YMCA (1/19/16)
Strawberry Place (1/26/16)
Hopper House (2/2/16)
Local History Scholar (2/9/16)
Couch Court (2/16/16)
Maura's on the Move (2/23/16)
The Office (3/1/16)
Towt House (3/8/16)
Skate Board Wizards (3/15/16)
Year-Round Farmer's Market (3/29/16)
Green Mountain Energy (4/5/16)
Oak Hill Cemetery (4/12/16)
O'Donoughue's Rides Again (4/19/16)
Congregation Sons of Israel (4/26/16)
Fairy Tale House (5/3/16)
Nyack Village Theatre (5/10/16)
Amazing Grace Circus 5/17/16)
Gay Pride Rockland (5/24/16)
Oratamin Pool Club 5/31/16)
Art Walk (6/7/16)
DSZ Barber (6/14/16)
Piermont Happenings (6/21/16)
Squash Blossom (6/28/16)
Historical Society (7/12/16)
Waymon Makes History (7/19/16)
Jazz Week (7/26/16)
Bell ans (8/2/16)
My Own Little Gallery (8/9/16)
Maria Luisa (8/16/16)
Hollingsworth Memorial (8/23/16)
Siren Song (8/30/16)
John Perry (9/6/16)
Carson McCullers  (9/20/16)
Segregated Cemetery (9/27/16)
Support John Green House (10/4/16)
Yoga Reborn (10/11/16)
Brinks Robbery (10/18/16)
Legally Haunted House (10/25/16)
Organization of Global Impact (11/1/16)
Metal & Stone (11/15/16)
Last Armoires (11/22/16)
Indoor Farmer's Market (11/29/16)
Hip Hopper Hooray (12/13/16)
Hickory Dickory Dock (12/20/16)
Warts & All (1/10/17)
Nyack Library Part I (1/17/17)
Nyack Library Part II (1/24/17)
St. Philip's AME (1/31/17)
Mandela Bio Pic (2/7/17)
St. Charles AME (2/14/17)
Hillburn Case (2/21/17)
Art Walk (2/28/17)
Pickwick (3/7/17)
Celebrate McCullers (3/21/17)
Elmwood Playhouse (3/28/17)
Chamber of Commerce (4/4/17)
Congregation Sons of Israel (4/11/17)
Earth Day (4/18/17)
Pie Lady & Son (4/25/17)
YMCA (5/2/17)
House Tours (5/9/17)
Didier Dumas (5/16/17)
Amazing Grace (5/30/17)
Mostly Myrtles (6/6/17)
Art Council of Rockland (6/20/17)
RoCA (6/27/17)
Avispa (7/11/17)
Kendell Brenner (7/18/17)
School Street Syllabus (7/25/17)
Bell ans Turns 120 (8/1/17)
Karenderya (8/22/17)
Straight Lines Ruin Everything (8/29/17)
Survive the road (9/5/17)
John Perry (9/12/17)
Nyack Park Conservancy (9/19/17)
Folk Art of John Rossi (9/26/17)
Pilgrim Baptist (10/17/17)
Fourth Best FrightFest (10/24/17)
Hartell's (10/31/17)
Shipwrecked Friend (11/7/17)
First Time Author at 88 (11/14/17)
Soup Angels (11/21/17)
Weems Exhibit (12/5/17)
Maria Luisa (12/12/17)
Jen Laird White (12/19/17)
Commemorating Dr. King (1/9/18)
NAACP President (1/16/18)
Owen Thompson (1/23/18)
Spoken History (1/30/18)
Write your truth (2/6/18)
St. Charles AME (2/13/18)
Teagevity (2/20/18)
First Church (2/27/18)
Pie Lady and Son (3/6/18)
Student Walk Out (3/13/18)
Creative Financial Planning (3/20/18)
Jerry Donnellan(3/27/18)
Suicide by Assassination (4/3/18)
Strawtown Studio (4/10/18)
Waymon on a Rock and Roll (4/17/18)
Blue Rock School (4/24/18)
Main Street Beat (5/1/18)
Gardens of Civi Virtue (5/8/18)
Dying to Bloom (5/15/18)
Segregated Cemetery (5/22/18)
Oratamin Pool (5/29/18)
Bell-ans Exhibit (6/5/18)
Piermont Station (6/12/18)
Nyack Ridge (6/19/18)
Enduring Antiques (6/26/18)
Nyack Field Club (7/3/18)
River River (7/10/18)
Hopper's Backyard (7/17/18)
World Needs More Mandelas (7/24/18)
Wizards Still Catching Air (8/7/18)
Hand House (8/14/18)
House Haunted by Art (8/21/18)
Jeff Rubin (8/28/18)
Nyack Record Shop Project (9/4/18)
Fairy Tale House (9/11/18)
Walking Tour (9/18/18)
Meals on Wheels (9/25/18)
Waldorf (10/2/18)
Hannemanns (10/9/180
Nyack Sketch  Log Vol II (10/16/18)
Ed Simons (10/23/18)
Adam's Chocolate (10/30/18)
Grace Thirft Shop (11/6/18)
Strawberry Place (11/13/18)
Giving Thanks (11/20/18)
Amazing grace Circus (11/27/18)
Maureen's Jazz Cellar (12/4/18)
The First Sketch Log (12/11/18)
Casa Del Sol (12/18/18)
YMCA (12/25/18)
Didier Dumas (1/1/19)
IOOF (1/8/19)
Dr. King (1/15/19)
Warts and All, Then and Now (1/22/19)
La Talaye Cafe (1/29/19)
Knowledge Market (2/5/19)
Towt House (2/12/19)
St. Philip's (2/19/19)
Missing Mostly Myrtles (2/26/19)
Mother Daughter Practice (3/5/19)
Couch Court (3/12/19)
Climate Conversation (3/19/19)
Dr. Dulberg (3/26/19)
I Am Shazam (4/2/19)
American History on Fire (4/9/19)
Coplan's Cool Ride (4/16/19)
Phyllis B Frank (4/23/19)
Pat Hickman (4/30/19)
Children's Shakespeare Theatre (5/7/19)
Nyack Boat Club (5/14/19)
Where Eagles Have Landed (5/21/19)
New Economic Engine (5/28/19)
Protecting Our Water (6/4/19)
Triumphant McCourty Twins (6/11/19)
Rotary (6/18/19)
JLP and the Very Bad Ideas (6/25/19)
The Source of Our Water (7/2/19)
Casa Drum Circle (7/9/19)
Hartell's (7/16/19)
Karenderya (7/23/19)
Center for Safety and Change (7/30/19)
American Carnage(8/6/19)
Toni Morrison's Full Measure (8/13/19)
Eight Years of Ink (8/20/19)
Bongo Fries (10/15/19)
Jennifer Attebery's Moving Arts (10/22/14)ctober 22, 2019
Sage's Herbal Apothecary, November 12, 2019
Nyack Sweets, November 19, 2019
The Bruce Lee of Loose Tea, November 26, 2019
Nyack Gift Redux, November 29, 2019
Skypunch Creative, December 3, 2019
Film Explores Toni Morrison's Legacy — Locally and Beyond, December 5, 2019
Squash Blossom, December 10, 2019
Thirsty for Local History?, December 17, 2019
Roaring Into 2020, December 24, 2019
Congregation Sons of Israel, December 31, 2019
Cafe La Talaye, January 7, 2020
Watershed Moment for Provocative Suez Proposal, January 14, 2020
Manufactured Minstrel Mascots, January 21, 2020
Exhibition Shows the Seeds of Modern Art Sowed in Rockland Soil, January 28, 2020
Grandmother's Chair, February 4, 2020
Valentine's Day Finds at the Farmer's Market, February 11, 2020
Pilgrim Baptist Pastor Hairston Retires, February 18, 2020
Bibsy Author Brenda Ross, February 25, 2020
The Rock 'n' Rollers, March 3, 2020
Catnip Nation, March 10, 2020
Special COVID-19 Edition: Wash Them, Do Not Shake Them, March 17, 2020
Nyack Mask Makers, March 24, 2020
Nyack Ridge Rehabilitation and Nursing Center during COVID-19, March 31, 2020
#Masks4All, April 7, 2020
During COVID-19, Restaurant Mumbai Dreams Inspires, April 14, 2020
The Other Pandemic, Domestic Violence, April 21, 2020
United Hospice, April 28, 2020
Michael Rogozik, May 5, 2020
8 North Broadway, May 12, 2020
Mario the Maker Magician, May 19, 2020
Pandemic Pivot, from Barrister to Baker, May 26, 2020
400 Years of George Floyds, June 2, 2020
Class of 2020 Reflects, June 9, 2020
Harrington Press, June 16, 2020
Black Lives Matter Culture, June 23, 2020
New Memoir Brings Historic Jazz Club Back to Life, June 30, 2020
Indomitable Empire Hook & Ladder Company Number 1, July 7, 2020
Douglass Statue Casualty in Cold Civil War?, July 14, 2020
John Lewis 1940 – 2020 Resting in Peace and Power, July 21, 2020
Where is Hezekiah Easter Park?, July 28, 2020
Calibrating Toni Morrison's Full Measure, August 4, 2020
The Futilities of Above-Ground Utilities, August 11, 2020
Bill Batson is an artist and writer who lives and sketches in Nyack, NY. Nyack Sketch Log: "Nine Years of Nyack Sketch Log" © 2020 Bill Batson. To see more, visit billbatsonarts.com