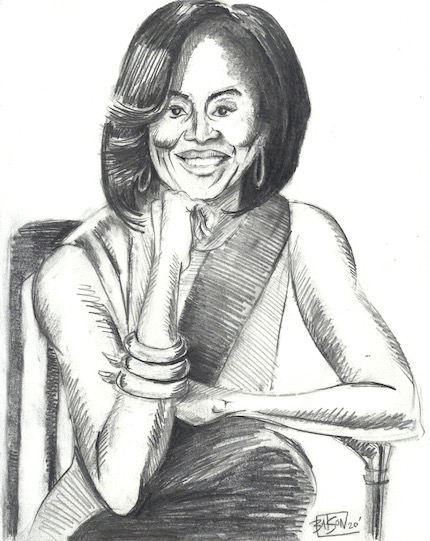 by Bill Batson
Leaving speculation to the pundits, and odds making to the bookies, let's just dream, for a moment, that Joe Biden selected Michelle Obama as his running mate.
If Martin Luther King would have been able to elaborate further on what he saw from the mountain top before his death, he may have seen an America with Michelle Obama living for 16 or more years in the White House as First Lady, Vice President and, ultimately, President of the United States of America.
Before you shrug this off as a fevered dream, here are my arguments for why I believe a Biden/Obama ticket would secure the White House and a golden age.
Popularity Contest Winner
As America's first African American First Lady, Michelle Obama is enormously popular. According to the Gallup polling organization, she was the most admired woman in America in 2018, and 2019.  With the significant role that suburban and African American women will play in this election, Michelle would be the ultimate closer for the Democrats for this important group of voters.
Unbeatable Alternate Programming
Our reality-TV-host in-chief operates the presidency like a TV show. Michelle Obama's entry would be the television event of the this and last century, winning the rating war from day one. Wall-to-wall, round the clock TV, cable and internet coverage would swamp even the biggest media event that the 45th President could muster.
Reverse Obama Test
For eight years, people of color marveled at how Joe Biden held the coat for a black man, in a manner that was always dignified and deferential. I believe that Biden has the temperament to be the top of a ticket with a strong female running mate. Joe seems secure enough to share the stage with another rock star.
Best Cleanup Hitter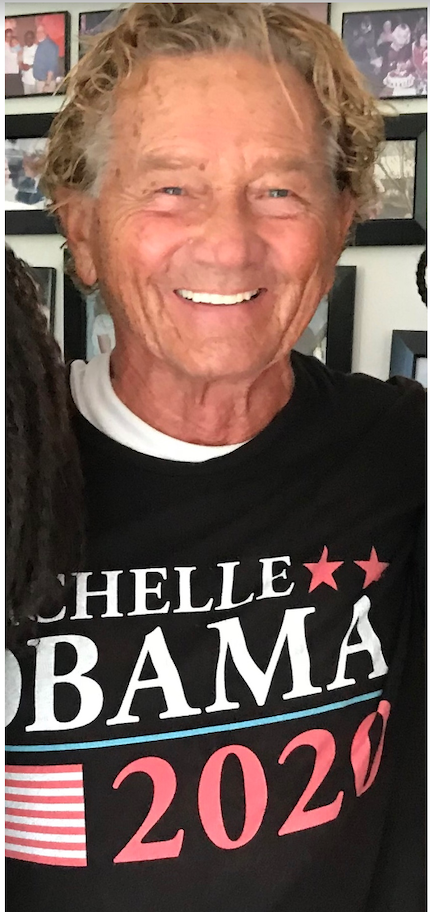 Whoever Biden selects as his Vice President will have a leg up for the nomination for President when his term of office comes to an end. This is how FLOTUS goes from VEEP to POTUS!
Obama Factor Squared
Who could match the wattage of Amtrak Joe and Dr. Jill Biden and Michelle and Barack Obama on the campaign trail. Each member of this foursome could anchor an enormous rally, if gatherings of that scale are still held in post-COVID-19 America. As singles, doubles or a foursome, the democratic side would be hard to beat.
Phenomenal Bona Fides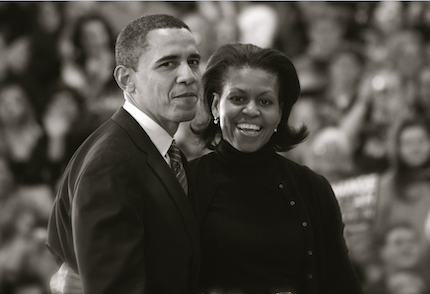 Even if you subtract her two terms as First Lady, Michelle Obama has the resume to stand for a Senate seat or for the White House. With degrees from Princeton University and the Harvard School of Law, she practiced corporate law and held senior positions at the University of Chicago and the University of Chicago Medical Center.
In the White House, she focused the power of her office on education, nutrition and poverty and exhibited her expertise in a wide range of public policy issues. On the campaign trail, she proved to be able to go toe-to-toe with all comers, while wearing outfits that made her a global fashion icon.
With Biden's extensive experience in crafting and passing important legislation, he'd have a true partner in shaping and communicating policy.
Acclamation not Ambition
If you're still not sold, you're probably thinking, Michelle has said no whenever the topic of her candidacy for public office has been raised. I argue that her disinterest is a powerful credential. It is time to give a consequential public office to someone drafted by their party. Her ascension would be achieved reluctantly by popular acclamation, not greedily through personal ambition.
The Democratic primary started with the most diverse field in the history of American politics.
The two remaining contenders are white men in their late 70s, who will face a white man in his 70s.
Michelle Obama would add the vitality and virtue required to steer the United States of America away from the precipice we are hurtling toward.
There is only one persona in the country large enough to guarantee a victory in November, becoming in the process, the most famous and formidable Vice President in American history.
In my American dream, Joe Biden picks Michelle Obama for Vice President, who accepts, becoming a catalyst for a victory for her ticket and for unity and progress.
My vision-quest column on a Biden/Obama ticket was inspired by two of my political mentors, Jerry Dunfey and Nadine Hack. Jerry is a co-founder of Omni Hotels and founding president Global Citizens Circle . Nadine Hack is CEO of  beCause Global Consulting  and on the Responsible CEO of  the Year shortlist. Their two life times of experience include Nadine's stint as Commissioner for the United Nations, Consular Corps and International Business for NYC Mayor David Dinkins and Jerry's decades long support of the Southern African Liberation Struggle and Northern Ireland's peace process.
An artist and writer, Bill Batson lives in Nyack, NY. Nyack Sketch Log: "An American Dream: Joe Picks Michelle for Vice-President"  © 2020Bill Batson. Visit billbatsonarts.com to see more.
The Nyack Sketch Log is sponsored each week by Weld Realty.