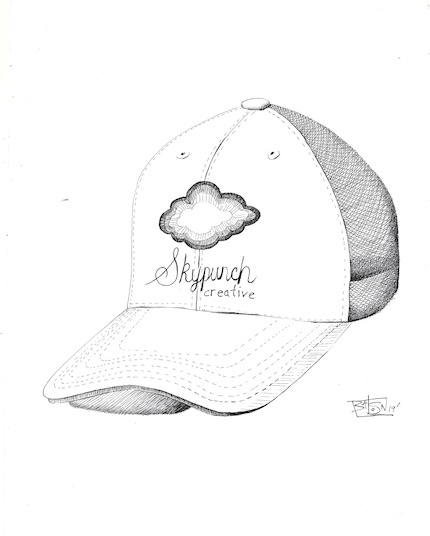 by Bill Batson
Smitten with Nyack after several forays to meet a client, Brooklyn-based Skypunch Creative opened a satellite office on South Broadway in 2017.  Since then, the branded merchandise company, with an affinity for projects related to the  environment, has brought their expertise to several local small businesses. Meet founder Joshua Wolfe, who is about to answer the question, what is a skypunch?
What is a Skypunch?
When an airplane flies through some clouds, ice crystals on their wings can trigger supercooled water droplets to freeze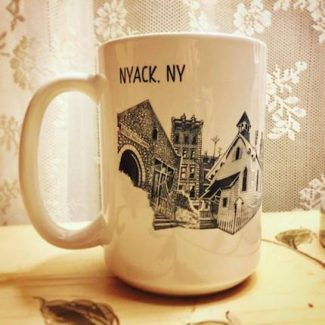 and fall, creating a skypunch. As someone who works at the intersection of environmental issues and the creation of corporate branded merchandise, it represents how our actions can leave a mark on the environment. It's a reminder that we should be thoughtful about how we make things.
How did you start making promotional material?
It was really by chance. We started as a design and creative firm. As we started taking on more and more complicated production projects, clients started to ask if we could handle all the things that involved printing (pens, apparel, bottles, welcome kits, those sorts of things) and we found what we were really great at was creating products and managing the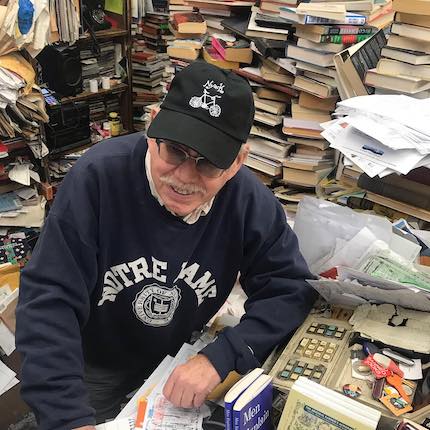 production/fulfillment aspects of creative projects.
It's why we love working with artists like Bill Batson. He has wonderful sketches of Nyack and we can navigate the design/production process to create compelling products from them. So while our background is design, we found through years of client work, we really excel at designing for physical objects and delivering them to clients.
About seven years ago, we decided to stop offering contract design services and focus on promotional products and branded merchandise full time. It's the best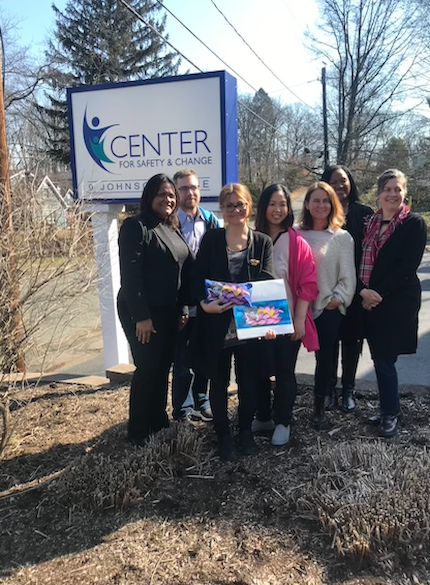 decision we've made as a company. Now we only help companies with the things we are the best at.
What are some of your more interesting clients and projects?
We've been really grateful to have a range of clients from solo-entrepreneurs to Fortune 500 companies. One of our recent favorites was a beauty and wellness kit we created with three Rockland based businesses: Lucky Chick Cosmetics, Soap and Paper Factory and Mata USA. The proceeds from the kits went to the Center for Safety & Change.
Our contribution was working with Nyack based artist Marisol Diaz to design a bag for the items. She created a really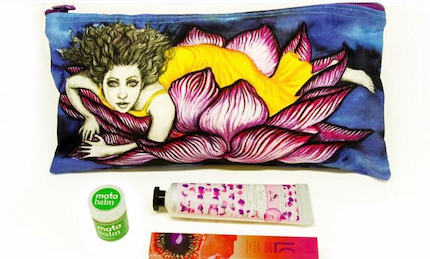 powerful painting and we had it printed and sewn into custom bags.
What brought Skypunch to Nyack?
We were doing a lot of work at the Lamont Doherty Earth Observatory and the scientists there introduced us to Nyack. We stayed because its a wonderful place to run a business.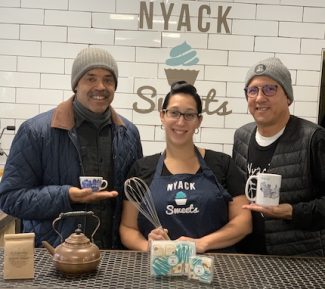 Three Nyack artisans, Bill Batson, Lisa Chang and Preston Powell, brought together by Joshua Wolfe of Skypunch Creative, have created two more Nyack gift sets.
The Rockland County gift set consists of a NEW Nyack Sketch Log inspired a 15 oz mug by Batson, 1.5 oz bag of loose Organic Assam tea from Powell's Teagevity and two mini chocolate covered Oreos and two pieces of almond orange nougat by Chang's Nyack Sweets. ($35)
The deluxe set includes a Rockland County mug AND the classic Nyack mug, Assam tea AND a steep and two full size chocolate covered Oreos and 4 pieces of nougat. ($50)
Supplies are limited. Order TODAY at Nyackgift.com.
Photo at Hartell's by Raymond Wright.
I understand we both went to Pratt Institute. What did you study?
I was a photography major, but never graduated. I later got a degree in History from Hunter College. Aaron, our senior designer/illustrator, studied 2D animation…he actually graduated.
Tell us about your time documenting the environment..-and reggaeton artists?
I did have an eclectic career before Skypunch. In my early twenties, I was a photographer. I'm probably best known for my work on climate change. I co-authored Climate Change: Picturing the Science (W.W. Norton and Company, 2006) with Gavin Schmidt, the director of the NASA Goddard Institute for Space Studies. Lots of traveling to glaciers, forest fires, floods, melting permafrost, etc.
When I wasn't traveling to seek out the visible effects of climate change, I worked as an editorial photographer in NYC. One of my regular clients was a magazine that covered Latin music. I got to photograph a lot of artists when they were passing through NYC. Not just reggaeton, although that was just on the verge of becoming really popular, so those artists were more open to photoshoots with a smaller magazine than they would be now.
Tell me about the environmental non profit you started?
I started the Climate Science Legal Defense Fund with Scott Mandia, a professor at SUNY Suffolk and Charles Zeller, a retired tech executive in 2011. It started because friends of ours in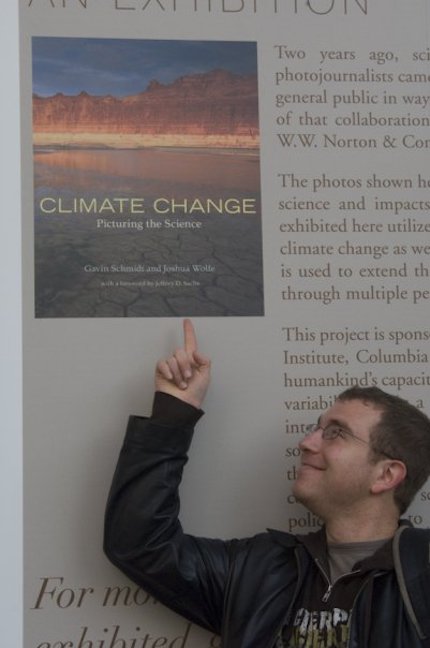 the climate science had growing legal bills from being attacked by well funded climate denial non-profits. We raised the money to help cover the costs of a case in Virginia. When we won that case, the three of us sat down and decided that we couldn't keep doing this in our kitchen and raised the funds to create a non-profit with a professional staff. There are now three lawyers, whose sole job is to provide legal assistance to climate scientists. We didn't build the organization with the Trump adminstration in mind, but are really glad we did all the work beforehand.
What can we do in our individual lives to fight climate change?
he biggest thing an individual can do is support policy changes on the local, state, national  and international level. The challenge is global in scale and we need to tackle it together. On an individual level, we can reduce our own carbon footprint. In addition, I think this is one of our greatest areas of potential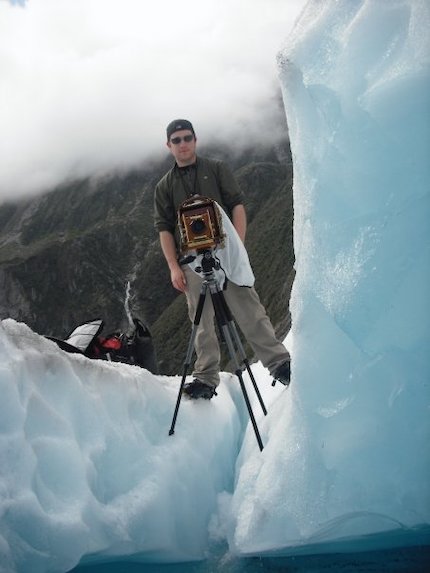 impact beyond advocacy is voting with our wallets. As consumers we have the ability to push for changes in the marketplace. When I started in the field almost twenty years ago, the idea that residential solar installation would be affordable was a fantasy. Now it is cost effective. That came about by a combination of individual purchases, government policy and commercial investment. Being the early adopter matters.
How did nyackgift get started?
Bill and I were talking about how to make a project that promoted Nyack businesses and I really wanted to turn Bill's drawings into a landscape. I'm not sure Bill really knew what he was getting into,  but he was nice enough to send me the scans and Aaron crafted a landscape that became the Nyack mug.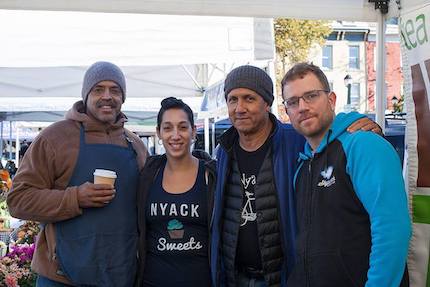 From there, Bill asked Preston Powell of Teagevity and I reached out to Lisa Chang of Nyack Sweets to be part of the project. Together we made kits that we pre-sold. It was really an experiment. Would the local community be interested? I think we were all really excited to see how much people liked the kits. And now are able to do it for a second year. A side note, we're also really grateful that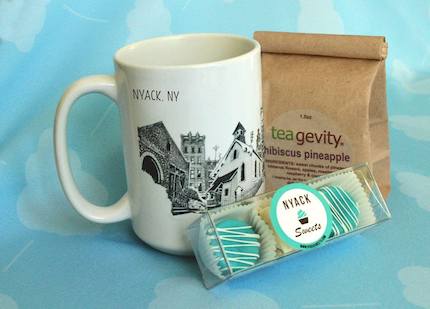 people were willing to pre-order. Having the orders in hand before we created the kits, removed the financial risks to the businesses and made it much easier for us to collaborate together.
What's next for Skypunch?
We're investing more and more in recycled and upcycled products. Going back to my answer about how individuals can fight climate, we want to encourage our business clients to use their promotional marketing dollars to encourage the development of the recycling and upcycling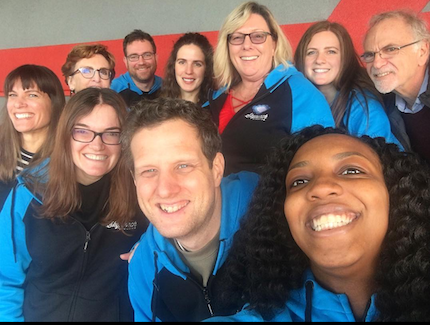 industries. Both are going through big changes right now and its a time where our purchases can have a big impact.
Although a lot of the company's story is tied to my eclectic career, we have eight employees on our team split between offices in Nyack and Brooklyn.
They are absolutely wonderful to work with and none of the things we make would be possible without the talent and deep set of skills they bring to the company.
Read more:
Nyack Sketch Log: Nyack Sweets
Nyack Sketch Log: Bruce Lee of Loose Tea
Nyack People & Places: Bill Batson, Artist & Columnist
An activist, artist and writer, Bill Batson lives in Nyack, NY. Nyack Sketch Log: "Skypunch Creative" © 2018 Bill Batson. Visit billbatsonarts.com to see more.