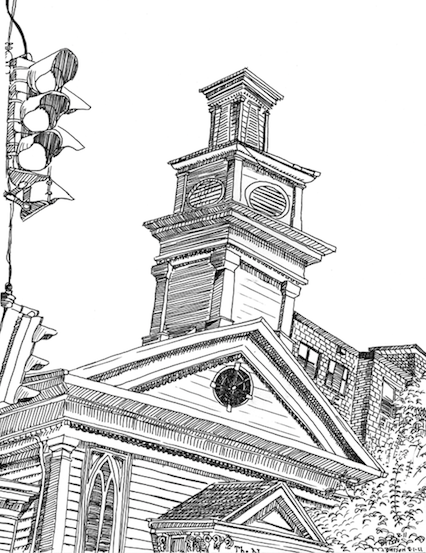 by Bill Batson
On November 2, 2019, Nyack Center honored Steve Canal and Tracie McLee at their annual Legacy Gala. The Earth, Wind and Fire inspired "Shinning Star" theme was reflected in the decor and music, personified in the honorees. Canal and McLee thanked Nyack for embracing them as young people, launching careers that encompass brand architecture and motivational speaking for Canal and fundraising and public relations for McLee. In the prime of their professional lives, Canal and McLee are already leaders in philanthropy. Read more to learn how your end-of-year gift to the Nyack Center can leverage a generous matching grant and more about upcoming events at this organization that is so aptly named.
Nyack Center operates from the oldest surviving house of worship in our village, the First Presbyterian Church. The original sandstone building that stood on this spot was erected on land deeded by Peter Depew in 1816. It was torn down and replaced by today's familiar wooden edifice in 1839.
There is a life force emanating from the building that stands at Broadway and Depew Avenue: an aura from almost 200 years of uninterrupted community activity. If it were not for an enlightened congregation and a dynamic woman, this building would have been demolished in 1990.
Year-End Matching Grant
Funds up to $11,000 that are raised before the end of the year will be matched by a generous donor.
98% of the children the Nyack Center serves are below the Federal Income Guidelines for Poverty: $25,750 for a family of four.
Here is what your contribution could support:
$10,000 will pay for 20 children to be in Breakfast Club for 6 months
$5,000 will cover the cost of 4 Camp Nyack Children to enjoy camp without any hassles or stress for an entire summer
$2,500 will provide food for 3 months for students who use our services on a daily basis
$1,000 will enroll one child in After School Program for 1 year
$500 will enroll one child in Breakfast Club for 6 months
$250 will provide help 1 teen participate in our Teen Council
$100 will provide one Middle School Youth computer access in Computer Time Teen Drop In
Upcoming Events at Nyack Center:
Made by Hand
Nov. 30 10a – 4p
58 Depew Avenue
Corner of Broadway and Depew
Over 40 artisans sell their handmade crafts.
No entry fee at the door.
Handmade crafts, music and food are a delight to holiday shoppers.
Music and Readings in a Holiday Spirit
Dec. 8, 7p
This beloved annual event puts the spotlight on local talent (often national celebrities) for the benefit of Nyack Center's community and youth programs.
Bring family and friends and share the joy of the holiday season with neighbors performing for neighbors.
To contribute, contact the Nyack Center at Nyackcenter.org or you can send a check to the Nyack Center, PO Box 764, Nyack, NY 10960
Jane Sherman knew that a dwindling number of congregants could no longer sustain the church. As a Presbyterian elder and the head of Nyack's Park and Recreation Committee, Sherman was also acutely aware of the need for space for young people in the community. Finding herself at the intersection of need and opportunity, Sherman was able to convince the Presbytery of New York to confer the church property to a non-profit for $1.
A less principled religious body would have been happy to sell this prime parcel to a real estate developer. Instead, they embraced the piety of allowing the not-for-profit function of this property to endure.
In response to Sherman's bold gesture, the community stepped forward to help secure this legacy by donating funds and volunteering labor: people like Jo and Peter Baer, who made substantial contributions to help transform a 19th century church into a 21st century community center.
The task of continuing the epic tradition of good works at the site now falls on the skilled shoulders of Kim Cross, Executive Director of the Nyack Center. Here are just some of the programs that Cross and her Assistant Director Nicole Hines oversee:
A Breakfast Club that ensures that 44 children get a healthy start each day.
An after school program that provides 87 children with a safe place for instruction and recreation.
Late Night Friday Events for Teens, a collaboration between the Nyack Center Teen Council and Our Community Against Drug Abuse (OCADA)
A computer time program gives internet access to 40 young people.
The entire community is a stakeholder in the future of Nyack Center. The building houses celebrated art programs like Rivertown Films. Important civic institutions, including the NAACP and Gay Pride of Rockland use the facility for meetings and special events.
There is no other venue that has both the capacity and the mandate to open its doors to every segment of the community, sometimes at a moments notice. Every community should have at its core, an organization that operates a facility like the Nyack Center.
An activist, artist and writer, Bill Batson lives in Nyack, NY. Nyack Sketch Log: "Nyack Sketch Log: Nyack Center Is Aptly Named" © 2019 Bill Batson. Visit billbatsonarts.com to see more.