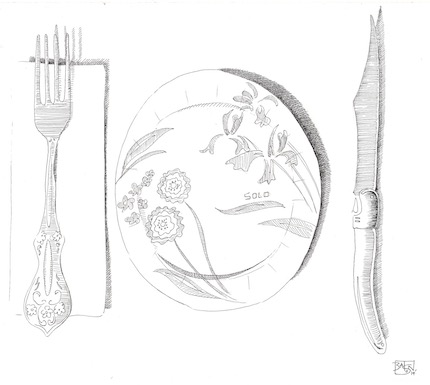 by Bill Batson
When non-profits faced across the board reductions in funding in 2014, a group of women came together to break and raise some bread. Women Dine For a Cause have held almost 30 fundraising gatherings in the last five years. Their no-frills affairs are in stark contrast to traditional fundraising, where organizations must spend big bucks to raise bigger bucks. With Women Dine for a Cause, you go to a private home, bring a dish and a check, made out to a charity, and the community group receives the nourishment.
Nyack Sketch Log met with one of the founding members, Paula Davis, to learn more about their low-overhead, high-impact community-based fundraising paradigm.
How did women dine for a cause start dining?
We got started five years ago when the Rockland County decreased funding for all non-profits.
A few women got together to brainstorm how we could help. The founders were myself, Emily Dominguez, Liz Kallen, Donna Schmidt, Rochelle Spooner, and Enid Weishaus.
Where and when was the first gathering?
It was at my house. At first, we didn't know what we were doing. We didn't take into account what happens if it rains, what do we do with the extra food, how many people will come. It was all a mystery, but it was spectacular because over 100 women came. Marla Pasquale sang and she was fabulous and Caroyln Fish spoke for Center for Safety & Change. And most importantly, we raised money to support the Center's work.
How many dinners have you held?
We've had almost 30 dinners, that average about 80 women at each and we've raised over $80,000 for Rockland County non-profits
What happens at a dinner?
Each guest brings a dish to share. These are great opportunities for people to network or reconnect with people you haven't see for awhile. We have delicious fun…for a cause!
What are some of the memorable moments over the last five years?
I think the most memorable moment was when we recognized United Hospice of Rockland. So many attendees had cause to use in their services in their personal lives. There were so many heartfelt testimonials.
It was amazing when Meals on Wheels showed up with a truckload of food. They are so super generous.
And when Tom Chapin performed with Michael Marks. It was such a crowd pleaser. They were just so friendly and stayed and had dinner and spoke to everyone.
It's overwhelming to me the generosity in this county
So many women open their homes to us. We've seen the goodness of people, which is so important at a time like this, locally and nationally.
Do any men dine?
No. They park cars, and carry in food if we need help.
They get nice shirts to wear that say "schlepper."
How did your experience in education inform your work?
I worked with special needs children, so I've always known that people, all people, need some extra help.
What other philanthropic efforts are you involved in?
My husband Steven Abel has been involved with Center for Safety and Change for over 35 years. I always tried to help out.
Would you like to see Women Dine happen in other communities?
I welcome anybody's efforts to contribute to our county's non-profits.
What's next for Women Dine for A Cause?
This is the 40th anniversary of the Center for Safety & Change and the 5th anniversary of Women Who Dine for a Cause. They will be our cause when we dine next on September 25th. It's going to be at a wonderful location and the Old No.7 Band will perform. It is a full circle occasion, as we celebrate our fifth anniversary with the first group that we supported.
In November, will be dining for Helping Hands, who are really in need of support. They have a tremendous breakfast program in the county.
What would a woman do if they wanted to dine with you for a cause?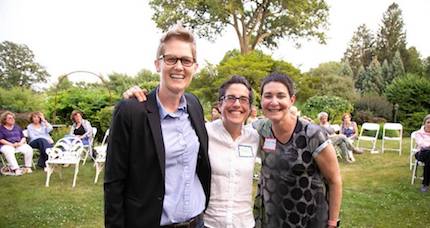 They would register at www.womendine.net, bring a dish…and a check (in whatever amount they can contribute
And the future?
Going forward, we are fortunate enough to have young women joining our committees. I think they will take the mantle.
Special thanks to George Pejoves for the wonderful pictures over the years.
An activist, artist and writer, Bill Batson lives in Nyack, NY. Nyack Sketch Log: "Women Dine, For a Cause"© 2019 Bill Batson. Visit billbatsonarts.com to see more.