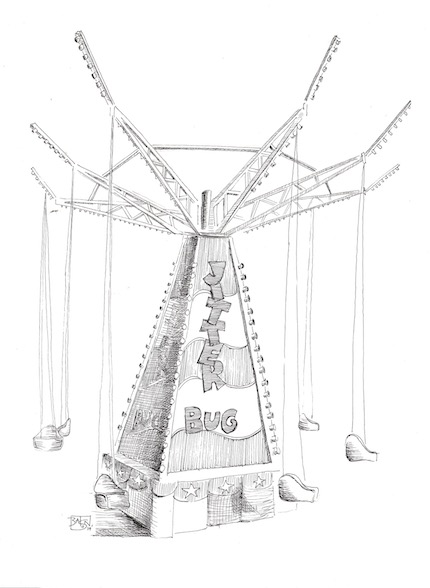 by Bill Batson
Each September for the last three years, The Great Nyack Get-Together has made the Village of Nyack feel more like a village. According to organizers, the event allows us to cherish the diversity of our community by finding significant, accessible and fun ways to "get-together." It's a free block party for every block of our one-square-mile village, held in our beautiful river-front municipal park.
Nyack Sketch Log spoke with one of the founders of the Great Nyack Get-Together, Nyack Center Executive Director Kim Cross to learn more about this new hometown tradition.
How did the first Great Nyack Get Together come about?
Four years ago, Melody Partrick and I were at a gathering of Rockland Rowing Association. There were several board members there talking about their community's community day. We both got excited about the idea of doing a community day in Nyack. We are so grateful to be in our third year working with The Village of Nyack , Nyack Parks Conservancy, Nyack Center and so many nonprofits and sponsors for making the day such a success.
We have street fairs and parades, why a Get Together?
The Get Together is a celebration of all that is Nyack. It is free. The rides and activities are free as well as free live music. This year we have a Jitterbug Swing. This allows all of Nyack and surrounding areas to come together despite economic circumstance.
Who are some of the founders?
Melody Partrick and myself but, early Steering Committee members were Ken Sharp, Donna Timm, Renae Leeming and Susan Wilmink. Now Lisa Sharp, Bob Timm, Shakira Chin, Thomas Schneck have joined our team!
What's human foosball?
Local restaurants and bars participate in a tournament to see who the Human Foosball Champion is. Art Café has won the trophy for the last 2 years we are excited to see who will be this year's winner.
What role do non-profits play?
A significant component of the event is over 55 nonprofits participate. They provide fun free activities while sharing their services to the community.
What are some of your favorite activities non-profits have introduced in the past?
Keep Rockland Beautiful did fabulous Hudson River Fish Prints and the Pride Center has done Drag Queen Story Hour. Both groups will be doing the same this year. Nyack Schools, Nyack Basics, The Nyack Teachers Union and Nyack Rotary all do literacy based activities and give out free books.
Who are this year's non-profit participants? Over 55 nonprofits will be participating.
Any cool activities in store for this year? Yes loads. 2 stages of live music, a Jitterbug swing ride, Human Foosball, a dunk tank, an interactive art project with Peter Cheney, A Bouncy House, inflatable twister, Fireboat David L Jahnes 10 Marine and firetruck experience, and an inflated Human Brain activity.
How are things at the Nyack Center?
Things are great. Our School Age Programs-Breakfast Club and After School Programs began last week. We are full with 150 school age children registered. We have been overwhelmed by the generosity of our community. Community members, Local Businesses, Christine Cordey Solan, St. Phillips AME Zion, Nyack Rotary and People to People have been donating school supplies and backpacks to ensure our children have what they need to succeed in school.
Will the monsters be holding a mash after this year's 32nd annual Nyack Chamber Halloween Parade?
Our Monster Mash takes place directly following Nyack's Famous Halloween Parade on October 26.
Who are the sponsors of The Great Nyack Get Together?
We are honored to have the support of the Nyack Park's Conservancy, Village of Nyack, Nyack Center, Christopher St. Financial GMG Public Relations Inc., Better Homes and Gardens Rand Realty, Two Rivers Acupuncture & Wellness, Ameriprise Financial Munn & Associates, People to People, Inserra Supermarkets, Eyevolution Optique, Nyack Art & Soul the Hudson.
I heard that they're an exciting theme for this year's gala and some extraordinary honorees?
Yes!  On Nov. 2 Earth Wind and Fire will our theme for 2 forces of nature Steve Canal and Tracie McLee. Both Steve and Tracie have been incredible supporters of Nyack Center and our programs. Tickets are $150 and includes after party. Sponsorships, ads and tickets are available at www.nyackcenter.org
How can the public make the Great Nyack Get together greater?
Just come and share the joy of being in community in our amazing Memorial Park on the Hudson River. Celebrating our special community together is what it is all about.
For more information visit greatnyackgettogether.com
The Great Together Get-Together provides a special way to celebrate Nyack.
An activist, artist and writer, Bill Batson lives in Nyack, NY. Nyack Sketch Log: "The Great Nyack Get-Together"© 2019 Bill Batson. Visit billbatsonarts.com to see more.