by Mike Hays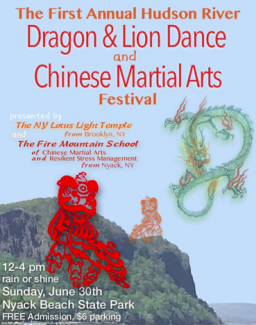 The clashing of cymbals, the pounding of drums, and the rapid movement of lions and dragons will fill the plateau of Nyack Beach State Park on the afternoon of June 30. The First Annual Hudson River Dragon & Lion Dance and Chinese Martial Arts Festival will be hosted by the Fire Mountain School of Nyack and sponsored by the New York Lotus Light Association of Brooklyn. Members of a number of regional martial arts studios will perform lion and dragon dances along with Chinese martial arts routines for public viewing.
The Plateau at Nyack Beach State Park
The plateau, a serene location within Hook Mountain, is reached by car or by foot via the Zigzag Trail, which works up from the Hudson River. The flat expanse features open and shady spots, and dramatic views of the Palisades reaching up the Hook's western side.
It's difficult to imagine now, but the plateau is man-made. Over 100 years ago it was the site of a quarry that was slowly eating up Hook Mountain. The cliffs are formed of very hard rock and when crushed into small stones or trap rock, they make perfect building materials–perfect for roads and buildings in the fast-growing New York City of 1900. A number of companies worked the cliffs from Haverstraw to Englewood, but the quarry at Upper Nyack and Rockland Lake landing were among the largest operations. Dynamite was used to blast away the face of the cliff. Rock was crushed and transported via barges loaded at a long dock.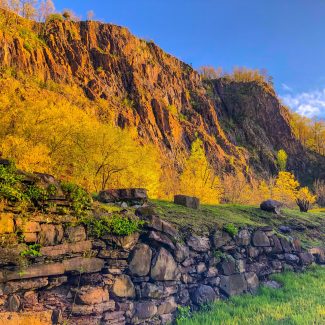 On the plateau, dynamited rock was loaded onto to tram cars and taken to a concrete crusher that was powered by engines located below in what was converted into a bathhouse by the WPA in the 1930s. The footing of the crusher can still be located at the edge of the cliff near the road leading up to the plateau. Rock flowed downhill via chutes, through two tunnels that are still visible from below, into waiting tram cars. The cars ran out onto a gantry above the dock and were loaded onto massive barges.
We are fortunate for an early conservation group and public donations that formed the Palisades Interstate Park System, which eliminated further mining on the Palisades.  Without such public support, Hook Mountain would look very different today, and the plateau may not exist as it does.
Shifu Ed Durso
Ed Durso, who grew up in Orange County, has studied martial arts for some 26 years. A friend turned him onto the form of combat, and he started his learning at Nyack Kung Fu and Tai Chi, at the time located in Nyack Plaza. Ed says it took him almost ten years to get comfortable with martial arts. In the process, Tai Chi gave him a feeling of ease in his body that he never felt before. By 2000, he was a third-degree black belt in Tai Chi, while working as a family therapist and addiction specialist and studying for a Master's degree.

Durso's direction changed when he was introduced to grand master Wang Tian Min. They met in Nyack, and Durso immediately recognized that he could learn from the master. He received permission from his then Shifu (teacher) to study a form of Tai Chi called Wu Chan Taiji with Tian. During six years of intense study and practice, Tian changed Durso's view of Chinese martial arts, showing him how to work with power and dynamic energy. During one training session, Tian said to Durso, "What's wrong? Your face is so serious." When Durso replied that he was concentrating to get his form right, Tian replied that form is for beginners; the best approach is with love.
Fire Mountain School
After studying with Master Tian, Durso was ready to commit to making his avocation a vocation. He started Fire Mountain School in 2012, located at 53 Hudson Ave. in Nyack. Within a matter of weeks, Hurricane Sandy struck, and Durso, his wife, Inetta, and son, Hawken, were flooded out of their home in Piermont. Handling a new business while relocating his family was a big challenge. But he persevered; the school, which teaches a variety of martial arts at all levels and for all ages, is still operating.
Today, Durso offers courses for individuals and educators based on Durso's system of resilient stress management. Fire Mountain students range in age from four to over 70. He teaches all genders, and some people travel far distances to get to his studio. The name of his business derives from an I Ching hexagram called "the traveler," depicted as fire over mountain.
Durso explains a common misperception of Chinese martial arts that have been shaped by the full combat sport of MMA (Mixed Martial Arts). He points out that Chinese martial arts are designed for preserving life and health, not just fighting. Benefits of martial arts include mastering dynamic energy, learning a flow of movement, and resilient stress management.
The Lion Dance
"Would you like to learn the lion dance?" Master Wu of New York Lotus Light asked Ed Durso, just before Chinese New Year. Ed didn't know what was involved, but he replied, "Amazing, let's go." Durso and his team of 12 members went to the terra cotta Lotus Lights temple in Brooklyn, where Shifu Lin taught them the fundamentals of the lion dance. The lion dance (with two dancers) is often confused with the dragon dance, with ten dancers and a tail supported by long poles. The traditional dance is performed at Chinese New Year events and other traditional and cultural festivals, as well as business opening events, weddings, or to honor a special guest. The lion dance brings good luck and fortune to all. On June 9, Durso's team performed the Lion Dance at the grand opening of J Petal Nyack, a new Japanese crepe and Thai ice cream store on Main Street in Nyack.
The team was a bundle of nerves for their first performances in front of hundreds of Chinese patrons at restaurants in Chinatown. Learning the lion dance is a challenge; even just learning the drum beat is difficult. Durso, who never turns down a challenge, led his team through a number of New Year's performances, and found an even greater respect for traditional Chinese culture.
The Festival at Nyack Beach
In many parts of China, martial arts are practiced by groups in outdoor settings. On June 30, in the quiet section of the Nyack Beach State Park plateau, surrounded on three sides by trees and the looming Palisades on the fourth, regional martial arts studios will perform the lion dance in a celebration of sound, movement, colorful costumes, and Chinese culture. The public is invited, especially children. It's free, although weekend parking fees by the Palisades Park commission will be $6. Donations may be made to support the rebuilding of the collapsed wall that has closed the lower section of Nyack Beach to cars.
Photo credits:  Photos by Mike Hays, video courtesy of Fire Mountain School
Michael Hays is a 30-year resident of the Nyacks. Hays grew up the son of a professor and nurse in Champaign, Illinois. He has recently retired from a long career in educational publishing with Prentice-Hall and McGraw-Hill. Hays is an avid cyclist, amateur historian and photographer, gardener, and dog walker. He has enjoyed more years than he cares to count with his beautiful companion, Bernie Richey. You can follow him on Instagram as UpperNyackMike.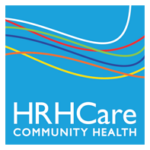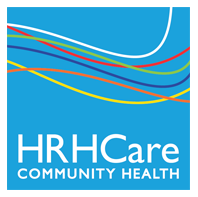 Nyack People & Places, a weekly series that features photos and profiles of citizens and scenes near Nyack, NY, is brought to you by
HRHCare
and 
Weld Realty
.