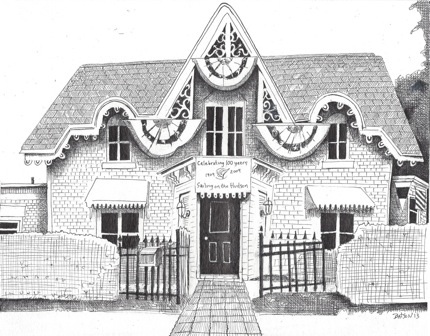 by Bill Batson
In the Edwardian children's book, The Wind and the Willows, one furry creature says to another, "There is nothing—absolutely nothing—half so much worth doing as simply messing about in boats." The Junior Sail Program at the Nyack Boat Club offers that youthful adventure.
As mighty as the Hudson may be, many among us have our back to the river. Our river would have more keepers if we all discovered at an early age, the majesty of this massive park of wind and water. Living in a river village, on the edge of an ancient body of water, it's a wonder that so few float into the mystic.
If you know a young person so inclined, there are still some slots available for the two four-week sailing program offered each summer.
Co-chair of the Junior Sail Program Jens Kulstad tells us more.
When did you start sailing?
I started sailing at the age of 7, way too many years ago, in a boat called the Optimist.
How long have you been a member of the Nyack Boat Club and how has the experience enhanced your life?
I decided to join the club back in 2015 when my kids started to sail in the junior sailing program. I saw the membership being an opportunity for me to get more involved in the junior sailing program and help to build out the program. It is an amazing program which has given me joy in the sense of helping the larger sailing community in Nyack and also to be closer to my kids who participate in the program

When did you become co- chair of Junior Sail Program and what are your goals for the initiative?
Carmen Yannelli has been the natural leader for a long period of time and he asked me to join him as a co-chair during last year's sessions. My goal is to grow the program during the summer and expand it to the spring/fall for those who wants to continue sailing beyond the summer. I am very happy when we have a group of independent sailors who are going out on new events outside of the program all by themselves without any guidance from the program.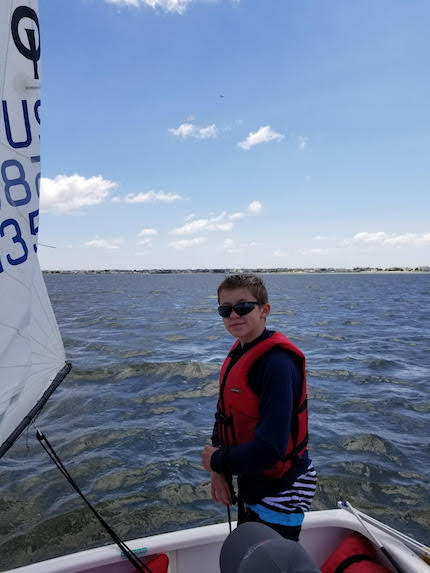 Who is the director of the program? Can you tell me a little about them
Jill Hesse, our program director who oversees the boats, instructors and the 420 sailors. She used to both sail and coach at our program before she left for college and did competitive college sailing.
She is back with us again since a few years back and she is a tremendous resource for us.
It is so good to have a rock solid person down at a club who can both step up to coach individual sailing groups as well as mentoring the other instructors to make sure they grow as leaders throughout their coaching career at the club.
Do you need to own a sail boat to participate?
You don't need to own a boat to participate as the program provides boats for all participants. However, you are allowed to bring your own boat which is useful if you go to regattas outside of the club and/or like to enjoy your own equipment if you decide to sail outside of the program hours.
History and Mission
The Nyack Boat Club was founded on September 10, 1909. The original clubhouse was destroyed by fire on August 6, 1916. The current clubhouse on Gedney Street, depicted in this week's sketch, was acquired on September 16, 1916.
The mission of the club is to encourage and support yachting and yacht racing on the Hudson River and surrounding waters, good seamanship and navigation, and to provide for the recreation and enjoyment of its members.
"Nyack Boat Club was originally formed as a "do-it-yourself" boat club where members built and maintained the facilities to keep the cost of membership affordable. Being a "do-it-yourself" club continues to be an important part of our identity. We think we're the best sailing club on the Hudson but we're resolutely a "boat club" not a "yacht club".
In addition to the "do-it-yourself" ethos, the members see that their fellow members get the support they need to sail well and maintain their boats effectively. Additionally, we have an exceptionally strong sailing program for children."
former Commodore and former Nyack Mayor Kieran Quinn
All hands on deck
During racing season, many boats seek crew members. Racing experience is useful, but the uninitiated, who want to learn more about sailing, can also be accommodated.
To learn more about sailing camp or crewing visit nyackboatclub.org
What can a young person who joins up expect?
They can expect to enter a journey that will take them to new places they can't envision before starting the program. They will experience the outdoor elements and become familiar with the open water.
My own daughter started the program being afraid of being on a boat and after one summer she was joyfully both sailing and swimming next to the boat filled with joy rather than fear.
It is truly an amazing lifestyle they will learn to adopt once they begin sailing.
Are there scholarships?
Yes, there is one scholarship awarded for a person with financial hardship
I understand you have some illustrious alumi. Who are they and what have they accomplished?
You are correct, there are a number of great alumni from the program. One woman, Liv Gunnarsson, continued to sail in college and ended up representing the United States in the World Championship for Colleges.
Another, Scott Guinn, previously headed our summer program and he has also been an avid sailor placing himself at the top of different national rankings for local boat types.
A third, Rachel Yannelli, is currently down in Florida doing college sailing and she is sailing all over the US for her college competing against Olympic contenders and is giving them a fair match in the different races.
For the land bound what is the difference between a regatta and a race, do you have either?
Ha, ha, that's a good question. The two terms are often used interchangeably, but if you want a distinction, I would say that a regatta is an event that is more formal with proper start procedure, more official regatta committee, and awards at the end.
A race can be a regatta, but also something you do at practice when you are racing each other doing various drills to train on certain skill sets or sections of a regatta
If you attend the camp, can you crew a race?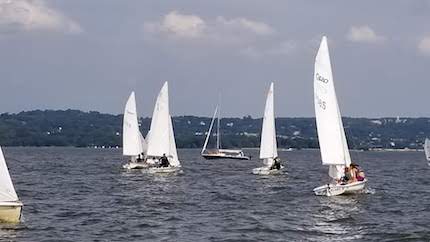 It depends. It may be hard for a beginner to attend a race or regatta, but once you have the skills to attend a regatta, you will be sent out to compete with and socialize with sailors from other clubs
What do you learn from sailing that can help with life on dry land?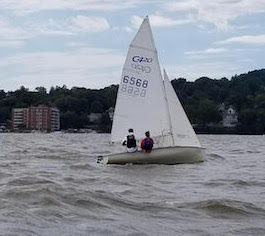 Wow, this answer can be long, but will try to keep it short. As a sailor, you are learning a number of skill sets that are translatable to other parts of life.
One of them is decision making.  As you are out on the water, you are making your own decisions on both a strategic and tactical level.
Another one is critical thinking and logical inference where you need to understand and read the wind to predict what will happen next or anticipate moves from your competitors and think one step ahead so you can plan your actions.
You will also gain an appreciation of nature and the different elements you experience on our planet since you are out on the water – rain or shine. Most sailors end up cherishing our nature since they develop close ties to the outdoor environment.
What's new at the Junior Sailing Program?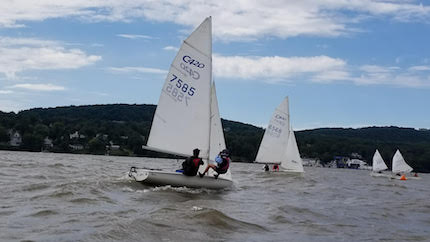 We just introduced an exchange program with a club overseas in Sweden where we are sending three of our sailors there for a week during the summer and are receiving three of their sailors during a week in July. This is a program we started up last summer and it has been very appreciated so far.
Another initiative is our fall and spring practices we started up for the more advanced sailors to provide more sailing time outside of the summer program to allow them to enjoy their sport and to further grow as a sailor.
All Junior Sailing instructors are USSA certified. The junior sailors attending the program sail and race Optimists, 420's and Laser's. For those sailors not able to bring their own boats, the Nyack Boat Club does charter equipment for the sailing sessions.
If you have a child who is interested in participating in the program, please contact Linda O'Donnell  at lindaod5000@gmail.com
If you are interested in becoming an instructor in the program, please contact Carmen Yannelli at cyannelli@gmail.com
For more information, visit nyackboatclub.org
Special thanks from my friend and Nyack Boat Club member David e. Bell for his editorial assistance, photographic artistry and encyclopedic knowledge.
My sketch of the clubhouse was based on a photo by past Commodore Elaine Hinsch.
And thanks to Van Morrison for the lyric float into the mystic
Bill Batson is an activist, artist and writer who lives and sketch logs in Nyack, NY. Nyack Sketch Log: "Junior's Sail at the Nyack Boat Club" © 2019 Bill Batson.  To see more, visit billbatsonarts.com