This week in the villages: Celebrate Earth Day, spring, and sustainability with events in and around the villages. Recycle your e-waste, take back unused prescription medication, and shred those documents you no longer need. Get outside and learn about trees and planting. Or take your pets for a free rabies vaccination. After a week-long break, motorists will again be faced with overnight lane closures and stops on the Mario Cuomo Bridge.
Village of Nyack
Earth Week Events
Nyack has become a greener, more sustainable village, through the support of its river village neighbors and its many Rockland County partners. Efforts include solar energy outreach, adding an Electric Vehicle Charging station downtown, initiating the Nyack Tree Project, leading the Greater Nyack Bike Walk Master Plan study and acquiring and converting existing streetlights to LEDs.On Thursday afternoon in Memorial Park, the NYS Department of Environmental Conservation will recognize these efforts with a special award. The public is invited to meet and mingle with sustainability advocates, elected leaders and DEC officials at the gazebo in the park for this event. 1p, Nyack Memorial Park.
On Friday, April 26, in celebration of Earth Day, the Village of Nyack Department of Public Works will be collecting E-waste. That includes computers, tablets, laptops, cellphones, televisions, printers, monitors, fax and copy machines, VCRs, CD players, radios, telephones, ink jet and laser cartridges. No other household hazardous waste will be picked up. Contact the Rockland County HHW hotline at (845) 364-2444 for information on how to dispose of items not listed above. Please leave items neatly at the curb and no earlier than 7p the evening before pick-up.
For the seventh year running, Nyack will host an Earth Day Celebration and Music Fest. Kids' activities will include arts and crafts, as well as a fun, interactive summer play camp. Saturday, April 27, 12n-4p, Veterans Memorial Park gazebo, Cedar & Main St.
Don't get in your car and drive to the mall. Reduce your carbon footprint and shop local. On Saturday, April 27, 12n-7p, local shopkeepers and restaurants will participate in a Spring Sidewalk Sale. Great deals will be available on gifts, clothing, jewelry, art, and more.
Spring Cleanup Yard Waste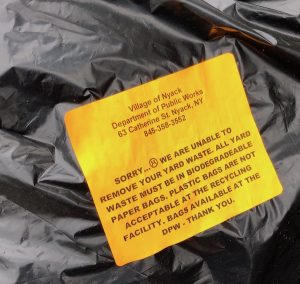 A reminder from the Village of Nyack Department of Public Works: All yard waste must be in biodegradable paper bags. Plastic bags are not acceptable. Paper bags may be picked up at the DPW facility, 63 Catherine St.
Summer Food Program Employment Opportunities
The Village of Nyack Summer Food Program is accepting applications for a Summer Food Program Site Supervisor and two Summer Food Program Helpers for the program at Waldron Terrace, Valley Cottage Elementary, and Nyack Center. The program will run Monday – Friday 7:30a-1:30p from July 1-August 30. Different sites have slightly different hours and dates. Visit the Village of Nyack Facebook page for job requirements and more information.
Spring 2019 Recreation Programs
Registration is still open for the Spring 2019 Recreation Programs, including Field Games with Max, Spring Conditioning with Nyack Kids Wrestling Club, Nyack "Little Ninjas" Kung Fu, Beginning Piano with Rivertown Music, Skateboarding, and Beginning Tennis. For registration forms, please visit nyack-ny.gov/recreation or email recreationasst@nyack-ny.gov.
Village of South Nyack
Drug Take Back Day
On Saturday, April 27 from 10a-2p, the Village of South Nyack is participating in the National Drug Take Back Day. You may bring any expired and unused prescription medication to Village Hall for safe and convenient disposal.
Village of Upper Nyack
Arbor Day at the Old Stone Meeting House
On Saturday, April 27, 11a-2p, celebrate nature at the Old Stone Meeting House.
Help plant a tree and learn best practices for planting trees in your yard.
Learn about the Wood Wide Web, and how trees communicate with each other through their roots.
Give thoughts on street trees in the village.
Help choose where to plant trees in the village
Get information on tree species. Plant the right tree in the right place.
Learn about stormwater runoff and what you can do to protect the Hudson.
At 2p, take a community walk to the Hester Haring Cason Preserve and plant some wildflowers.
Town of Clarkstown
Clarkstown Military Banner Program
Do you have a loved one who has served or is currently serving in the military? Please consider honoring them with a military tribute banner. The banners will be displayed on the light posts in the various hamlet centers from Memorial Day to Veterans Day. The banners are a small way to acknowledge the sacrifice they have made serving our community and our Country. The cost to sponsor a banner is $150 and the deadline is May 1, 2019. Visit www.militarytributebanners.org or call the Supervisor's office at 845-639-2050 for more information.
Lifeguards Wanted
The Town of Clarkstown is looking to hire lifeguards for the 2019 summer season. Applicants must be at least 16 years-old and have current Lifeguarding and CPR/AED certifications. Pay rate: $12.00/hour, $14.00 with Water Safety Instruction. For more information, and for an application, call 845-639-6200, or visit town.clarkstown.ny.us.
Town of Orangetown
Request for Proposals for the Potential Town Hall Expansion
The Town of Orangetown is seeking proposals from qualified architectural firms for comprehensive architectural and engineering services, including structural, mechanical, plumbing, electrical, civil engineering, and other specialty services, such as IT and AV consulting. Interested firms are invited to view and respond to the Request for Proposal by the deadline of May 1, 2019 at 10:30a.
Rockland County
Free Paper Shredding
There will be free secure paper shredding on Saturday, April 27, 8a-12p in Germonds Park, 65 Germonds Rd, West Nyack. This event is open to all Rockland County residents (no businesses) and is on a first-come, first-served basis until the trucks are full. There is a three box limit per car (banker boxes approx 24x15x11") and no plastic bags, binders, or other plastics are allowed. Paper clips and staples are acceptable. Please bring a non-perishable food donation for local pantries. Visit www.rocklandrecycles.com or call 845-753-2200 for more information.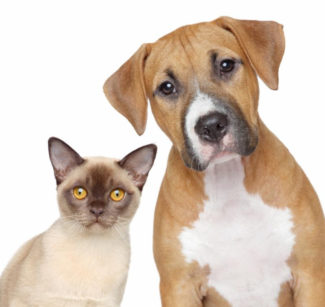 Rabies Shots for Dogs, Cats, and Ferrets
The Rockland County Department of Health and the Rockland Westchester Veterinary Medical Association is sponsoring a free rabies clinic on Sunday, April 28, 10a-1p at Rockland County Fire Training Center (65 Firemen's Memorial Dr, Pomona). No appointment is needed. The shots are free, though a $5 donation is suggested. To be vaccinated, your pet must be healthy, older than three months, and must be on a leash or in a top opening container. For more information, call 845-364-2656.
T.E.E.N. Works Program Now Accepting Applications for 2019 Summer Session
The Rockland County Youth Bureau is now accepting applications for the 2019 summer session of the T.E.E.N. Works (Teen Employment Education Network) program. T.E.E.N. Works is a workforce preparation and placement program that combines summer work experience with career and life skills training. Designed for youth between the ages of 15 and 20, the four-week program offers pre-employment training and possible job placement upon successful completion. The mission of T.E.E.N. Works is to assist our teens and young adults in growing into successful, contributing members of our local workforce with strong goals for their future.
Applications for T.E.E.N. Works are currently available at rocklandgov.com, at the offices of the Rockland County Youth Bureau in Pomona, or can be requested by emailing RCYB@co.rockland.ny.us. The deadline for submitting an application is June 10, 2019. For more information about T.E.E.N. Works, visit rocklandgov.com or contact the Rockland County Youth Bureau at (845) 364-2929.
News from Congresswoman Nita Lowey's Office
Congressional Internship Stipend
Financial barriers often prevent many college students from applying for a congressional internship position. This summer, Congresswoman Nita Lowey's office will offer the opportunity for one college student who might otherwise not be able to pursue a D.C. internship because of costs to apply for an intern stipend of $1800/month. If you are a college student from New York's 17th Congressional district and have finished your freshman year but have not yet graduated, apply by April 22, 2019 (today!) at lowey.house.gov.
2019 Congressional Art Competition
The Congressional Art Competition is a nationwide high school visual art competition to recognize and encourage artistic talent in each congressional district. Each spring, students submit entries to their representative's office, and panels of district artists select the winning entries. Winners are recognized both in their districts and at an annual awards ceremony in June in Washington, DC. The winning works are displayed for one year in the U.S. Capitol.
All entries must be submitted to Congresswoman Lowey's New City office by Monday, April 29, 2019. Students may submit their two-dimensional artwork and release form by mail or in person on weekdays between the hours of 9a and 6p The competition is open to high school students who live in the 17th Congressional District only. The judged competition will take place Monday, May 6. In addition to having their work displayed in the U.S. Capitol, the first-place winner will also be invited to attend a reception in Washington, DC, and to meet with Congresswoman Lowey and other nationwide winners. More information and guidelines about the competition may be found at lowey.house.gov.
Mario Cuomo Bridge News
Multiple Overnight Lane Closures/Traffic Stops On Thruway (I-87/I-287)
Tappan Zee Constructors (TZC) is scheduled to raise and place overhead gantries over the New York State Thruway (I-87/I-287) near the bridge in Tarrytown and South Nyack this week. The work will necessitate multiple overnight lane closures and traffic stops, lasting between 20 and 40 minutes, in both directions during the overnights of Monday, April 22, Tuesday, April 23, and Wednesday, April 24. Operations may be rescheduled to the overnights of Thursday, April 25 and Friday, April 26 in the event of inclement weather conditions.
Significant delays are expected, and motorists are strongly encouraged to avoid the area and take alternate routes on the nights of the operation. At least one lane will remain open in both directions except when State Police stop and temporarily hold traffic during the late night and early morning hours for the safety of the public.
Specific lane closure times are listed in the chart below.
Lane Closures And Stops Near the Bridge
DATE:
CLOSURES BEGIN:
CLOSURES END:
LOCATION:
Mon 4/22
8p – Two right lanes
7a, Tues 4/23
Northbound (I-87/I-287)
from exit 8a to the bridge
Mon 4/22
Overnight – Two temporary traffic stops
Approx. 20 mins each
Northbound
near the bridge
Tues 4/23
8p – Two left lanes
10:30p – Three left lanes
6a, Wed, 4/24
Southbound
from exit 11 to the bridge
Tues 4/23
Overnight – Two temporary traffic stops
Approx. 30 mins, both directions at the same time
Northbound near the bridge and Southbound near exit 11
Wed 4/24
8p – Two left lanes
10:30p – Three left lanes
6a, Thurs, 4/25
Northbound
from the bridge to exit 11
Wed 4/24
Overnight – Two temporary traffic stops
Approx. 40 mins Northbound and 20 mins Southbound
Northbound near the bridge and Southbound near exit 11
---
Here are the municipal events in Upper, South, and the Village of Nyack for the week of 4/22.
Village of Nyack
5p: Justice Court
6:30p: Nyack Housing Authority (Depew Manor)
6:30p: Village Board Pre-meeting Workshop
7p: Nyack NAACP Meeting (Nyack Center)
7p: Parks Commission Meeting
7:30p: Village Board Meeting
Nyack Village Hall is located at 9 N. Broadway.
Village of South Nyack
6:30p: Police Board Meeting
7:30p: Board of Trustees Regular Meeting
Sat 4/27, 10a-2p: Drug Take Back Day
South Nyack Village Hall is located at 282 S Broadway.
Village of Upper Nyack
Sat 4/27, 11a-2p: Arbor Day at the Old Stone Meeting House
Upper Nyack Village Hall is located at 328 N Broadway.