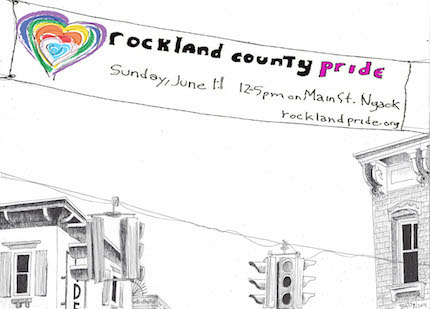 by Bill Batson
When Hillary Clinton came to Nyack last February for the first public event at the Rockland Pride Center, she stood next to Phyllis B. Frank. On Thursday, April 25,  2019 at the 60th annual NAACP membership gala, Nyack Branch President Frances Pratt will call Phyllis B. Frank to stand next to her to be recognized. Why do leaders like Clinton and Pratt stand next to Frank? Because for over 40 years, Frank has stood on the side victims of domestic violence and people of color in their pursuit of justice and equity in America.
"As an organizer of undoing racism workshops, founding board member of Rockland Pride and Associate Director of VCS, Phyllis Frank is an institution in this county. She has added so much to our beloved community," said Pratt.  Frank is not only an institution, she's an institution builder. "If you think about it, Phyllis had a hand in creating the first domestic violence agency and the first pride center in the Rockland county and is instrumental in bringing an analysis of racial justice here. Remarkable isn't even the word'" said Rockland Pride Executive Director Brooke Malloy.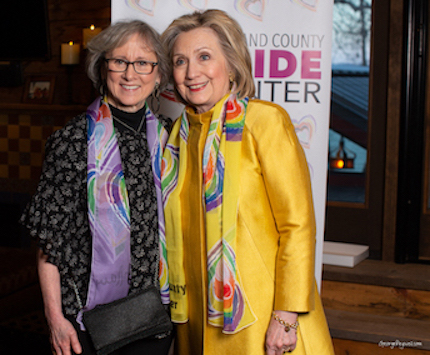 Frank joined VCS in 1979. The organization  promotes social justice for individuals, families and communities through mental health counseling and community change. VCS has developed programs to confront heterosexism, homophobia and transphobia, racism and sexism with a particular focus on violence against women. Under Franks leadership, VCS has launched a wide range of LGBT family services, support programs and professional training including evolving expertise in relation to transgender children, youth and adults.
Nyack Branch NAACP 60th Anniversary Membership Recruitment and Renewal DinnerEvents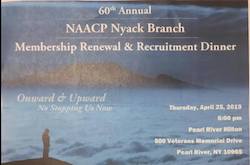 Tickets still available for the 60th Anniversary NAACP membership gala at the Pearl River Hilton on April 25th at 6p. Phyllis B. Frank, Dustin Hausner, Lonnie Leonard and Lynnette Eubanks Marshall are some of the honorees. For reservations contact Voncile Oliver at (845) 268-6626 ASAP.
Donations are welcome and are not tax deductible.
The premise behind VCS is that community lay people can provide high-level counseling for clients with a wide range of serious social problems. The model called "Volunteer Family Counseling Project" was initiated by Dr. Stephen Shapiro and Martin Eisman of the Family Service Association of Rockland County and funded by The Ford Foundation in 1970. The first group of 16 volunteers were recruited, trained and assigned to work with 34 families. The program quickly expanded to 426 families and individuals by 108 trained volunteers. Later that year, the agency moved into offices at 151 South Main Street in New City.
Over forty years later, VCS  provides an array of services including child abuse prevention programs, services to older adults and their families and low cost counseling to Rockland residents for a variety of life issues such as separation, co-parenting children, unemployment and domestic violence.  VCS conducts a widely acclaimed counselor training program, administers a nationally recognized NY Model for Batterer Programs, and various social justice programs that included launching Rockland County Pride.
In the late 1990s, if you lived in Nyack and wanted to attend one of the major Gay Pride celebrations that are held around the country each June, you had to travel to Manhattan. Frank enjoyed the annual pride pilgrimage to the city, but thought aloud to others that "even if we had just a group walking behind one sign, we needed to do something for Gay Pride here in Rockland."
Over 1,000 people gathered for the first Gay Pride Rockland event in Nyack in 1999. As if to prove the positive force that this public affirmation of sexual identity can have, a Village of Nyack Trustee named John Shields, who would later serve four terms as Mayor, publicly came out of the closet that day.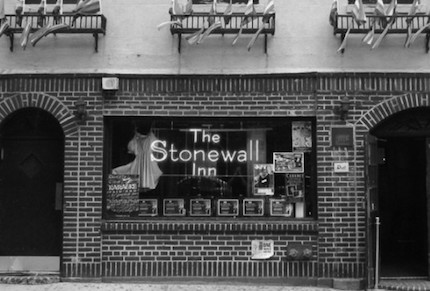 The Pride celebrations that are held throughout the world each June commemorate protests that followed a raid by New York City Police Officers on The Stonewall Inn on June 28, 1969.  The uprising in Greenwich Village against a pattern and practice of harassment by public officials is widely regarded as the beginning of the Gay Rights Movement. On May 9, 2016,  a meeting was held in New York State concerning the status of an important landmark in the LGBT community. Interior Secretary Sally Jewell and National Park Service Director Jonathan Jarvis met with New York officials to advance a proposal to make The Stonewall Inn a national monument.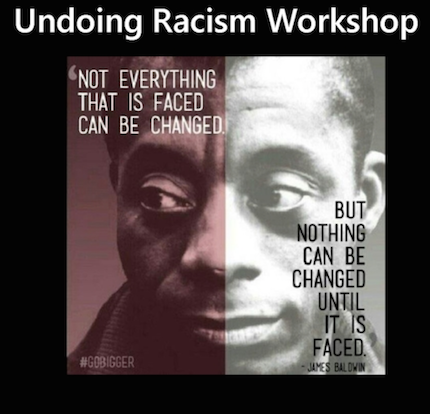 On Wednesday, May 31, 2017, New York State Lt. Governor Kathy Hochul and the Board of the Rockland County Pride Center celebrated the fact that the center had received a $250,000 grant from New York state. "Phyllis is a founding board member and she's on the Executive Committee. She played a lead role in putting the board together. She went to various people in the community and asked it they wanted to do this. She put it together," said Malloy.
A thread that runs through both VCS and Rockland Pride is a proactive and exhaustive effort to apply a racial justice analysis to civil rights work. "Shortly after bringing the ground breaking documentary on race, "The Color of Fear" to Rockland, I attended an "Undoing Racism Workshop, presented by the People's Institute for Survival and Beyond," said Frank  "That was in 1995.  Since then, VCS has administered Undoing Racism Workshops in Rockland County, at least once a year, and in some recent years as many as six times."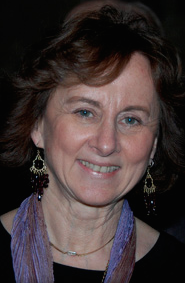 Executive directors, police, non-profit personnel, community members, students, public and private school administration, teaching staff and other educators, and faith community leaders have attended the Undoing Racism Workshop. VCS estimates that we have presented the workshop approximately 35- 40 times.  Each workshop has between 40 and 45 participants. Some session have had 60 in attendance. VCS estimates that nearly 2000 Rockland residents have participated.
"The reason I have my  job as Rockland Pride Executive Director is because I chased down Phyllis after taking the Undoing Racism workshop over ten years ago. I was so drawn to her conviction. She's has an unwavering approach to her work, " said Malloy
Her exemplary efforts over the years resulted in her being inducted into the Rockland County Civil Rights Hall of Fame in 2012. And on Thursday, April 25, 2019, at the 60th annual NAACP gala, another honor will be added to Frank's distinguished resume.
Hillary Clinton photo credit: George Pejoves
Bill Batson is an activist, artist and writer who lives and sketch logs in Nyack, NY. Nyack Sketch Log: "Phyllis B. Frank" © 2019 Bill Batson.  To see more, visit billbatsonarts.com