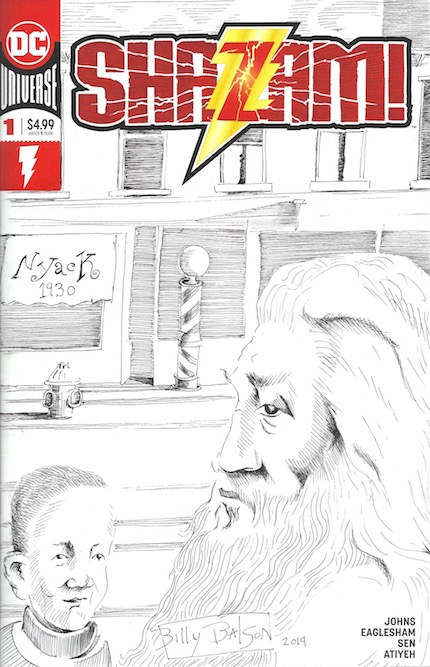 by Billy Batson
I have to chose my words very carefully, because of the extremely litigious history of this topic. Simply put, because I am Billy Batson, I am Shazam.
On April 4, the newest blockbuster superhero movie will be released about a teenager named Billy Batson who becomes a full-grown crime fighter when he says Shazam. Here's the history, legal and cartoonish, of Billy Batson, Captain Marvel and Shazam.
When I was a child, only adults would do a double-take when hearing my name. The Shazam comic strip was more popular than Superman soon after it was  launched by Fawcett Comics in the 1940s. That popularity contest became a legal matter, with decades of copyright infringement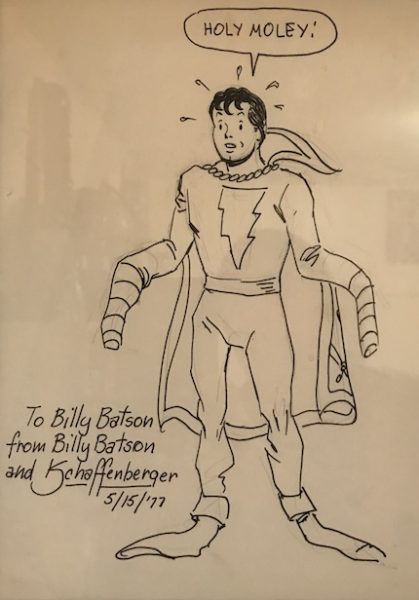 litigation brought by the creators of the man of steel.  The owners of the  Superman, DC comics, thought the costuming and powers of the character who said Shazam were too close for commercial comfort to their immortal investment.
It wasn't until a live-action version of the Shazam saga was broadcasted during the Saturday morning cartoon marathons of the 1970s that I got the thrill of hearing my name emanate from a TV set. (I was the lead-in to Isis)
Years later, I started to admire the artwork that is the building block of the comic book empire and began attending comic conventions. I got a deeper appreciation for the significance of sharing the name of a cultural icon.
Comic book artists would eagerly give samples of their work to a kid named Billy Batson. Kurt Schaffenberger, who also penned Lois Lane for the other side, was particularly generous with this 1977 effort that he gave me at the old Commodore Hotel. He signed his piece, to Billy Batson, from Billy Batson.
And to this day, when extremely perturbed, I am known to say, "Holey Moley."
The legal squabbles that commenced in the 1940s  continue to play themselves out in the box office battles of today. In March 2019, a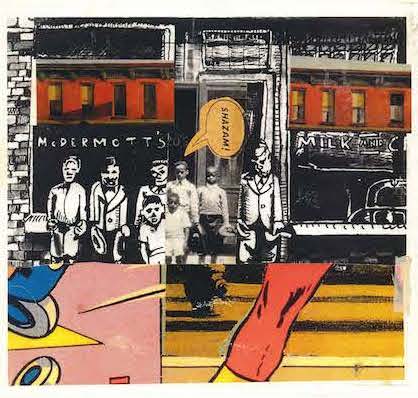 few weeks before the Shazam re-boot, a film about a female fighter pilot who doesn't really need a plane to fly called Captain Marvel captivated audiences.
Captain Marvel was actually the name of the character that Billy Batson became in the original Fawcett comic. Eventually, worn down by the weight of legal filings, Fawcett licensed the Captain Marvel name to their nemesis, DC comics. That transfer of copyright set into motion the next rivalry. A comic company named Marvel and run by the legendary Stan Lee, sought a hostile takeover of the character of the same name as their corporation. It was finally resolved, by court order, that the story of Billy Batson had to be told without the mention of Captain Marvel. Marvel was now free to create an entirely new storyline.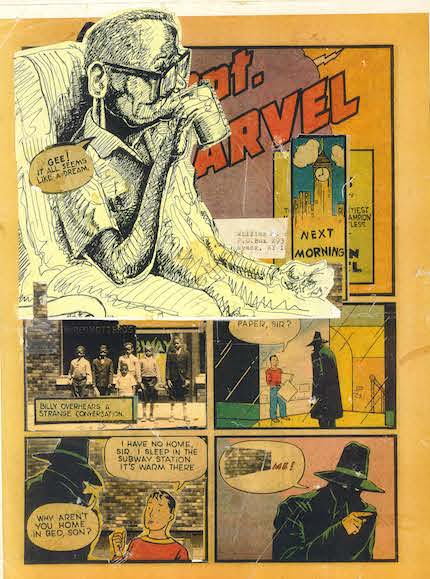 Rich content remains in the Shazam story and name. Shazam is an acronym for the mythical figures whose powers were conferred on the young protagonist: Solomon, Hercules, Atlas, Zeus, Achilles and Mercury.
In a series of collages that I created in the 1990's, I blended elements of Shazam with my life, incorporating photos and drawings of my father and images from Edward Hopper paintings that invoked Nyack of the 193os.
Like the original Billy Batson, I was orphaned as a child, and adopted by a man named William Batson. He gave me his name William, which is commonly shortened to Billy for kids.
In a more recent drawing, created on a blank cover supplied to me by Funny Business Comics on Main Street, I am the young initiate, and I used a likeness of Frederick Douglass to portray the wizard. (If I was casting the part of an ancient Egyptian wizard, I would look for someone who resembled Douglass.)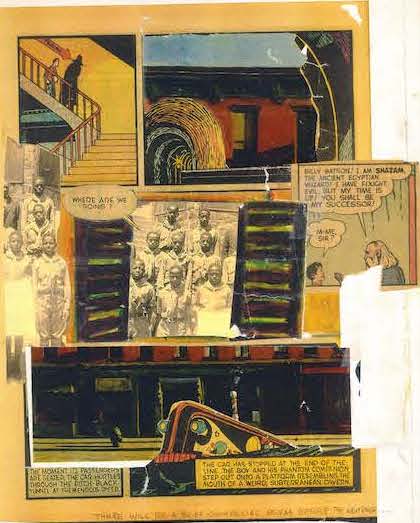 In 2018, a super hero movie dominated the box office 33% of the time, from Ant-Man and the Wasp ($595M), to Deadpool 2 ($734M), Incredibles 2 ($1.16B), to Black Panther ($1.34B), and Avengers: Infinity War ($2.04B). In 2019, ten comic blockbusters promise to corner the cinema market.  What do we owe this global obsession with fictional, crime-fighters with mystical powers?
In Shazam, the wizard who confers awesome power into the hands of an innocent child lists seven familiar moral hazards as the enemy of man: pride, greed, lust, envy, gluttony, wrath, and sloth. (I can think of one person in power, who is unfortunately not a fictional character, and unapologetically embraces all seven sins).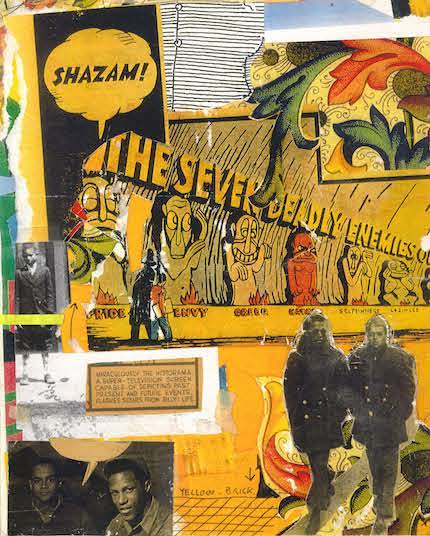 In a time when religion and politics can't be mentioned at divided dinner tables across this country, everyone can talk about the last super hero movie they saw and the next one they eagerly await. In a world where racial and gender discrimination persist, comic book cinema inject Wonder Woman and Black Panther into the conversation.  And for that, I say, Shazam!
This Mental Floss summary leaps over the entire Shazam story in a single read!
Thanks to Chris Barchuk of Funny Business Comics on Main Street in Nyack for the blank cover, Larry Gun Jamieson for sharing his commanding comic book knowledge and William and Daisy Batson for giving me a life, and the name, Billy Batson. 
Bill Batson is an activist, artist and writer who lives and sketch logs in Nyack, NY. Nyack Sketch Log: " I Am Shazam" © 2019 Bill Batson.  To see more, visit billbatsonarts.com