This week in the villages
: Tuesday is Election Day. There are street closings for construction in Nyack; the mayor hosts his monthly public meeting at 9a Tuesday at Nyack Village Hall. The Clarkstown and Orangetown Supervisors held a press conference about the MTA and NJ Transit. Work continues in South Nyack on the Mario Cuomo Bridge Shared Use Path.
Tuesday is midterm election day
: Governor/Lieutenant Governor, Attorney General, Comptroller, State Senate and Assembly, and U.S. Senate and Representative seats are up for grabs. In Nyack, Donna Lightfoot Cooper and Louise Parker are running unopposed for village trustee. In Orangetown,
Robert Thompkins
and
Rosanna Sfraga
are running for town clerk. In Piermont, Richard Owen Burns and Nathan Mitchell are running unopposed for village trustee. Rockland's seat in the NYS Senate is on the ballot with incumbent
David Carlucci
running against Scott Vanderhoef. The polls will be open from 6a to 9p. To find your poling place, visit the
Rockland County Board of Elections
. Need to know more about the candidates? Here are closing arguments from four candidates in local races:
Need a little comic relief from politics? Jocelyn Jane Cox has a fun, four step-guide to follow for harnessing democracy.
Village of Nyack
Construction and Street Closures
The Lower Hudson Transit Link construction continues at the intersection of Depew Ave and Franklin St. The village will lift alternate side parking rules on Depew Ave, from Franklin St to South Broadway, during the construction activity.
A private contractor will be installing new water service to 83 & 85 Main Street from Nov 5-7 requiring Main Street between Cedar Street and to be closed from 7a to 5p. Sidewalks will remain open during construction.
Mayor's Monthly Meeting
Join Mayor Don Hammond on Tuesday, November 6 at 9a at Nyack Village Hall to hear an update about local issues and planned in Nyack.
Nyack Kids Wrestling Club
Registration is now open for the 10th annual Nyack Kids Wrestling Club for boys and girls in grades 2-6. The program runs November 26 through February 27 (except when school is closed) with practices held in the Wrestling Room of Nyack High School. Each participant receives a Nyack Kids Wrestling T-shirt and a USA Wrestling Membership Card (plus insurance and liability). The cost is $120 for Village of Nyack residents and $150 for non-residents. Please register before November 19. There is a mandatory parent and player orientation meeting on Mon, Nov 19 at 6p in the library at Nyack High School.
Pickleball Drop-in Play
Pickleball anyone? The Nyack Rec Dept invites pickleball players to Memorial Park each Wednesday at 9a for "drop-in" pickleball through November. The Rec Dept will supply nets and balls with a few spare paddles to lend if you are new to the sport. Meetup at 9a on the basketball courts at Nyack Memorial Park, Depew & Piermont Aves.
Clarkstown & Orangtown Supervisors Cry Foul on NJ Transit Rebates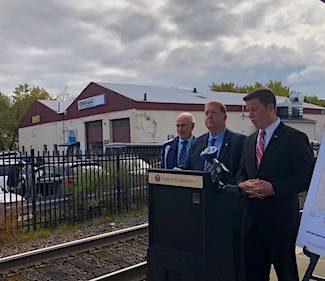 The town supervisors for Clarkstown and Orangetown made a plea for a fair, fare rebate for Nanuet and Pearl River commuters…but it seems that train has already left the station.
On Oct 29 Chris Day (Orangetown) and George Hoehmann (Clarkstown) called on NJ Transit to offer the same 10% discount to Rockland commuters that they are giving to North Jersey riders to compensate for "diminshed service" as NJT installs a new safety feature, Positive Train Control, on its system.
To proactively address the potential service adjustment impacts, NJ TRANSIT will offer a 10-percent discount on all NJ TRANSIT rail tickets and passes for travel in November, December and January while the mandated hardware installation is completed.   The ten-percent discount applies to NJ TRANSIT rail service only and does not apply to Metro-North service. NJTransit.com, 9/20/2018

The MTA, which represents Rockland riders at the Pearl River and Nanuet stations, has chosen to spend the approximately $600,000 it has received for this rebate service improvements. "The MTA's claim that they are investing that money directly into some minor infrastructure upgrades at a single station is not good enough for the commuters who have dealt with consistently late and often cancelled trains," said Day. "Infrastructure improvements should come out of the MTA tax that our residents already pay, not by taking a discount out of their pockets that was designed to compensate them for poor service. "
"The Pascack Valley Rail Line is a central piece of Clarkstown's efforts to create a transit-oriented development of this area and to create a revitalized hamlet center that will generate jobs and affordable housing for seniors and young people alike," added Hoehman.  In 2017, average inbound daily ridership from Nanuet was 644 passengers. "It would be a solid show of goodwill for the MTA to do the right thing and apply the fare discount to all riders of the system, regardless of where they board the train."
Village of South Nyack
Police Residency Amendment
At the Board of Trustees meeting on October 23, the Board voted unanimously to adopt the following amendment regarding Police Residency:
Section 1. The second paragraph of Section 1 of Article IV of Local Law No. 5 of 1982 of the Village of South Nyack, as amended, including without limitation at Chapter 74 of the Village Code, is hereby amended to indicate as follows:
All appointments shall be in accordance with the Civil Service Law of the State of New York, the rules and regulations of the Rockland County Personnel Office and the Public Officers Law of the State of New York. Any individual appointed as a Police Officer, Sergeant or Chief of Police prior to the enactment of this Local Law shall be exempted from the former requirement that they be a resident of the County of Rockland.
Section 2. This Local Law shall take effect immediately upon filing with the Secretary of State.
Town of Clarkstown
2018 Ballot Questions for Clarkstown Residents
There are two propositions on the ballot this upcoming general election for Clarkstown residents. The election will be held on November 6, 2018. Clarkstown voters will have the opportunity to decide whether town council members should serve two year terms (as they do currently) or whether they should serve four year terms. The same question is being posed as it relates to the offices of town clerk, highway superintendent, and supervisor. It is important to note that this will have NO EFFECT on the current term limits that were established in 2015, which limits the amount of years Clarkstown elected officials can serve at eight consecutive years.
Below the two propositions are written as they will be displayed on the ballot:
PROPOSITION #1: "Whether the Town of Clarkstown should amend Chapter 71 (Ward District Boundaries) of the Town Code of the Town of Clarkstown to change the length of term of office of Town Councilpersons from two years to four years, and this amendment shall apply to the Town Councilpersons who are elected at the town elections to be held on or after November 5, 2019?"
PROPOSITION #2: "Whether the Town of Clarkstown should add a Chapter to the Town Code—Length of Terms of Elected Officials—Supervisor, Town Clerk and Superintendent of Highways—to change the length of term of office of the three officials from two years to four years, and this new Chapter shall apply to the Supervisor, Town Clerk and Superintendent of Highways who are elected at the town elections to be held on or after November 5, 2019?"
For more information about voting, polling places, and sample ballots, please visit the Rockland County Board of Elections, or call (845) 638-5172.
Rockland County
Section 8 Housing Enrollment is Open
The Rockland County Department of Social Services (RCDSS) Housing Choice Voucher (HCV Program) Waiting List is open until Sunday, November 11, 2018 at 8p at rockland.hcvlist.org. Applications are not provided or accepted at any RCDSS office. If you are elderly or require assistance in completing an application because of a disability, you may call 845-253-4650 from 8a to 5p, Monday through Friday during the open application period. Individuals with hearing or speech disabilities using TDD or TTY technology may call New York Relay Services by dialing 7-1-1 for assistance.
Mario Cuomo Bridge News
River Road Work 
Tappan Zee Constructors (TZC) continues work near River Road in South Nyack, requiring single lane closures and brief, periodic traffic holds. Travelers should expect brief traffic stops between 7 a and 5:30p, Monday to Friday. Flag persons are on site to facilitate the lane closings and maintain traffic safety. School buses and emergency vehicles are given priority throughout the closure period. Cyclists and pedestrians should follow flagger's instructions. The work will also require a sidewalk shift on River Road next week. Beginning Mon, November 5, a crosswalk will divert pedestrians and cyclists from the east side of River Road to the west side. The shift is anticipated to conclude by the end of next week, weather permitting.
Shared Use Path
At the Rockland Landing, a segment of the Esposito Trail from Clinton Avenue and South Franklin Street to South Nyack Village Hall is closed for the construction of the side path. Pedestrians and cyclists are being detoured to South Broadway and through Elizabeth Place Park. Additionally, crews will continue drilling and installing piles along Hillside Avenue, necessitating temporary lane closures. Flag persons will keep traffic moving by alternating the directional flow between east and west. Ramp construction will also continue for the new connection between Interchange 10 and Hillside Avenue.
---
Here are the municipal events in Upper, South and the Village of Nyack for the week of 11/5.
Village of Nyack
Mon 11/5, 7p: Planning Board Meeting
Tue 11/6, 9a: Mayor Hammond's Monthly Meeting
Wed 11/7, 9a: Open Play Pickleball (Memorial Park)
9:30a: Justice Court
4:30p: Board of Water Commissioners
6:30p: Village Board Pre-meeting Workshop
7:30p: Village Board Meeting
Nyack Village Hall is located at 9 N. Broadway.
Village of South Nyack
Mon 11/5, 5:30p: Justice Court
Tue 11/6, 7:30p: Zoning Board of Appeals
South Nyack Village Hall is located at 282 S Broadway.
Village of Upper Nyack
Thurs 11/8, 7p: Board of Trustees Workshop
Upper Nyack Village Hall is located at 328 N Broadway.