Greater Nyack Bike Walk Master Plan Seeks Public Input
February fatality underscores the need to make local roads safer
by Dave Zornow
The Nyack river villages are charming, quaint and walkable. They are also a popular cycling destination for Rockland County residents and NY metro area visitors. But there are a lot of ways that local streets, sidewalks and intersections can be improved. According to area residents, more than 150 ways — and counting.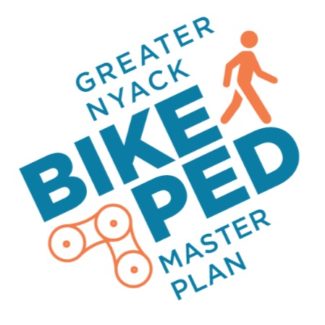 The Greater Nyack Bike Walk Master Plan project hopes to build on the Nyack area's walking and bicycling reputation by studying what works and what can work better for residents who want to get around the villages and hamlets in the Nyack School district without a car. Project consultant Fitzgerald & Halliday, Inc (FHI) has created two websites to gather input for this study. The master plan recommendations will use this information, as well as field work, interviews with decision makers and a variety of community engagement events, to develop a roadmap to improve local roads.
Residents and visitors who walk, drive or ride a bicycle in the Nyack school district are invited to visit:

BikeWalkGreaterNyack.com

 — a website which describes project goals and encourages site visitors to sign up for a mailing list to receive project updates and invites to attend a public workshop and a planned pop-up demonstration.

NyackBikeWalkSurvey.com

 — a crowdsourced, interactive map where site visitors 

can

 drop 

pins

 on a map to highlight 

safety concerns and 

intersections and 

streets which

 need improvement.
More than 150 pins have been dropped on the NyackBikeWalkSurvey.com interactive map so far, pointing out issues such as missing sidewalks, crosswalks and ADA ramps, lack of bike lanes or insufficient shoulders, roads that are too wide to cross, and places where motorists don't yield. The project team will evaluate all of the suggestions and look for patterns which they will report back to the participating municipalities in early summer 2018.
Residents responding to a 2017 project survey cited traffic calming as one of their top issues. Three recent crashes near Nyack underscore this concern. On Feb 16, a 35-year old Blauvelt resident was struck and killed by a car on Route 59 under the NYS Thruway overpass in Nyack. On Feb 27, a 28-year old Spring Valley resident was hit by a car on Rt. 303 near the West Nyack Motor Lodge. A 7-year-old child was struck by a hit and run motorist on 11/21/2017 while she was walking to her school bus in Congers.
Learn More on Earth Day
The Greater Nyack Bike/Walk project team will be at at the Veterans Memorial Park gazebo on Main Street at the Nyack Earth Day celebration on  Sat April 21 from 12n-4p. A pop-up demonstration is planned on Cedar Street to demonstrate how good design can encourage healthier and safer active transportation for kids, parents, residents and visitors to the Nyack river villages, Valley Cottage and Upper Grandview.
Good transportation design can save lives — and lead to healthier lifestyles by offering active transportation and recreational options. "Encouraging walking and bicycling for all ages and abilities requires careful consideration to respect local communities while offering facilities, on-road and off, that are safe, functional, and inviting," said Fitzgerald & Halliday's Chris Henry. "A transportation network that supports bicycle use and pedestrian activity is a key component of a livable community, offering recreation, economic vitality, commuting options, and access to transit." Similar projects led by FHI include the Jersey City, NJ Pedestrian Enhancement Plan, the Capitol Region Complete Streets Plan in Hartford, CT, and the Connecticut Statewide Bicycle and Pedestrian Plan.
The Greater Nyack Bike Walk Master Plan, funded by a grant from the New NY Bridge Community Benefits fund, complements a 2017 project in the Town of Orangetown, with similar goals but covering an adjacent geography. The Village of Nyack is acting as the lead agency on behalf of stakeholders in the Village of South Nyack, the Village of Upper Nyack and the Nyack School District.
Dave Zornow is the chairperson of the Greater Nyack Bike / Walk Master Plan committee. To join the mailing list to keep up to date on planned project activities and presentations, visit the Get Involved page at BikeWalkGreaterNyack.com or email info@bikewalkgreaternyack.com.

See also: