One Day Only Kids Friendly Bike Lane in Downtown Nyack Scheduled for Sat April 21
New York State will spend $650,000 on pedestrian safety and mobility improvements in Palisades at the intersection of Route 9W and Oak Tree Road. NYS Assemblywoman Ellen Jaffee (D-Suffern) says the NYS 2018-19 budget will fund safety improvements for pedestrians, cyclists and motorists at this busy and congested intersection.

"As we push for more walkable and bikeable communities, we must revise our existing infrastructure to ensure the safety of both pedestrians and cyclists," said Jaffee. The Oak Tree Road project complements ongoing bike/pedestrian studies in
Orangetown
as well as the
Nyack river villages and school district
. The Town of Orangetown is also building a 1300 foot
bicycle bypass on Greenbush Road along a dangerous part of Route 303
where a fatality occurred in 2003.
"This funding is excellent news for the residents of Palisades," said Orangetown Supervisor Chris Day. "I'm proud to have worked with Assemblywoman Jaffee on this issue and thank her for her efforts to correct a dangerous situation."
Earth Day in Nyack To Feature One Day Only Kids Friendly Bike Lane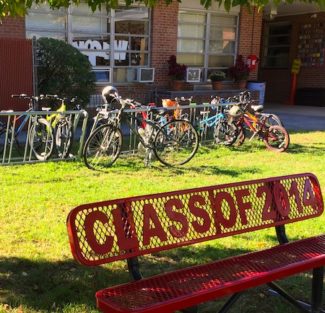 April 21 from 12n-4p in Veterans Park on Main St
Walking or bicycling is good for your health and good for your planet, too. The Greater Nyack Bike/Walk Master Plan project will take part in Nyack's Earth Day celebration in Veteran's Park to talk about the project's goals and hear suggestions from residents and visitors about how to make it easier to get around the villages and hamlets in the Nyack School district without a car.
Staff from bike/walk project consultant Fitzgerald & Halliday Inc (FHI) will listen to your ideas about how to improve streets, sidewalks, crosswalks, roads and bike lanes in Nyack, South Nyack, Upper Nyack, Upper Grandview and Valley Cottage.
These observations will be added to the crowdsourced interactive map at NyackBikeWalkSurvey.com where more than 300 data points have already been collected.
FHI's implementation partner, Street Plans, will install a protected bike lane on Burd St, Cedar St, Church St and S Broadway adjacent to the Earth Day event at Veteran's Park. The temporary path is a great way for kids and parents to ride around the block and try out what a protected path might feel like in downtown Nyack. 
Earth Day events take place at Veterans Park on Main St at Cedar St in Nyack on Sat April 21 from 12n-4p. The bike lane demonstration project loop is a short walk away at the corner of Cedar and Burd streets.
See also: