Remember when you were a kid and it was a thrill to ride around the block with friends? Kids of a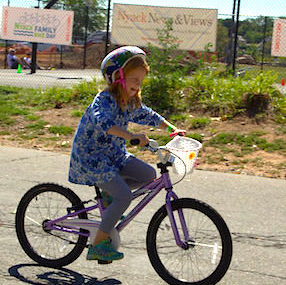 ll ages — but mostly younger ones — are invited to try out the protected bike lane near the Nyack Earth Day celebration at Veterans Park gazebo on Main Street on Saturday April 21 from 12n-4p. The Greater Nyack Bike/Walk Master Plan project will be creating a temporary bike lane around the block where the First Reformed Church of Nyack is located. Planters will be placed to separate the cycling traffic from the street. Additionally, staff from Bike/Walk project consultant Fitzgerald & Halliday (FHI) will be on hand to talk with young cyclists and their parents about the experience.
Cyclists are required to wear bicycle helmets while using this lane. That's always a good idea (as well as required by law in Rockland County).
The temporary, one-way bicycle lane on Burd, Cedar, Church and South Broadway will be open between 12n and 4p. The bike lane won't be permanent installation, but only used as a demonstration to show how protected bicycle lanes can encourage healthy and safe ways to get around the Nyack river villages and school district.
The Greater Nyack Bike Walk Master Plan hopes to build on the Nyacks walk-able and bike-able reputation by studying what works and what can work better for residents who want to get around without a car. FHI has created two websites to gather input for this study:
BikeWalkGreaterNyack.com

 — a website which describes project goals and encourages site visitors to sign up for a mailing list to receive project updates and invites to attend a public workshop and a planned pop-up demonstration.

NyackBikeWalkSurvey.com

 — a crowd sourced, interactive map where site visitors 

can

 drop 

pins

 on a map to highlight 

safety concerns and 

intersections and 

streets which

 need improvement.
More than 3
50 
pins have been dropped on the 
NyackBikeWalkSurvey.com
 interactive map
so far, 
pointing out issues such as missing sidewalks, crosswalks and ADA ramps
,
 lack of bike lanes or insufficient shoulders, roads that are too wide to cross
,
 and places where 
motorists 
don't yield. The project team will evaluate all of the suggestions and look for 
patterns which
they will report back to the participating municipalities in early summer 2018.
The Village of Nyack is the lead agency for this study which includes the Nyack school district, the three Nyack river villages and the hamlets of Valley Cottage and Upper Grandview. Funding for this project was provided by the New NY Bridge Community Benefits Fund.
See also: