This week in the villages: Do you walk, bike or even drive around the Nyacks? If so, your input is needed to make the streets safe for everyone.  Also, pencil in a new South Nyack village election day. And NHS seniors, finish those college scholarship applications!
Village of South Nyack
Last Tuesday, an unusually high number of South Nyack voters said "yes" to moving the village election day. Starting in 2019, the election will coincide with the general election in November.
As for this year's results, Trustees Alain Leinbach and Andrew Goodwillie, and Village Justice Dennis Lynch, who all ran unopposed, were re-elected. (See: South Nyack Nixes Spring Elections.)
Village of Upper Nyack
Last Tuesday, Trustees Joseph Diamond and Kennon Rothchild III, who ran unopposed, were re-elected.
The Greater Nyack Bike / Walk Master Plan Needs Your Input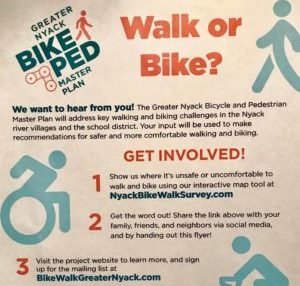 The Greater Nyack Bike Walk Master Plan will address key issues for the river villages and school district by providing a roadmap for making our area friendlier to bicyclists and pedestrians. The Master Plan will consider how roadway design, education, enforcement, and policy can maximize safety, economic development opportunities, and quality of life. Your input will be used to make recommendations for safer and more comfortable walking and cycling.
Please take a few minutes to provide your input with the Bike-Walk Greater Nyack Mapping Tool, and report locations that need improved walking and biking facilities in the Nyack, South Nyack, Upper Nyack, Valley Cottage, and Upper Grandview communities. The comments will contribute to the regional recommendations for infrastructure and policy improvements. Please visit BikewalkGreaterNyack.com to learn more about the plan and how to participate. To join the mailing list to receive updates on this project, email info@bikewalkgreaternyack.com.
Orangetown fielded a similar study last fall. The preliminary recommendations will be presented at the Rockland Bicycle Club March meeting on Tues 3/27.
March 31 Application Deadline for College Scholarships Available to Nyack Area Students
The Rockland Community Foundation 2018 College Scholarship application period closes on March 31, 2018 for the following scholarships available to Nyack area graduating seniors:
Auerbach/Goldberg Memorial Scholarship was established to foster a spirit of respect, tolerance and compassion in response to lessons learned from the Holocaust, and will award $1,000 to each of one or more selected recipients.
Chazen Spirit of Rockland Scholarship: Awarded to a promising high school senior in need of financial aid to assist with college costs, the scholarship is granted in increments of $1,000 per year, with renewal of up to four years for qualifying recipients, for a total grant of $4,000.
Christine Gallagher Scholarship will award $1,000 to a Rockland County high school senior who has shown a demonstrated commitment towards the education and treatment of those with disabilities.
ML by Maria Luisa Scholarship will award two $1,000 scholarships – one to a woman who is a graduating HS student in Rockland, and one to a woman who is a graduating student in Nyack HS, who embrace the principals of civic and community involvement, commitment to social justice, social equality, and environment/ecofriendly lifestyles.
Welles Remy Crowther Red Bandana Memorial Scholarship: Honoring the memory of a young man who courageously saved the lives of many on 9/11, the $1,000 scholarship is awarded to a graduating senior active in volunteering and pursuing a career in emergency services or medicine.
Applicants to any of these programs must be residents of Rockland County and meet specific criteria set forth by the individual scholarships. The Rockland Community Foundation website has more information on all of these scholarships.
---
Here are the municipal events in South Nyack and the Village of Nyack for the week of 3/26. There are no meetings scheduled in Upper Nyack this week.
Village of Nyack
Mon 3/26, 7p: Zoning Board of Appeals
5p: Justice Court
6:30p: Nyack Housing Authority
7p: Nyack NAACP Meeting
7p: Parks Commission Meeting
Thurs 3/29, 9:30a: Justice Court
Nyack Village Hall is located at 9 N. Broadway.
Village of South Nyack
6p: Village Fees Workshop Continuation
7:30p: Board of Trustees Regular Meeting
Wed 3/28, 7:30p: Planning Board Meeting
Fri 3/30, Village Hall Closed
South Nyack Village Hall is located at 282 S Broadway.