Local Relief Effort
Saturday October 7, 2017 11a-8p
O'Malley's at 108 Main St, Nyack
Things to donate: canned goods, sanitary products, clothes, blankets, baby supplies & water.
Cash donations accepted and forwarded to the American Red Cross. For very drink & meal served, O'Malley's will donate $1.
Special invited guests:Tito Puente Jr, (Mambo Musician), Blevia (Latin/Urban Artist), Frankie C El Veterano (Latin/Reggaeton Artist), Dennis Ciallela (DJ/Producer), More T.B.A
Accepting donations between the hours of 11a & 8p.
To honor 3.5 million Americans in crisis, Nyack Sketch Log presents two local artists of the Puerto Rican diaspora. Both artists, who are currently showing in Rockland County, share a technical mastery of their respective media and have family struggling on one of the islands devastated by Hurricane Maria. Luis Bruno and Marisol Diaz were both raised in New York's Upper East Side by Puerto Rican parents, tethering them, by air plane and culture, to the Commonwealth of Puerto Rico.
Just days into Diaz's exhibit at Bell-ans Art Center and weeks before Bruno's opening at The Corner Frame Shop their ancestral home was injured by torrential rains and gale force winds, and then insulted by a federal governmental that treats the American citizenship of the island's residents as second class. Distracted by feelings of dislocation and helplessness, both artists attempt on a daily basis to communicate with relatives that are living without electricity and running water almost two weeks after being struck by two hurricanes.
Learn about an event in Nyack on Saturday that is organizing relief for Puerto Rico.
Viva Puerto Rico. Viva la familia de Bruno y Diaz.

Meet Luis Bruno
How Did You Become an Artist?
I've always wanted to take pictures ever since I was a kid, but I didn't really pursue it till my late twenties. I was a doorman for eight years. At the same time, I was studying at the Fashion Institute of Technology in NYC.
While at FIT, I started assisting other photographers part time and later started assisting full time and more seriously pursuing my career as a photographer.
I was a photo assistant for fashion and corporate photographers. In 2000, I went out on my own and became a still life photographer. I've been fortunate to have shot for Martha Stewart, Nordstrom's, Popular Science,
Men's Journal and Barnes and Noble to name a few.
How Did You Become an Artist?
I shoot product for editorial and catalogue. I like to approach photography like a study. We go through life and we never really pay attention to all the details and I like to approach the products in such a way that I focus on the details one might normally miss.
What is your muse?
My muse is still life. When I observe an object, I think about how I want shoot it, what kind of light do I want to use, the angle, the positioning. That excites me.
I love the process of creating the photo in my mind and
then seeing it in print and what it takes to get there.
I tend to achieve my shots in the simplest ways possible, for example using only available light or using a one light set up in the studio.
What's next?
Slowing down. While I love digital photography, I'd like to explore more of the old processes for example the Wet Plate Collodion process.
The old way of doing things, really makes me think more and slows me down. I want to look deeper.
Bruno is having an opening at the Corner Frame shop in Nyack onSunday October 15th, 2-4p. His work will be on display for the month of October. The Corner Frame Shop is located at 40 South Franklin Street.
Click here to follow Luis on Instagram.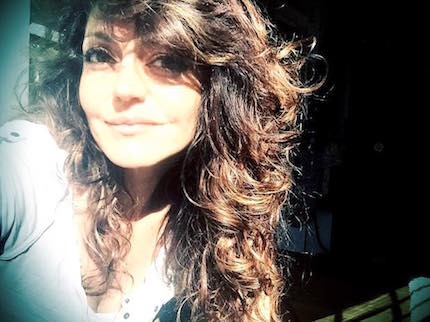 Meet Marisol Diaz
How Did You Become an Artist?
I was raised an only child in an economically disenfranchised Puerto Rican family with male presence depolarized in Spanish Harlem.

Quite honestly in order to combat loneliness and a non-challenging public school education, I had no choice but to entertain myself for hours by developing an over-active imagination. I remember developing narratives in my mind like puddles of un-spun spools of thread, and then I began to illustrate. My earliest works were combinations of words, diary entries and drawings of my emotive states. My mother loved to draw a singular image over and over…unlike the lollipop figures of crossbars I had seen up until then, my mothers voluptuous and curvaceous drawings of girls in bathing suits gave me my earliest advanced representation of a female figure. I spent hours upon hours lost in reverie.
What Kind of Art Do You Make?
My work often deals with refuge and memory. The female domesticity that exists universally and the cryptic characteristics wrapped in that cloister; concealment, security, constriction, isolation and dubious protection.
As a traditional figurative painter, much of my recent work has been affected by the process of mark-making and letting go literally, as well as metaphorically. I have investigated the sociological-strata that surround the construct of ethnicity, female figuration and re-configuration. As a Puerto Ri… no, I mean, Nuyorican woman, displacement has been at the core of who I am.
What's Your Muse?
I have been affected by the United States and its polarized socio-chromatic (black & white) society.  I am often concerned with color, but also the lack there of, hard use of line, the figure, its relation to its environment and a gaze.  The depictions can at times be surrealistically flattened into a foreign perspective of meaning.

The illustrative images that I explored take on a "snapshot" quality, like a relic, an anthropologists' Polaroid, a remnant of a time. I am interested in exploring and dissecting the western notion of beauty, myth and the underlying self-infliction that surrounds the object of that gaze. I try to create a visual dialogue with the viewer about personal domain and fragility.
What's Next?
Join Marisol on Sunday, October 8 from 2 – 4pm for a demonstration on how she incorporates 3D printing and resin casting into her exhibition entitled, "Engineering the Self & Untethering the Soul" at Volition Gallery at Bell-ans Arts Center. The show is up through October 29. She will be using a maker-bot 3D printer running the simple 3D modeling interface software called Tinkercad. In addition, she will cast one of the elements from her exhibit in two-part epoxy bar-top resin.
Proceeds from the sale of one of her pieces will go to the Center for Safety & Change.
To learn more about Marisol visit amaretogirl.com.
An artist and writer, Bill Batson lives in Nyack, NY. Nyack Sketch Log: "Artists of the Puerto Rican Diaspora Luis Bruno and Marisol Diaz"  © 2017 Bill Batson. Visit billbatsonarts.com to see more.
The Nyack Sketch Log is sponsored each week by Weld Realty.