by Bill Batson
A hive of buildings in Orangeburg that once produced a popular indigestion tablet is now the Bell-ans Center of Creative Arts. Founded in 1897 by John Lanphere Dodge, the son of a Civil War Union Army Surgeon, Bell-ans became a national pharmaceutical brand. One hundred and nineteen years later, the structures that sheltered manufacturing and the cottages that housed workers are under the care of a scion of the Dodge family, James and his wife, Phyllis. On August 5, you can dance the night away under a tent at the 120th celebration of Bell-ans and the opening of Guilty Pleasures, a group show at the Volition gallery curated by Lynn Stein.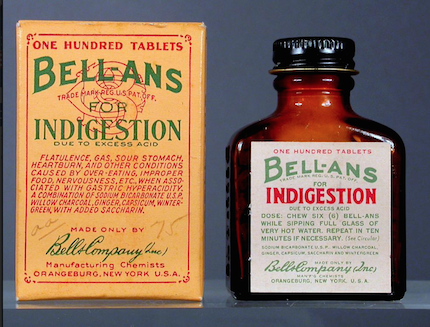 An entrepreneurial spark was lit while the young John Lanphere Dodge was sweeping floors and stocking shelves in a pharmacy in New York City in the late 1800s. The surgeon's son approached a chemist named Bell with and idea for a cure for indigestion. The product that they created bore the name of the chemist and 'pa-pay-ans,' an ingredient derived from the papaya. The resulting concoction became a popular elixir that was said to "remove flatulence, vertigo, weakness and other symptoms of indigestion quickly and pleasantly." The iconic bottle, manufactured from a massive three story factory building on the 150 acre compound at the foot of the Clausland Mountains in Orangeburg for over 70 years, became so iconic that one is in the collection at the Smithsonian Institute in Washington, DC.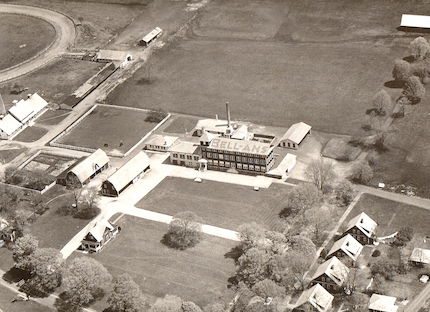 The success of Bell-ans supported John Dodge's utopian vision. The property was outfitted to accommodate some of his favorite pastimes that included stables and a track for harness racing and a barn for animal husbandry.  A hotel was built that became a popular destination for travelers to the Orangeburg Fair, that was held for many years at Bell-ans.
As the business was handed down through generations of Dodge sons, non-commerical uses persisted alongside of the thriving pharmaceutical company. Although manufacturing continued in 1965 when James' father, Joseph Griswold Dodge, Jr. took the reigns, regulations in the pharmaceutical industry were making it increasingly difficult for small producers like Bell-ans. In order to make do, alternative uses had to be identified for the space. Local artists began to occupy the large and well-lit spaces that had once been used for production.

Tragically, Joseph Dodge died in a race car accident leaving his wife Catherine and son James a creative himself, who studied filmmaking, to manage the property and the business. In 2010, Catherine retired.  An accountant and math professor, Phyllis came on board to manage the books at Bell-ans and eventually became the creative director.
Now, over two dozen artists maintain studio space at Bell-ans.  Several tenants, including Tom Artin, Joan Hooker and Barbara Adams have been making art there decades. The vast space also houses a photography studio, a wood worker, a rock scientist and a florist.
Nearby, small businesses prosper on the grounds like
West Carbery Stables
, that continues the equestrian legacy started by
John Lanphere Dodge,
Sundala Center for Wellness
 that offers acupuncture and massage and the Children's Shakespeare Theater.
In March 2015, Phyllis Dodge launched an exhibition space at Bell-ans called Volition Gallery.  The venture represented her realization that she had come to a point in life where she was not afraid to be her authentic self.  After working with a mediation group that explores divine and free will, the word "volition" kept coming up and she knew that would be the name of the gallery she always wanted to open.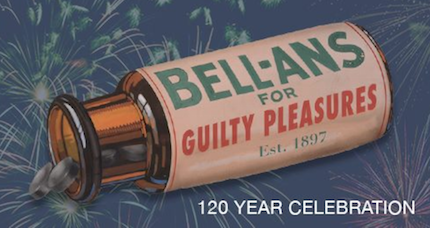 A group exhibit coincides with the 120th birthday of Bell-ans on Saturday, August 5, from 7:30 – 10:30p.  You are invited to attend the opening reception to indulge in some guilty pleasures at the eponymously named exhibit, curated by Lynn Stein a local artist and musician. Some art work may not be suitable for children.
A dance floor will be constructed under a tent on the grounds just outside of the Volition Gallery where disco records will spin and comedienne Brenda Bergman will perform. Tickets are limited. $15 admission. Purchase tickets
here
.
The next event at Bell-ans is a solo exhibit of the works of Marisol Diaz on Saturday, September 16 from 3 – 6pm. The exhibit entitled, On Engineering the Self and Untethering the Soul, features paintings, mixed media and sculptures.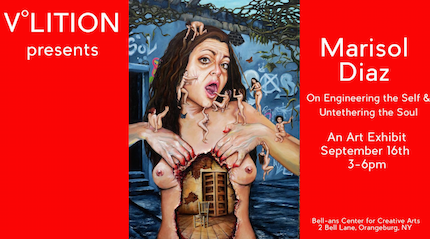 The Diaz exhibit on September 16th takes place on with the annual open studio day from 2 – 7pm. See works of Hudson Valley artists in the halls and various open studios. The Volition gallery is open by appointment only during the week and 
Saturday
 and 
Sundays, 
11a until 2p. Call 845 596 0870 to schedule a visit. Bell-ans is located at 103 South Greenbush Road in Orangeburg.
Within the life history of one family, this massive complex has shifted its mission from combating indigestion to harnessing inspiration. James Dodge continues his eclectic heritage by devoting energy to animal rescue as well as maintaining thousands of square feet of studio and office space.  Currently the barn on the property houses two pigs, Piggy Smalls and Ivy, two goats named Angus and Elvis, a peacock and some Indian runner ducks.
Phyllis divides her time between the administration of the art center, directing the gallery and her duties as an adjunct professor of math at SUNY Rockland.  "We are committed to supporting the arts. We both love history and we love Bell-ans. With so many people coming  to the place to do what they love, for generations, that radiates out.  The building almost vibrates with powerful energy," Phyllis said.
Bell-ans will certainly be pulsating on August 5 at their 120th birthday bash. Phyllis and James are always looking for an excuse to pitch a tent and hand a disco ball.  I hope to see you there.
Visit
bellans.com
 to learn more about using Bell-ans for pop-up galleries, workshops and special events like birthdays and weddings.
Bill Batson is an artist and writer who lives and sketches in Nyack, NY. Nyack Sketch Log: "Bell-an turns 120" © 2017 Bill Batson.  To see more, visit billbatsonarts.com