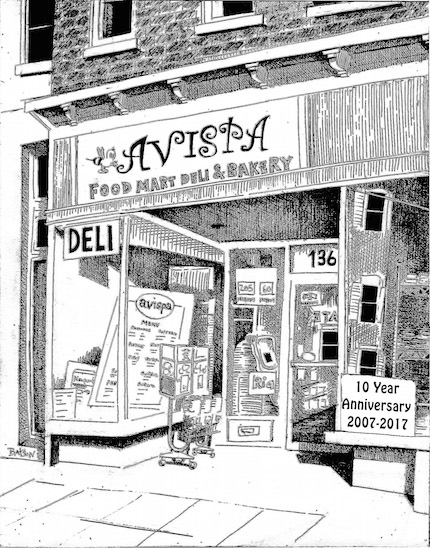 by Bill Batson
Inside what many assume is a garden-variety deli you will find Central American cuisine worth writing home about. Four friends from El Salvador launched Avispa Food Mart, Deli and Bakery ten years ago. This immigrant saga is told by their first employee, Jose Mazariego,who's been minding the store with a welcoming manner since day one. If you want to enjoy the wide range of items they serve for breakfast, lunch and dinner, visit 136 Main Street to celebrate their 10th anniversary.
Why Avispa?
In English "Avispa" means wasp or bee.  The business is called Avispa because one of the original owners was called Avispa.  That had been his nickname for over 30 years, from when he was young and lived in El Salvador.
When did you open?
The business opened 0n June 25, 2007. The idea came from a group of friends that had a dream to open their own business. Two of them worked for an Italian bakery. They wanted to make Spanish bread and a variety of other dishes from our country. Two of the original four owners keep Avispa up and running.
Restaurant work is famously grueling. How many hours a day and week do you work?
We work approximately 16 straight hours, seven days a week. It is very hard.
When you work with food, you have to keep in mind that everyone has his or her own taste. Some may say it's too salty, and others say its perfect.  It is very hard to find the perfect balance.
Central American Sampler
Pan Dulce
sweet breads often decorated in bright pink and yellow icing.
Tamales
Meat wrapped in cornmeal dough steamed in cornhusk.
Pupusas
Thick handmade corn torilla filled with cheese and meat
A variety of specialty items and region produce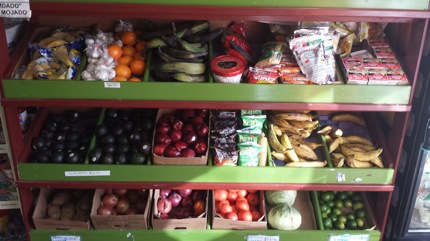 Snapshot of El Salvador
El Salvador won indepenece from Spain on 15 September, 1821. With a population of approximately 6 million, El Salvador is both the smallest and most densely populated country in Central America.  It borders Guatemala to the west, Honduras to the north and east and the Pacific Ocean to the south. The Capital is San Salvador. The President of El Salvador is Mauricio Funes.
Community Service
For the last several years, Avispa has partnered with the Nyack Chamber of Commerce, allowing Farmers' Market vendors to use their facilities every Thursday during the spring and summer.
Where have your staff and customers emigrated from?
The staff is primarily from El Salvador.  But Mexican, Dominicans and Americans have worked with us.  Our customers come from all over Central America. There are just too many countries to mention just a few.
Why did you settle in Nyack?
We decided to start a business in Nyack because we realized that there weren't any restaurants offering what we prepare. Even the American community wanted products from Central America.
Your restaurant feels like a cross between a community center and a workers' cafeteria. In addition to food, do you offer any other services to your customers?
During the years that we have been open, we have never turned our back on our community. Even though sometimes you may feel like you want to sleep in, we don't do it because there are people waiting outside even before we open.
We offer bill payments, phone recharging, and groceries because we have to keep up with the needs of our customers.
What are your most popular items?
Some of our most popular dishes would be the chicken fajita with cream sauce and rice and beans, beef soup, Salvadorian Pupusas, tamales and our breakfast sandwiches.
Green Plantain is the most common food people from the Caribbean buy and it's a large part of their diet.
Are you following the debate about immigration that is taking place in the United States?
As immigrants, we have many talents to offer to this country. We pay taxes.
The only reason we come here is for a better future for our children.
Avispa is open from 6a-9:30p seven days a week and located at 136 Main Street near the corner of Franklin Street.
Special thanks to Gustavo Mazariego, Jose's son for translating my questions from English and his father's answers from Spanish.
Photo credit: Bill Batson
An activist, artist and writer, Bill Batson lives in Nyack, NY. Nyack Sketch Log: "Nyack Sketch Log: Nyack Sketch Log: Avispa Food Mart, Deli, Bakery…& More!" © 2017 Bill Batson. Visit billbatsonarts.com to see more.