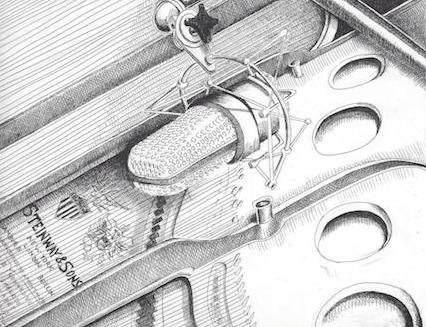 by Bill Batson
Bill O'Connell and the Latin Jazz All-Stars will perform a concert to benefit the Arts Council of Rockland at the Nyack Center on Friday, June 23 at 8p.  The Arts Council of Rockland is a nonprofit institution dedicated to advancing the arts and the role of artists within the Rockland community through providing grant opportunities, technical assistance, and information to artists and arts organizations. As a respected educator and leader of The Latin Jazz All-Stars, O'Connell's one-night gig will be a singular local cultural event in support of a critical regional arts organization.

Born in New York City in 1953, Bill O'Connell studied classical piano at Ohio's famed Oberlin Conservatory of Music after high school. Returning to New York in the 70s, O'Connell became immersed in the burgeoning Latin jazz and salsa scene.  He was given his big break by Cuban conga player and bandleader Mongo Santamaria's Latin jazz group. Through the years as a go to keyboardist and arranger in O'Connell worked with jazz greats as Sonny Rollins, Chet Baker, Gato Barbieri and Emily Remler.
Latin Jazz All-Satrs Benefit for the Arts Council of Rockland
Friday, June 23, at the Nyack Center (58 Depew Ave.)
8p – Doors open at 7:15p
(finger food, beer, wine, soda, and water will be available)
Advance tickets can be purchased for $20 ArtsCouncilofRockland.org
Tickets at the door are $25
Special student discount tickets for $10 for Rockland County HS Jazz Ensemble members
There will be a "meet and greet" with the members of the band after the concert
The Latin Jazz All-Stars joing the stage with Bill O'Connell on Friday, June 23 at the Nyack Center are:
Conrad Herwig – Trombone:  With over 20 CD's as a leader, Herwig has performed with Miles Davis, Tito Puente, Frank Sinatra, Eddie Palmieri, Joe Henderson, Joe Lovano, and many more
Steve Slagle – Alto Sax, Flute . . . . over 14 CD's as a leader, Slagle has performed with Charlie Haden, Stevie Wonder, Joe Lovano, Milton Nacimento, Lionel Hampton, Ray Barretto, Carla Bley, and was the former leader of the Mingus Big Band!
Richie Barshay – Drums:  Barshay has performed with Herbie Hancock, Chick Corea, Esperanza Spaulding, The Klezmatics, Bobby McFerrin, Kenny Werner, Lee Konitz, and Fred Hersch, etc.
Luques Curtis –  Bass: Curtis who has performed with Eddie Palmieri, Brian Lynch, Ralph Peterson, Christian Scott, Sean Jones, Gary Burton, Dave Valentin, etc.
Roman Diaz – Congas: Diaz moved to New York City from Cuba in 1999. He has performed with Paquito D'Rivera, Donald Harrison, Horacio "El Negro" Hernandez, Orlando "Puntilla" Rios, Pancho Quinto, and is considered the "living repository" of Cuba's Folkloric Music!
An activist, artist and writer, Bill Batson lives in Nyack, NY. Nyack Sketch Log: "Nyack Sketch Log: Art Council of Rockland Benefit" © 2017 Bill Batson. Visit billbatsonarts.com to see more.