by Mike Hays
The Prospect House. The Pavilion. The Tappan Zee Hotel. The Opera House. The Ivanhoe. The St. George Hotel.


These are a few of the resort hotels built in Nyack during the Gilded Age from the end of the Civil war to the 1890s. These beautiful buildings usually included a restaurant and retail stores on the first floor and hotel rooms on the upper floors. Only the St. George built in 1885 survives today, the once proud hotel re-purposed as office/retail space.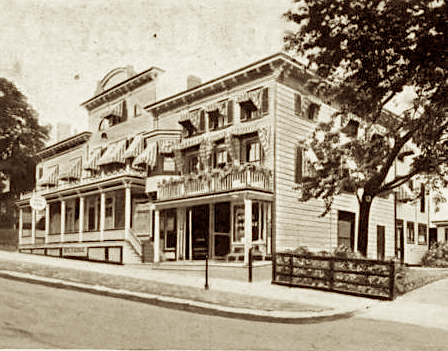 Here are a few of the many lodgings constructed during Nyack's long hotel history.
The Prospect House, once sited near today's Nyack College, burnt down in 1898. With a dining room large enough to serve 225 people, its ball room was the talk of the town where a million dollars worth of  diamonds were worn at some of its events.
Located on a bluff above the Nyack Brook near Main Street just west of Franklin, the Pavilion Hotel burned down in the 20th century.
South Nyack's Tappan Zee Hotel on Salisbury Point could accommodate 175 guests. It burnt down in 1932.
In 1966, the Opera House at the corner of Depew & Franklin succumbed to "urban renewal" and was torn down.
The Ivanhoe name persists at Fourth and Broadway — but the hotel that once occupied this spot was demolished in the 1960s for the co-op that stands there today. Back in the day, it hosted three presidents.
The Everett Rooming House once accepted guests above what is today the Pickwick Bookstore.
There's still an 87 Burd Street, but that address no longer houses The Nyack Hotel.
Your Stagecoach Stop In Nyack
Hidden away on Burd Street and down hill from Broadway stands the magnificent St. George. An early stagecoach and ferry stop, the St. George Hotel boasted a popular restaurant, grill, and bar with large overhead fans. An old menu at the time advertised its quick service, clams, lobsters, steaks and chops, mushrooms , and chicken with waffles.
One of the best-known dishes at the St. George Hotel was the flaming rum omelet.
Brunch anyone?
Michael Hays is a 30-year resident of the Nyacks. He grew up the son of a professor and nurse in Champaign, Illinois. He has recently retired from a long career in educational publishing with Prentice-Hall and McGraw-Hill. He is an avid cyclist, amateur historian and photographer, gardener, and dog walker.
He has enjoyed more years than he cares to count with his beautiful companion, Bernie Richey. You can follow him on Instagram as UpperNyackMike.

Nyack People & Places features photos and profiles of citizens and scenes near Nyack, NY. Sponsored by Weld Realty.
Photo Credit: Mike Hays