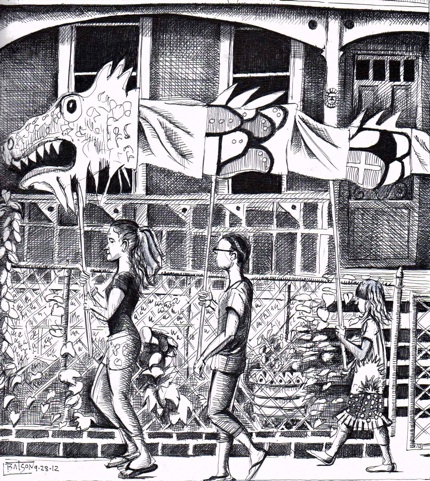 by Bill Batson
June 10th is the deadline to register for the Amazing Grace Circus. Formed after the tragic events of September 11th by a group of young people at Grace Episcopal Church, the circus helped the teens comprehend the enormity of the violent event and the personal loss of members of their church community, Welles Remy Crowther and Stacey Sennas McGowan.  In their search for solace, they founded a circus that has become a year-round arts and fitness program.
The teens were already part of the Grace Episcopal Church's Senior Youth Group chaperoned by Carlo Pellegrini and Janet Hayes, a group that Remy's sister Paige had attended. Pellegrini, a veteran circus performer and dancer, had introduced some basic circus skills as team and esteem building activities. Hayes brought her experience as a licensed occupational therapy assistant to facilitate eight months of workshops.

"One day the teens took Janet and me to what was then the Skylark Dinner, the restaurant now known as Johnny Cakes. They had something to tell us."Pellegrini recalled. 'We are teenagers, therefore we are amazing: and we are at Grace Church, that makes us the Amazing Grace Circus," the kids declared.
Testimonials
"What you have done for these children's confidence is outstanding. I want all the kids I know to attend your circus camp and school programs."
Dick Nelson, circus fan
"What you have done to change these kids' lives is amazing. But then, that's why they call you Mr. Amazing!"
Teresa Wargo, Physical Education teacher 
"I can think of no finer program to put a youngster into.  I can only hope that my grandkids find themselves in your hands learning the skills you can teach and the lessons you have to offer.
James Gilbert, curriculum consultant
I can't thank you enough for the tremendous work you do with the kids.
We were so impressed with the entire show at circus camp.  It's a lot of work to pull together in a short 2 weeks.
Pamela Primakov, physical therapist/circus mom
Pellegrini needed some convincing at first. Having spent a year of traveling the country as a member of the Royal Lichtenstein Quarter Ring Sidewalk Circus in the early seventies, he knew the demands of the art form.  But the young people would not take no for an answer. Thanks to their persistence, and sublime and resilient response to tragedy, since their founding over 100 teens have been members of the troupe and approximately 30,000 young people and families have witnessed and been inspired by Amazing Grace Circus performances.
In addition to Pellegrini and Hayes, two other adults have brought their talents to help  Amazing Grace Circus performers tumble, juggle, clown and soar. Karen Gersch, a founding member of the Big Apple Circus and visual artist teaches acrobatics and clowning.  Hilary Sweeney, a ballet dancer since the age of five, who has trained with some of the leading aerial artists in the field, has taught dance, silks and trapeze.
Pellegrini believes that eventually, youth circus will be as ubiquitous as youth soccer. Growing interest in three-ring recreational arts and sports could be the outgrowth of the mass appeal of Cirque Du Soleil, the Canadian-based company that stages year round performances in New York and Las Vegas. Twenty years ago there were only three youth circuses in the country; now there are 140.

In circus custom, before a troupe toured the countryside, they were blessed by a church figure. By chance, an Episcopal Bishop was on hand before their first performance in 2002 to perform the rite. But when you consider that this phenomenal and enduring program was the brainchild of young people responding to one of the darkest moments in American history, we are all the recipient of the blessing that is Amazing Grace Circus.
On June 26, the Amazing Grace Circus  offers its annual summer camp, where a group of trained professional teach children how to walk on the tightwire, work on the trapeze,  juggle, act, and learn classic clown routines..and that is before lunch.
Amazing Grace CIRCUS! is a not-for-profit community/social circus.
To learn more, visit Amazing Grace Circus or call (845) 721-5059
Troupe group shot by Deborah Grosmark Photography
Portions of this column were original published October 22, 2012
Bill Batson is an activist, artist and writer who lives and sketches in Nyack, NY. Nyack Sketch Log: "Amazing Grace Circus Still Soaring" © 2017 Bill Batson.  To see more, visit billbatsonarts.com