by Bill Batson
Edward Hopper's posthumous popularity continues to soar. In April 2014, 
Art Everywhere U.S.
 conducted a poll to see what paintings Americans wanted displayed nationally on billboards, bus shelters, and subway platforms. "Nighthawks" by Edward Hopper received the most votes.
With Hopper's childhood home converted to an arts center on North Broadway in Nyack, and his final resting place around the corner at Oak Hill cemetery. Dr. Jennifer Patton was appointed executive director of the Edward Hopper House Art Center in April of 2106. Dr. Patton, who holds a Doctorate In Education from Teachers College, Columbia University, and was most recently the Director the Education at the Hudson River Museum in Yonkers. Patton expects to motivate an interested public in understanding Hopper, who "brings illustrations to everyday life.".
Other municipalities already mine the gold that is in the pigment of Hopper's paintings. "Chicago is a world-class city with phenomenal cultural institutions that house iconic works of art," said Chicago Mayor Rahm Emanuel. "I am proud that the Art Institute of Chicago…is providing 12 paintings [to the Art Everywhere outdoor exhibit] from its renowned collection, including the most popular painting 'Nighthawks.'" If the mayor of the nation's third largest city is dropping Edward Hopper's name to attract tourists, maybe Nyack should stake a larger claim to our hometown hero.
Nyack Holiday Window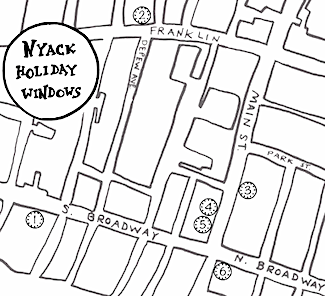 A tribute to Edward Hopper's iconic painting Nighthawks is part of the 2016 edition of the Nyack Window Project, a streetscape exhibition  that pairs visual artists with local landlords to create original installations in empty storefronts.
This year the project spans 16 locations featuring the work of 15 artists. Artists range from prominent sculptor Rodger Stevens, graphic artist Johanna Goodman, mixed media artists Joanne Howard, fabric artist Robin Donohue Montignoni, and renowned window designer and stylist Molly Findlay. This year will also feature a Hopper House sponsored window created by children from the Nyack community and a Joseph Cornell themed window featuring the shadow box art of five different artists.
Edward Hopper House Exhibition: Small Matters of Great Importance: Paper = Art.
Through January 8, 2017
The Edward Hopper House presents our 23rd Annual Juried Small Works Show, Small Matters of Great Importance: PAPER + ART. The exhibition celebrates small works that make big statements despite their diminutive size. The theme for this year's show showcases all works using paper as a primary medium or support. Michelle Donnelly, Curatorial Fellow at the Whitney Museum of American Art, New York selected artists Roeya Amigh, Susan Barrett, Charis J. Carmichael Braun, Sophie Tusler Byerley, Gaby Berglund Cardenas, Susan Capizzi, Jane Chernack, Jane Cowles, Chris Ekstrom, Shabnam K. Ghazi, Catherine Graham, Colleen Ho, Saralee Howard, Carol Kazwick, Carole P. Kunstadt, Loo Lin, Gwenn Mayers, Trina Merry, Kathleen Mooney, Gabrielle Moss, Lydia Musco, Kristin Pesola, Peter Schachter, Omer Shalev, Barbara Simonson, Marilyn Szabo, and Amy Tingle.
As interest in the artist grows, Nyack has the backstory to meet the unquenchable thirst for Hopper.  International art pilgrims make up an increasing segment of visitors to the Edward Hopper House Art Center at 82 North Broadway, according to statistic from 2015, Hopper House visitors hail from 29 States across the US. Roughly 1 in 6 visitors came from outside the US.
This significant cultural landmark was saved from destruction in the early 1970s by an ad-hoc coalition that included neighbors, Rotarians, labor unions, students and artists. Not many causes can assemble such a vast cross section of humanity; fewer can inspire the kind of contributions that were necessary to restore a structure that was literally a few signatures away from condemnation.
Born in Nyack in 1882, Hopper graduated from Liberty when it was a k-12 school.  He lived here into the 1920s,  but would return to visit his sister, Marion, who occupied the house he grew up in until her death in 1965. The artist died on May 15, 1967 and his wife of over 40 years, artist Josephine Verstille Nivison, passed away a year later. The demise of this entire cohort of the Hopper family over such a short span put the future of the family home in jeopardy. After Marion's death, the house became an abandoned eyesore inhabited by squatters.
When Jeffrey and Barbara Arnold intervened to save the house of their late neighbor Marion in 1970, a real estate investor with plans to demolish the home and build apartments had already purchased the property from the Hopper Estate. The Arnolds were able to raise $15,000 from gifts and interest free loans from concerned citizens to buy back Hopper's house.
That was just the beginning of what local architect and Chair of the Historical Society of the Nyacks Win Perry calls the greatest and most exciting adventure of his life. Perry volunteered to coordinate the restoration project. The steady stream of individuals and organizations that answered the call to save Hopper's house and appeared at the work site to lend a hand must have resembled an Amish barn raising. This community-based volunteer initiative preserved a tourist destination of growing national and global interest.
There are two measures of status in the art world; the price an artist's paintings fetch at auction and attendance at major exhibitions.In both arenas, Edward Hopper is an enduring heavy weight cultural champion:
In 2006, comedian Steve Martin sold Hopper's painting "Hotel Window" for $26 million at a Sotheby's auction.
In 2004, 420,000 people visited the Edward Hopper exhibit at the Tate Gallery in London, England in only three months.

From July to Oct. 2011, a Hopper exhibit at Bowdoin College Museum,  broke attendance records.
From Oct. 2012 – Feb. 2013, Hopper's retrospective at the Grand Palais, in Paris France had 780,000 visitors. The exhibit was so popular that the last few days the museum stayed open around the clock.
In the summer of 2012, Middlebury College, had 10,000 visit their Hopper exhibit. The population of Middlebury is 8,000.
The benefits of co-branding the Village of Nyack and one of the most popular painters on the planet, Edward Hopper, are compelling. Many towns have scenic views of the Hudson River, are convenient to transportation routes and have quaint downtowns that tempt travelers and tourists alike to stop to spend some time and money. But only Nyack has Edward Hopper.
Hopper's legacy is an asset that continues to rise in value.  Three cheers for the artist whose talent is a gift that keeps on giving: Hip Hopper Hooray!
For more information about exhibitions and upcoming special events visit edwardhopperhouse.org.
Map illustration by Shawna Handke.
Read also: 
Nyack Window Project, 2016 Edition
An activist, artist and writer, Bill Batson lives in Nyack, NY. Nyack Sketch Log: "Hip Hopper Hooray" © 2016 Bill Batson. Visit billbatsonarts.com to see more.