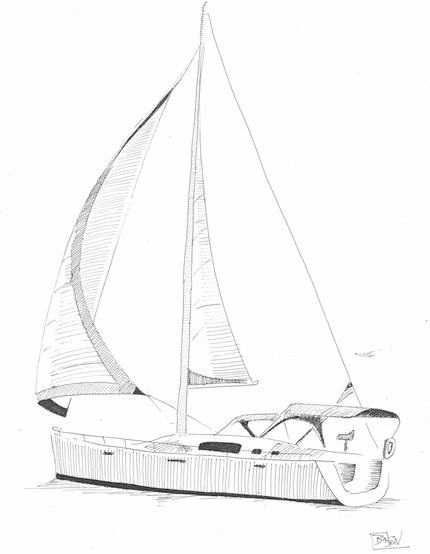 by Bill Batson
Like a siren song, tales from her great uncles and father brought Leslie (now Lezlee) Peterzell to Nyack. Born in Manhattan and raised in Atlanta, Peterzell was regaled with stories about the Peterzell family businesses, Nyack parades, and Congregations Sons of Israel at family reunions throughout her life. When she started her own family, and a river-based business with her husband, Rob, the ancestral gravity of Nyack was inescapable.
"Peterzell Cards and Gifts" operated for decades at the corner of Cedar St. and Main by Lezlee's great uncle, Ted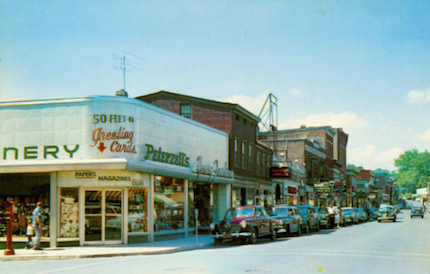 Peterzell, the eldest of four brothers (Ted, Saul, Milton, and Norman).  The store was known for "50 feet of Greeting Cards." The entire block is now gone, torn down for the Urban Renewal project of the 1960s.  Veterans Park stands where the family business once stood. In 1961, Ted moved the store across the street to 110 Main Street, which is now the site of Wasabi.  Ted also was co-owner of "The Clock" restaurant, which is now "Johnny Cakes."  The Nyack great fire burned down several stores on Main Street in 1971 including Peterzell's.  Ted's son, Marcus, a resident of Tarrytown, remembers, "every Friday night, I would go to the store with Dad to help out. To date, it is one of my fondest memories." The Peterzells and Koblins (Koblins Pharmacy) were close friends, and their cemetery plots in Blauvelt lie next to each other where they still "reminisce about the 'good ole days'." Lezlee happens to be neighbors with Jerry Koblin.

Lezlee's grandparents, Saul Peterzell and Diane Entlich, met in a Nyack Grammer School, were Nyack High School sweethearts, and married in 1936.  Both of their families were members of Congregation Sons of Israel (which was at the time located in downtown Nyack on Broadway near the library). Saul and Diane's parents' names (Marcus and Elisabeth Peterzell and Marcus and Sadie Entlich) are still embossed in the stain glass plaques in the atrium of the current synagogue.  Marcus was also one of the presidents of the synagogue.  Even though the Peterzells also owned a Sporting Goods Shop at 101 Main Street, and the Entlichs owned the tallest building in Nyack on Main Street where they operated a Ladies Foundation shop, there were not a lot of jobs in Nyack when the couple graduated in the 1930s.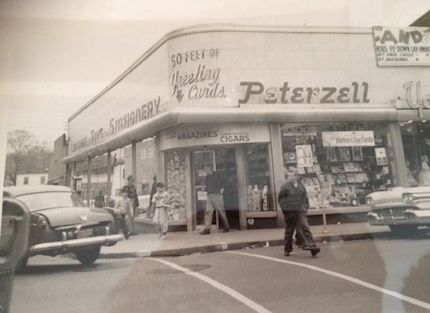 Saul took an opportunity to work in a knitting mill in Philadelphia, PA, owned by distant cousins.  Later, Saul and Diane moved with the mill to Moss Point, Mississippi as part of the transition of the clothing industry from the northeast to the south. "That's where my father, Marc, was born. My dad remembers taking the 2 ½ day train ride from Pascagoula, MS to NYC to visit his grandparents in Nyack," Peterzell said. "My father and mother (Becky Hoffman) both went to college at Tulane and Newcomb in New Orleans and married after graduation. After my father finished law school at Tulane, he joined a large NYC law firm and my mother was a teacher in the NYC schools. After three years, they moved to Atlanta where I was raised. The fact that I now live and raise my family in Nyack is quite remarkable."
"When I met my husband, I was a singer/songwriter living in Manhattan. My friend, who I went to college with, was living on a boat next to Rob's, which was docked at Lincoln Harbor Yacht Club in Weehawken, NJ."  Rob Bellanich, who likes to be called "Capt. Rob", had just earned his captain's license and was taking people out on small charters on his 42' boat where he lived. Peterzell had spent time on boats during her summers visiting her maternal grandparents in Mobile, Alabama.  "We combined forces and started a bigger chartering business. At first, we formed NY Yacht Charter, and as a broker, I would book private parties from 2 – 1,000 people, which allowed us to learn the nuts and bolts of the chartering business. So, we bought an 85 foot dinner boat, Festiva, in 2002. It was a two level yacht with a big dance floor and dining room."
Rob was in Weehawken on the morning of September 11, 2001.  "People were running up and down the dock looking for a captain to take a boat across the Hudson," he remembered.  The 165 foot yacht, "Horizon" needed to be brought to Pier 63 to meet it's captain. Rob volunteered to captain the yacht, even though he had never been at the helm of such a large vessel. "I was nervous, but I knew I had to do it." After a quick study in the engine room, he successfully got the boat to Manhattan so that it could ferry survivors across the river.
After the Festiva, the couple purchased "The Royal Princess", a 120 foot, tri-level yacht that accommodates from 75 to 180 people. Rob completely renovated the yacht to its current luxurious state. It can either be chartered out of Weehawken or NYC's Pier 81.
Along with their friend, and Nyack Village Trustee, Doug Foster, whom they met when they both moved to town and attended a New to Nyack party, the Peterzell-Bellanich's have recently started Nyack Boat Charter. Together they acquired a 54 foot Beneteau sailing vessel now named "Al Vento" from Moorings in the British Virgin Islands. Parties for up to 12 guests wishing to board Al Vento, first step aboard their 25 foot power launch boat, "Barchetta" at the public boat launch at the end of Speer St, and are driven out to where Al Vento is anchored, just north of the Tappan Zee Bridge.
Even though their business is on the water, Lezlee never abandoned her musical pursuits.  She recently founded
The River Skye Band
, named after their two children, and began performing at venues through the region, with Kevin Drums on percussion/drums, Nelson Silva on bass, and Jarrett Light on electric guitar.  She is constantly writing new material.  In 2014, she released "Our Town Nyack", her love letter to the village, that enticed her back to the shore of the Hudson. The song chronicles many of the local businesses and landmarks declaring that "every town deserves a song."
On September 6
th
at 11am, Peterzell will perform an acoustic version of her newest recorded song "One Red Bandana" at the 9/11 Memorial in NYC. She wrote this in honor of Welles Remey Crowther, one of the four Nyack residents who died during the attacks on the World Trade Center 15 years ago. Welles Remy Crowther was a volunteer at Empire Hook and Ladder Company No. 1 and an equities trader at Sandler O'Neill & Partners. He worked on the 104th floor of 2 World Trade Center. First hand accounts from survivors identified Crowther as "the man in a red bandana" who saved them during numerous trips back into the burning skyscraper.
Crowther's mother Alison, plays violin on the recording along with her childhood friend, Jay Shulman, who plays cello. "Recording this song with Welles' mother was truly an honor,
"
Peterzell said.
In her song, "Our Town Nyack," Peterzell invites her audience to "walk to the beat of our history." That rhythm of shared experience brought Peterzell to Nyack, where she seeks to harmonize music, family and business.  Keep your ears open for her future ventures on land and sea.
Click here to learn more about
Nyack Boat Charter
 and
New York Boat Charter
.
An artist and writer, Bill Batson lives in Nyack, NY. Nyack Sketch Log: Siren Song Sails a Daughter of Nyack Back Home © 2016 Bill Batson. Visit billbatsonarts.com to see more.