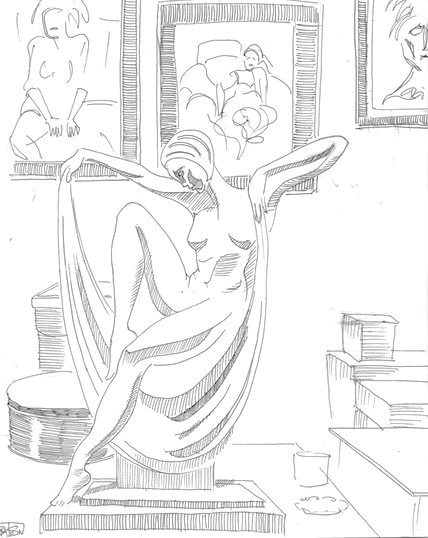 by Bill Batson
Life-long artist and local antique dealer Elaine Schloss will open "My Own Little Gallery" on Saturday, August 13 at 6p at 142 Main Street, Nyack. Operating within the walls of her shop "My Own Little Corner Antiques," Schloss hopes to introduce people to wonderful, powerful, fresh artists whose work they will respond to, fall in love with — and buy. As a merchant who got started at the first Nyack Street Fair over 40 years ago, Schloss symbolizes many of the cultural trends that make our village unique.
"I have been an artist all of my life. When I was 12, I used to copy pictures of ballerinas," Schloss said.  "I never went to art school.  I never thought of it as a career. I was a writer."
Schloss worked as a publicist for WPIX and 20th Century Fox. She's written children's plays and musical theater and is an actor and singer.

But she was always making art.
"I love the drama of color and line. Sometimes my work is realistic, sometimes I work in semi-abstract forms. But it has always been about the face and the figure, the emotion and the form…and color."
Schloss became interested in antiques at the very first street fair in Nyack organized by the Arts, Crafts and Antique Dealers Association in the early 1970s.  which was at the time dominated by antique dealers.
"I had a ring that I hated, and I went to the street fair and I saw a ring that I loved and I asked if they would trade. I got more value than I paid and I got something that I really loved, so I said this is an interesting thing."
Soon after that epiphany , she opened a store on 9w before moving into the Franklin Avenue Antique Center 40 years ago.
"Back then I was  a picker, like the show American Picker.  I would go to antique shows and swaps and garage sales, to find things that I loved, buying from one venue and selling it to another."  For 35 years, she shared her space with Marge Clark, who recently retired.  It's such a joy to find something old that was handmade and that someone wore, that has history.  I believe that objects of beauty hold the personality of the people who touch them, when you find something beautiful, when you hold it and look at it, there is magic."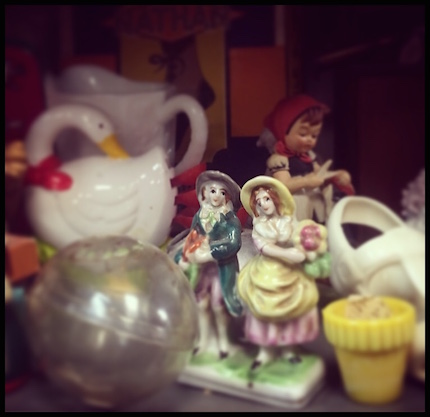 When Schloss opened her shop, Nyack was a regional antique center. "There have been a lot of changes.  Lots of places are closing.  Mostly because of the internet and eBay.  There used to be forty shops in Nyack like mine. Now there are only five."
In describing her inventory, you can hear the writer and artist:  "I have all sorts of small collectibles .. the kind your grandma, or mother, or you (depending upon your age) have played with, worn, admired, adored, wished you'd had. Unlike the internet, which is glutted with things for sale which are disappointing when they arrive in the mail, my shop is a place where you can see, touch,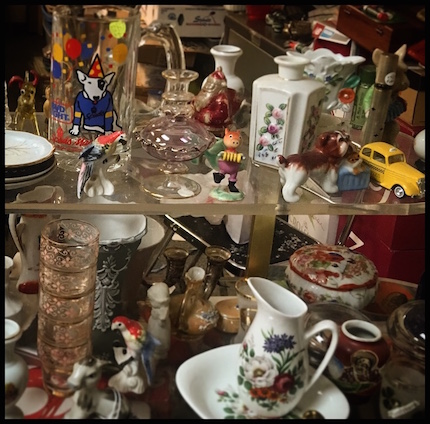 even smell, the history and beauty, the heft or the almost impossible delicacy of yesterday … the woman's flowing figure, or a blown glass vase (cased lemon-yellow outside, lime inside), or a Madame Alexander princess doll, or a tiny Victorian wooden doll cradle, or a piece of jewelry, or an Art Nouveau  inkwell with a woman's head and hair flowing around a jade center .. or a museum quality, curiosity … a "fluter" a heavy metal two piece gismo made to iron those 1900's ruffles into men's collars and cuffs … or see a lovely 1930's painting, or a child's book from 1900 — all pieces of history."
Several months ago, Schloss moved to a new space in the Franklin Street Antique Center, enabling her to expand her space and walls into a long-desired gallery.  The art gallery will bring together the two passions that have fueled Schloss for decades, art and antiques.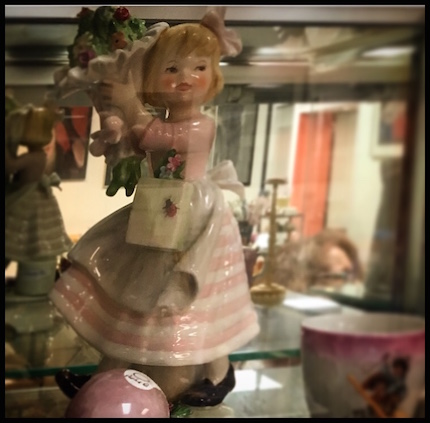 The urge to make art and connect people to objects of art is captured in a comment Schloss heard after a dance performance many years ago. "I went to the Joyce Theater, at the end they had a talk back with the dancers. A women in a wheel chair spoke and said that when she looked at the performance, she thought she would feel bad because she's in a wheel chair, but she didn't  because 'I'm dancing with you.' That's how I feel about art.  When someone looks at your painting it brings them to the moment of creation.  They feel what the artist felt, the power and the joy of turning paper or canvas or glass into something beautiful, or thought provoking, or spiritual.  That's why people buy art.  People want to bring home something that transports them."
Schloss says that for her inaugural, debut exhibit, she has chosen to represent four outstanding local artists to show along with her own work during this first opening month:
Marisol Diaz, an  artist, writer and educator whose edgy, dramatic figurative work explores many forms of mixed media including resin. Her dramatic work has been shown internationally and is represented in many private collections.
Joyce Stern Kanyuk is an artist and educator, whose lovely watercolors counterpoint her powerful abstract figurative work. She is a member of Piermont Fine Arts Gallery.
Chris Machin repurposes antique and vintage objects, often returning them to working condition, then paints and pin stripes them turning them into provocative sculpture
Diane Rosen, whose beautiful, complex and tender figural work has earned her numerous awards, as well as a place in Who's Who in America and Who's Who in American Art.
"Opening this gallery was a natural progression. Expanding the antiques shop into a gallery gives me the ability to share my love of art—and of all things beautiful—and will let me introduce wonderful artists, some with international reputations, to the Nyack scene, further adding to Nyack's reputation as 'the art and soul of the Hudson," said Schloss.
My Own Little Gallery is located inside My Own Little Corner Antiques at 142 Main Street in Nyack. The opening of the inaugural show will be on Saturday, August 13 at 6p.  You can reach Elaine Schloss at hazelhazeltwo@gmail.com or 845 353-3341.
See also: Local Arts Index, Elaine Schloss.
An artist and writer, Bill Batson lives in Nyack, NY. Nyack Sketch Log: "Nyack Sketch Log: My Own Little Gallery" © 2016 Bill Batson. Visit billbatsonarts.com to see more.
Nyack Sketch Log is brought to you each Tuesday by Weld Realty.