by Bill Batson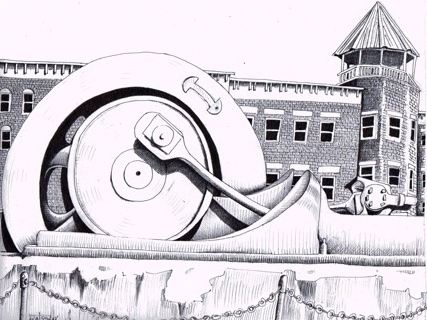 Every July since 2008, Piermont Avenue has been transformed into the Champs- Elysees. On Saturday, July 16, visitors will be submerged once again in a sea of francophilic costumes, food, music, and games. Here are some reasons historic and upcoming that make Piermont, especially on Bastille Day, an excellent staycation option.
America Saluted for the First Time in Piermont
The Revolutionary War came to an end in this southeastern corner of Rockland County.  In May 1783, George Washington arrived at what was then called The Slote (Dutch for 'the ditch') to meet Sir Guy Carleton, Commander-in-Chief of British forces in America. After resolving matters relating to the cessation of hostilities at the American Army's Headquarters in Tappan, Washington returned for a dinner and a 17-gun salute on Carleton's ship, the HMS Perseverance. The gesture was the first official recognition of the United States of America as a new sovereign nation.
The Name Remains, the Trains Came and Went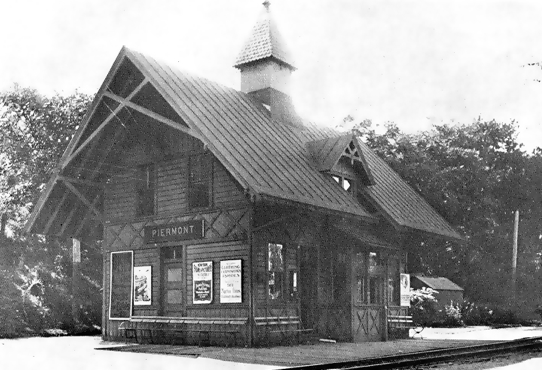 The first president of the New York and Erie Railroad, Eleazar Lord, had substantial holdings in what was still called The Slote in the 1830s.  It is said that he used his clout to have the terminus of the railroad built on a pier near his land. He also renamed the village Piermont, combining a reference to the pier where his railroad ended and the mountain that abutted his estate.
The fact that this site was the last port before New Jersey and that railroads were prevented
Bastille Day
Sat., July 16, 2016
noon – 10:00pm
On July 16th from noon to 10 p.m., Piermont Avenue will be closed to traffic for the village's annual Bastille Day celebration. French flags will flap along the avenue where restaurants and shops will have outdoor tables. The streets will fill with live music and the pleasant aromas of traditional French, Italian, Continental, Mexican, Irish and American cuisine served by local restaurants. Witness a re-enactment of the storming of the Bastille. There will be a guillotine on display, albeit with a wooden blade.
Festival goers are encouraged to show up in period clothes- think 18th-century raiment for a costume contest and the reenactment of the Bastille Day march. Last year's event was a huge success and this year's event is sure to be bigger and better.
by law from crossing state boundaries was probably the more compelling factor for placing the New York and Erie terminus here.
President Millard Fillmore and Secretary of State Daniel Webster traveled to the newly minted Piermont on the steamboat Erie on May 14, 1851 to take the inaugural trip by rail back to Dunkirk on Lake Erie.  Although the railroad put the American Industrial Revolution on the fast track, the fortunes of the railroad in Piermont were more fleeting.
When changes to the interstate regulations that precluded a New Jersey terminus were changed in 1852, the Erie moved their main terminus to Jersey City, New Jersey and closer to Manhattan.
The Fixture Called Flywheel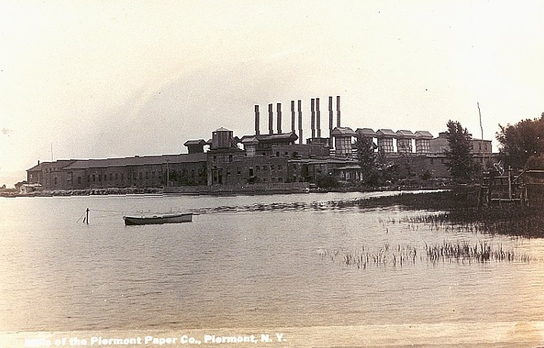 The unmovable object in my sketch that has become a monument was the part of a steam driven generator called a flywheel.  The generator was installed in 1902 by Robert Gair to power the production of paper from his mill that was built on Lord's Erie Railroad pier.
In an epic example of the phrase, they don't build them like they used to, the decline of the
Piermont's Historic Train Station
Sunday, July 10 & 24 and August 7 & 21st
Visit the Piermont Historical Society's museum inside this train station for a special exhibition titled, Piermont's Papermill… Stories From the Factory.
Discover Piermont's other rich history – its role in WWII and the American Revolution, its historic district, its 1900s Fort Comfort resort, Moviemaking in Piermont and much more.
50 Ash Street, open from noon – 3p on select Sundays. Visit piermonthistorysociety.org for more information.
local paper industry, the designs of luxury real estate developers and the full force of a wrecking ball could not convince this flywheel to budge. So it now stands as a symbol to the durability of American workmanship and provides a place name for a park and an art gallery that have sprung up in its stubborn shadow.

Resilience After Hurricane Sandy
On October 29, 2012, Hurricane Sandy turned the Hudson from mighty to nasty. Northeasterly winds pushed a wall of water into Piermont, destroying property and endangering lives. High tide created a tsunami-like surge that dragged bits of smashed boats and the remnants of docks and homes through the village, breaching Piermont Avenue.
Homes, businesses and neighborhoods were flooded and without power in the wake of the second costliest hurricane in United States history. However, Piermont sprang back to life quickly. By the time United States Senator Kirsten Gillibrand arrived to survey the damage with Piermont Mayor Chris Sanders on November 4, the Piermont Volunteer Fire Department and Department of Public Works had turned back much of the tide of debris.
Communities that have this capacity to rally in crisis can usually throw a pretty good party when the coast eventually clears. Piermont Civic Association President Bob Samuels likes to quote his stepmother who says "Piermont has more fiestas than Cuernavaca."
Special thanks to the Piermont Library for their comprehensive and well written history of Piermont.
An activist, artist and writer, Bill Batson lives in Nyack, NY. Nyack Sketch Log: "Nyack Sketch Log: Piermont Happenings" © 2016 Bill Batson. Visit billbatsonarts.com to see more.