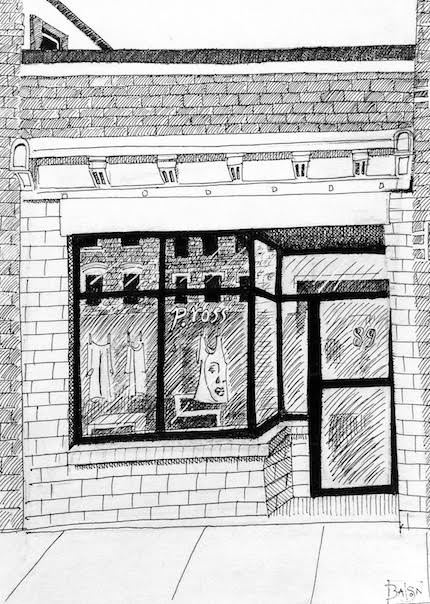 by Bill Batson
When Paulette Ross opened her boutique over a decade ago named p. ross on Main Street in Nyack, her tag line was "Where Art Meets Fashion." On Friday, June 17, 2016, Ross continues her sartorial strategy with her 11th annual ART WALK weekend. Here is how Ross mixed and matched commerce, culture and civics to create a festival that turns local businesses into galleries and brings thousands of visitors to the village.
What inspired you to start ART WALK?
I have always enjoyed being part of a community and decided that just owning a boutique wasn't enough. I joined Friends of the Nyacks as a board member and brought ART WALK along as an event under their umbrella. I have served as chair for over 3 years creating more events such as Apple Fest, Appraise This, Plays in the Park, and the Red Carpet Oscar Party.

With the few more hours left in my day after running my shop, I joined in on the branding of Nyack along with leaders of other civic organizations. Nyack Marketing Association (VisitNyack) was established and I served as its first chair, branding "Nyack ART & SOUL on the Hudson."
The inspiration for ART WALK came from my tag line, "where art meets fashion." The wealth of talent in our area combined with my desire to get more customers into our wonderful shops became my challenge. Nine months after opening my store, ART WALK was born.
What was the first ART WALK like?
As it was the first of its kind…exciting, scary, nerve racking. Many a day was spent pitching the idea of a juried event, turning shops into mini art galleries with the artists present for the entire weekend. "Meet the artists, discover our wonderful boutiques/restaurants, stroll our village…" became the mantra. Happily it was a success!
What are your plans for the 11th Annual ART WALK?
This year ART WALK showcases a new art medium–MUSIC! Stefan Waldman and Good Vibrations will present a variety of musical acts in two locations in the village–at the gazebo in Veteran's Park on Main St. and in the garden at Hickory Dickory Dock on So. Broadway and Depew Ave.  The Music starts at  at 12:00p on Sat, June 18, and culminates in a drum circle in Veteran's Park on Main St. at 8:30p, where local singers, songwriters and combos will share a diverse program of original and interpreted compositions.
The featured piece on this year's poster, is entitled "Trapped In The Sublime" by Ronan Bowes from Ireland.

How are artists selected for ART WALK?
Artists contact me and I explain that they must submit 3-5 examples of their work and a short write-up about themselves. I then send them a contract that explains the requirements of ART WALK. If they accept the terms, they then send in the contract before the deadline with a check for the entry fee. We then start the jury process. Once all the acceptances are made, we return those checks to the artists who have not been accepted.
What is your curatorial philosophy?
I believe art in its many forms is a medium to elicit emotion. When I look at an artist's work I have an instant reaction. I then ask them why, how, where did this work come from—to generate a back story or hook. For me it's about the whole package. It is not all about what I would buy, but what would have appeal to others. Then the most difficult part—pairing the artist with the venue.
When did you become interested in fashion?
As far back as I can remember. My grandmothers used to make all my clothes. So when I was finally allowed to shop for my wardrobe…well, the rest is history!
How do you decide what to buy for your store?
I first decided to have a place geared towards baby boomers. What do they buy, where do they go to shop? Create an atmosphere that has a European flare, but could be in Soho. I get much of my influence when I go to Italy to work on my line of shoes and handbags. I try to translate that classic look with a twist for my customers and seek out manufacturers who design that image.

What brought you to Nyack?
NYC just became too expensive and it is pleasant to wake up to the birds.
What are some of the struggles of running a small business?
For me it is the paperwork part of the business. I am a very visual person, love the oral communication with people, so sitting in front of a computer is tough.
What is the most satisfying aspect of your work?
Ahh, making a difference in someone's life. Seeing that smile when they like what they see in the mirror, or their work of art moving to a new home.
ART WALK will be held in Nyack from Friday, June 17 thru Sunday June 19. Over two dozen stores will be turned into mini art galleries with the artists in residence. Free parking available all day/evening Saturday, June 18th in the big parking lot behind the Main Street parking lot on Artopee Way. For more information: Call Paulette Ross @p.ross 845-348-1767 or 7pross@optonline.net.
An artist and writer, Bill Batson lives in Nyack, NY. Nyack Sketch Log: "ART WALK 2016" © 2016 Bill Batson. Visit billbatsonarts.com to see more.