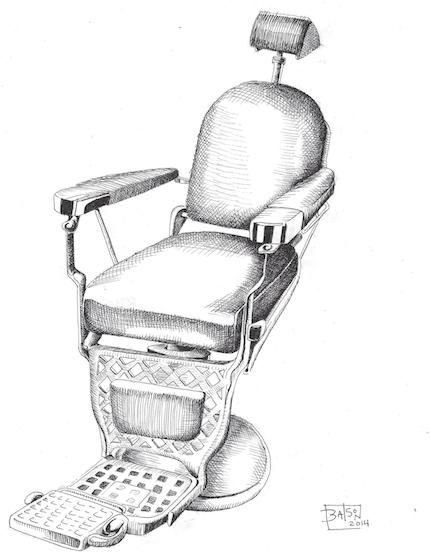 by Bill Batson
Through marriage, barbers Diane and Steve Zuccato combine two families with over 170 years of hair cutting history. They opened D.S.Z. Barbers on the corner of Franklin Street and Main Street in September, 2014. In a joint interview, Diane and Steve describe the evolution of a family business that is growing around the barber pole they planted in Nyack.
Families with Deep Roots in Hair Care
Diane's father, Adrian Wood, owns Paul Mole, the oldest barbershop in Manhattan. The illustrious men's grooming establishment is located at 73rd and Lexington Avenue and was established in 1913. Wood used his scissor skills to travel the world cutting hair in London, NYC, New Zealand, and Bermuda. Since he acquired Paul Mole in 1970, the barbershop has consistently been ranked one of the best in New York City.

Like Diane, Wood's daughter Kim and his son Michael are Master Barbers. A fourth sibling, Christine, is a Special Education teacher but worked weekends at Paul Mole as a receptionist. So all 4 of the Wood children have been in the barber  business.
Steve's great grandfather, Lelio Fioravanti, came from northern Italy and opened a barbershop on 8th Street in Union City in the 1930s with his brother August.
Steve's maternal aunt, Anna Casalaspro, spent 40 years styling hair. Casalaspro worked at a salon, but also turned her basement into an at-home hair dressing venue. She provided this accommodation for her older clients who could not travel far and for people who had busy schedules and needed late night appointments.
Aunt Anna taught her three sons how to cut hair. Steve learned from his cousins and was soon cutting hair for his friends. Every Friday afternoon before kick-off at Don Bosco Prep, Steve would cut his football teammates' hair. Steve continued to cut hair in college at Towson University, where he graduated with a degree in Communications.
Why did you decide to start your joint careers in Nyack?
We felt it would be a great place to start a family and the perfect place to start a family business. When we were looking for a new location we just fell in love with Nyack and the surrounding area.
We looked at other available storefronts in New Jersey, Yonkers, White Plains and Tarrytown and nothing felt right. When we walked into 140 Main Street we knew we'd found the right location. The feel of the space was nostalgic – perfect for a true classic gentlemen's barbershop.
We do love New York City, but having a family there isn't what we wanted. Diane's sisters, who have a total of four kids, live in Orangeburg and Westwood. Since Nyack is close to those towns we thought it would be nice to live and work.
Diane's mom is also close by in Leonia and Steve's family is from Waldwick, which isn't far either.
What is the biggest challenge of starting a small business?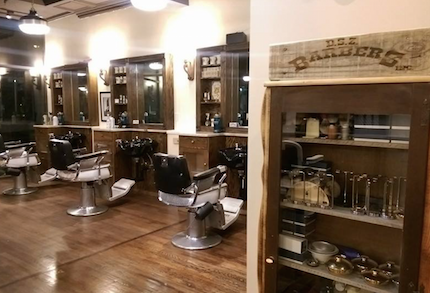 Time management has been difficult. On top of building out the space, which took over three months, Steve worked full-time for my father at Paul Mole, until two months before we opened. We spent a lot of nights, early mornings and weekends managing the construction of D.S.Z. Barbers Inc..
Not only did we have to build out the actual space but we also had to build our online presence, which took a lot of time. You can now find us on Facebook, Twitter, Instagram, Tumblr and at our website at dszbarbersinc.com!
Getting the funding wasn't easy either! As a new business, we didn't qualify for small business loans. We have put our entire life's savings into this project. Yikes!
Did your father want you to follow in his footsteps?
Diane: My father made all three of his barber children attend college before pursuing a career in the barbering business. He's happy I was able to use my college degree (William Paterson Graduate – Communications major with a concentration in Marketing and PR) and barbering background to obtain a position with King of Shaves as their Marketing Director and official Master Barber. Before KoS,  I worked in London for a PR company representing another British shaving line called Edwin Jagger.
What are the traditional tools of the trade that you are preserving in your grooming methods?
Scissors! We use a traditional technique called "Scissor-over -comb" and try to stay away from basic clipper cuts. We also take pride in our straight razor shaves, which is a time-honored service within the barbering industry.
What are some of the modern innovations that you are incorporating?
Steve: To me, innovations means trendy. That really short on the sides style accomplished with a machine and then drastically doing a long or short fade into a 2 to 5 inch difference in hair length. That's what you are seeing on TV with rock stars and some actors. It's the same thing you would find in Williamsburg, Brooklyn. I can do that very well, but that's not who we are.
We specialize in traditional men and children's haircuts in a welcoming location that feels like home. We do not cut women's hair. We do not do blowouts. We believe that men belong in a barbershop and women belong in salons.
Our barbershop is filled with classic barbershop antiques – our six chairs and two barber poles are from the early 1900's.  We want people to walk into our shop and feel like they are taking a step back in time.
We take appointments for men who have busy schedules and cannot sit and wait 30 minutes for a haircut (walk-ins are always welcomed though!). We value our client's time. We book appointments on the half hour. If you have an appointment you will never have to wait for a haircut. Period.
Our barbers have a strict dress code to follow and must always act in a professional manner. Our clients can always expect freshly laundered towels and barber capes. Every client is welcome to a complimentary espresso while he gets his haircut.
I saw a clip of Diane on YouTube shaving  David Letterman on national television. What was that like?
Footage of Diane Shaving David Letterman
Diane: VERY nerve-wracking! It was the first time I was on live television. My hands were shaking, the set was cold and being face to face with Dave was very intimidating…but it went very well! Being on Letterman opened a lot of doors for me. After my appearance, I was featured in major publications worldwide such as CRAINS, OK!, Cosmopolitan, Daily News, Marketing Week, First, Ladies Home Journal, Seventeen, Fitness, Men's Health, and Men's Fitness as a shaving/grooming expert.
Diane, how does your dad feel about the familial competition?
Diane: I was so nervous to tell him we wanted to open our own barbershop. Steve has been the manager at Paul Mole for four years, which means he opened and closed the shop six days a week for my father (6am open – 8:30p close). We were worried how he would handle it considering we were the last of his kids to leave his business.
He handled it perfectly and is extremely happy for us. Out of his four kids, I will be the first to open my own shop.
In August 2015, Diane and Steve introduced to the world a son, and potential 3rd generation barber, Giovanni Gene Zuccato.
Did he have any advice?
Build something special. Somewhere people would enjoy going to. Stay traditional. Find good barbers you can trust.

Who shaves Steve?
Steve shaves Steve. He likes to do it himself.
Who gives the better shave?
Ahhh. Really?? You have to know this is a tough one for us to answer!
Both are better in different ways.  Diane gives a great facial massage after a shave while Steve is very talented at shaping beards and goatees.
Do you either of you have a dream client?
Steve: REX RYAN! Hey Rex, if you're reading this come on by! Any service you want is always on the house for you.
D.S.Z. Barbers is located at 140 Main Street, the corner of Franklin Avenue and Main Street. Follow them on Facebook, Twitter, Tumblr and Instagram or visit their website dszbarbersinc.com.
Today's sketch is a depiction of an antique Emil J. Paider barber's chair.
An activist, artist and writer, Bill Batson lives in Nyack, NY. Nyack Sketch Log: "D.S.Z Barbers" © 2016 Bill Batson. Visit billbatsonarts.com to see more.