by Bill Batson
Nestled in a grove of maple and tulip trees off Route 303 in Blauvelt, the Oratamin Swin and Tennis Club opened for the summer on Memorial Day and is actively seeking new members. Splashing water and children's laughter are not the usual sounds that one equates with an office park. But before the warehouses and corporate suites of Bradley Park were erected, Oratamin took root in these woods.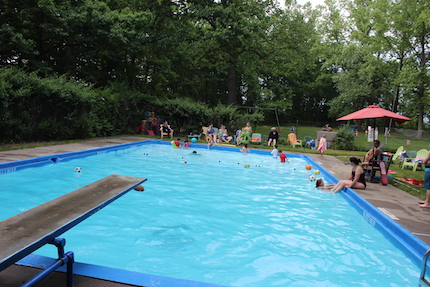 Barbara Valente joined the club seven years ago. "We had been going up to The Pond in Chestnut Ridge, NY. We liked the organic atmosphere, but it was too far away.  Someone had suggested that we check out Oratamin, so we did.  It had the same comfy feel. It's very laid back and non regimented,  like your own back yard. You come, plop your stuff down, and feel right at home. The only set in stone rule is that kids can't run by the pool.  It's like hanging out with your friends and family all summer long."

Along with 40 other families, the Valentes enjoy the pool and diving board, that sits on 5 acres of grounds which also includes a playing field, tennis court, nature path, a pavilion with picnic tables and a barbecue plus locker rooms with showers. "The pool itself is fenced in so when it closes at 7p, the rest of the grounds are still  open. If you want to stay and hang out, you can."
Valente was also attracted to Oratamin because it is operated as a cooperative. "Everyone feels ownership and helps out.  We clean up after ourselves and take great pride in our club. You'll say, hey, I planted those flowers and feel proud." The dynamic that Valente describes seem to be in the organizational DNA of the club.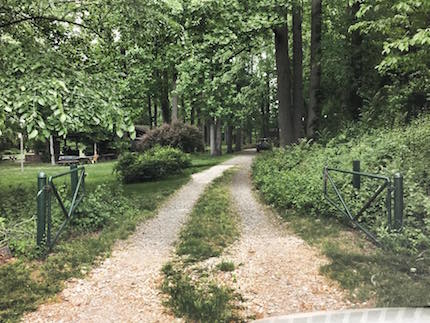 The club was founded in 1949 by 12 couples, on a woodland track, leased by Robert Leber.  Leber was made a member for life in appreciation for the modest rent he charged and later deeded the entire property to the club as a gift. Leder had already used the name of Chief Oratamin for several of his properties.  Oratamin was chief of the Hackensacks and negotiated treaties with Dutch settlers in the early 1600s.

After constructing a pool that opened on Labor Day in 1949, succeeding members built the kitchen, bath houses, pavilion (1957) fire place (1971).  The tennis court was proposed in 1950 but took a decade to complete.  The grill featured in this week's sketch is a recreational marvel and can accommodate up to four dozen hamburgers!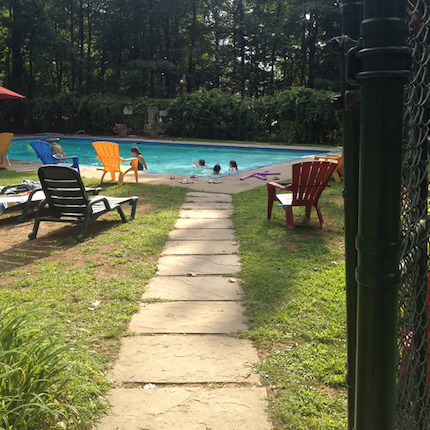 Originally, the pool was fed by a spring.  Now, the 50,000 gallon pool is filled by the Spring Valley Water Company. Valente said that the club is planning to switch from a traditional chlorine pool to a more environmentally friendly saline chlorination system. "We would be one of the first public pools in the area  to have such a system," she said.
In March of 2015, Valente stepped down as president of the club at the end of her three year term of office.  She is now heading up the club's membership effort. "We are one of the
Oratamin Pool Club
For one week in June, you can try the Oratamin Swim and Tennis Club for free. The "try before you buy" dates are Wednesday, June 22nd through Wednesday, 29th.  On June 25th, the last day of public school in Nyack, the club will hold a ice-cream social starting at 3p. Special discounts are available for those that apply before July 1st.  To learn more visit oratamin.com or find them on Facebook or send an email to oarsman@gmail.com
best kept secrets in Rockland County. Families traditionally become members because their friends are members, but we want to reach out even further."
According to the National Weather Service, we can expect a hot summer, with above average temperatures in the northeast.  Oratamin Swim and Tennis Club is one a local option, that according to Valente, is comparable in price to the newly opened Tappan Pool and Beach Club and the Palisades swim Club.
An activist, artist and writer, Bill Batson lives in Nyack, NY. Nyack Sketch Log: "Oratamin Pool Club" © 2016 Bill Batson. Visit billbatsonarts.com to see more.