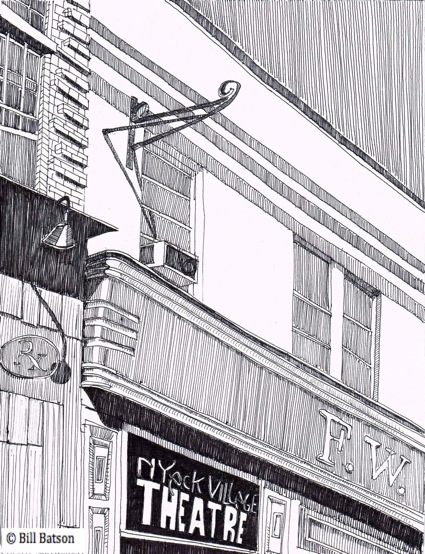 by Bill Batson
The Nyack Village Theatre sign is unassuming and you might just walk on by, but that would be a mistake.  One exposure to the live content that is produced from this 49 seat black box theater space will stop you in your tracks.   Nestled one story above the site that was once F.W. Woolworth is an expanding multimedia arts organization founded by 1980's rocker turned impresario Richard Quinn.
The arts center appeared on my radar screen one Halloween, when I saw a poster advertising a midnight showing of The Rocky Horror Picture Show.  As  a teenager, I saw the cult classic more times than I care to admit across the street when what is now Riverspace was a garden-variety movie theater.
When Rocky Horror exploded onto the counter-cultural consciousness of America in 1975, Quinn was a recent high school grad getting his real education in legendary New York City clubs like Max's Kansas City and CBGB.'s.  This was the moment when acts like Talking Heads, Lou Reed, Patti Smith, The Ramones and Blondie were emerging on the music scene. His band Quinn & The Eskimos would later play those same venues.
The Nyack Village Theatre that Quinn opened in 2006 is influenced by the energy and eclecticism of the New York art scene of the early 1980's.  It was in the economically ravaged East Village that Punk, New Wave, Hip Hop and Graffiti cultures converged in downtown nightclubs and art galleries.  "I like to think of myself in the tradition of Andy Warhol.  I'm building an art factory, "said Quinn of one of the sources of his inspiration.

If the Nyack Village Theatre is a factory, there are several divisions that manufacture a variety of art products.  The theater is actually a spin off of two other endeavors.  In 2003, Quinn launched
Rockland World Radio
, an online broadcast station that's not just radio,  streaming live video of all programming.  Modern Metro Zine or MMZ  offered the insights and expertise of the hosts of the Internet program in print form.
The media platform that Quinn has built is like a dim sum menu of all that was excellent about New York City in the late twentieth century.  It's a mash up of several pioneering cultural institutions combining the political edge of
WBAI
, the bold experimentalism of Joseph Papp's
Public Theater
, the bombast of CBGB's and the intimate sloped screening room vibe of the
Thalia
.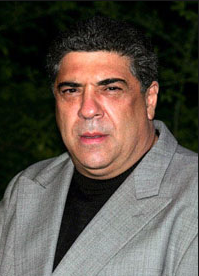 The production facilities are an ideal location to incubate local talent.  Quinn has worked with local musicians Charles, Martin and Jermaine Paul who perform as the
Mighty Paul Brothers Band.
  You may have seen
Jermaine
on the hit reality talent show,
The Voice
.  In 2103,
Vincent Pastore
, who stole scenes during the first two seasons of the Sopranos as Salvatore "Big Pussy" Bonpensiero premiered his play Wild Children at Nyack's Village Theatre
The Nyack Village Theatre is a place where Quinn told me he hoped to introduce the public to art, performance and information that they can't find anywhere else.  When I heard him utter that statement, my jaded and skeptical self spoke up.  I challenged him to name something that he had produced lately that fits that bill.
In a New York minute Quinn described the screening of never before seen footage from an unreleased documentary about
Jim Hendrix
by
Dave Kramer
.  The film was accompanied by a showing of original artwork created by Jim Hendrix owned by the family of drummer Christian Van denHueval. Quinn's hype minus the hyperbole is refreshing.
The current production at the Nyack Village Theatre is Alfred Hitchcock Presents, directed by Quinn. Remaining performances scheduled for May 13 at 8p, May 14 (sold out), May 20 at 8p, May 21 at 8p, May 22 at 2p, June 3 at 8p, and June 4 at 8p. The titles are not included in the promotion campaign  to add more mystery to the proceedings. The cast includes Cheryl Baker, Dave Buckner, Mercedes Kent, Mark Mangan, Cass McVety, Michael Messina, Jorge Ramos, Joe Remy, Laura Rothschild, Phanendras Singh and Mallorie Troast. Tickets: General admission ($13 online, $15 cash only at door), Students/seniors ($11 online, $13 cash only at door). You may purchase online tickets
here
.
Bill Batson is an activist, artist and writer who lives and sketches in Nyack, NY. Nyack Sketch Log: "Nyack Village Theatre" © 2016 Bill Batson.  To see more, visit billbatsonarts.com