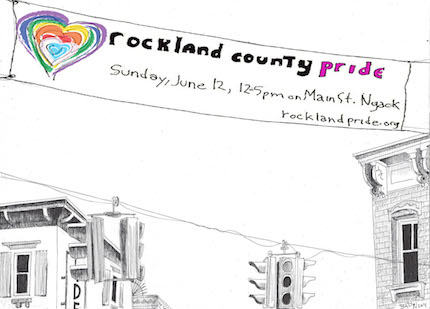 by Bill Batson
Over 1,000 people gathered for the first Gay Pride Rockland event in Nyack in 1999. As if to prove the positive force that this public affirmation of sexual identity can have, a Village of Nyack Trustee named John Shields, who would later serve four terms as Mayor, publicly came out of the closet that day. This year's Rockland County Pride celebration will be held on Sunday, June 12 in Nyack.
Rockland County Pride Events
Fri., June 3, 8p – 1a,
A portion of the proceeds from the Nyack Art Collective's monthly First Friday exhibit at Casa Del Sol, 104 Main St., Nyack, will benefit Rockland County Pride Center. An evening of entertainment and a silent auction will be kicked off by Nyack Mayor Jen Laird-White at 8p. Performers include Jennifer O'Connor,  Katie Elevitch and DJ Luis Williams. The evening will be hosted by Alex Francisco.
Sun., June 5, 1-5p
Opening reception for a Juried Art Exhibit & Sale to Benefit Rockland County Pride, on display exhibition through June 18th.
Free. Open to the public.
Rockland Center for the Arts
27 South Greenbush Rd, West Nyack.
Fri., June 10, 6-10p
Pride Weekend Opening Gathering
The Speakeasy at the Time Hotel
Complimentary Hor d'oeuvres & Cash Bar
Sat., June 11, 7p till..
Surprise Event!
Festoon, 95 ½ Main St., Nyack
Sun., June 12, 12 -5p
Rockland Pride Sunday includes family friendly vendors and children's activities. Performances by the East Ramapo and Nyack High School Marching Band, Dave Reiss & Friends, Frankie Dee & the Boys, Batala NYC and more in the Main Street parking lot, Nyack. For more information or to be a vendor call (845) 634-5729.
In the late 1990s, if you lived in Nyack and wanted to attend one of the major Gay Pride celebrations that are held around the country each June, you had to travel to Manhattan. Phyllis B. Frank, Associate Executive Director of VCS, Inc. enjoyed the annual pride pilgrimage to the city, but thought aloud to others that "even if we had just a group walking behind one sign, we needed to do something for Gay Pride here in Rockland."
Over 150 non-profit, faith based and community organizations, municipalities and elected officials from across the county and beyond, co-sponsor VCS Rockland County Pride. This number continues to grow and is matched only by the scores of businesses and individuals who advertise in a Directory of LGBT Friendly Businesses, Services and Community Organizations published every June.
This year's celebration comes at a time when the federal government has been warning states that their failure to protect the civil rights of the LGBT community could result in lawsuits and the loss of federal funding. On May 9, Attorney General Loretta Lynch announced a lawsuit against North Carolina's House Bill 2, passed on March 23, 2016.  The North Carolina bill struck down a provision in a law passed by the City of Charlotte that allowed transgender people to use the bathroom that matched their gender identity. Calling House Bill 2 "state sponsored discrimination," Lynch set the matter in a broader historical context: "It was not so very long ago that states, including North Carolina, had signs above restrooms, water fountains, and on public accommodations keeping people out based upon a distinction without a difference. We have moved beyond those dark days, but not without pain and suffering…Let us write a different story this time."

On the same day that Lynch directed the legal apparatus of the United States government to secure public accommodation rights for transgender individuals in North Carolina, a meeting was held in New York State concerning the status of an important landmark in the LGBT community. Interior Secretary Sally Jewell and National Park Service Director Jonathan Jarvis met with New York officials to advance a proposal to make The Stonewall Inn a national monument.  The Pride celebrations that are held throughout the world each June commemorate protests that followed a raid by New York City Police Officers on The Stonewall Inn on June 28, 1969.  The uprising in Greenwich Village against a pattern and practice of harassment by public officials is widely regarded as the beginning of the Gay Rights Movement.
Since 1970, VCS Inc. has developed programs to confront heterosexism, homophobia and transphobia, racism and sexism with a particular focus on violence against women. A social justice thread is woven into the fabric of the work of VCS. The first words on their website describe the organization as "a family service agency with an anti-racist, social justice mission."

Phyllis Frank joined VCS in 1974. Under her leadership, VCS has developed a wide range of LGBT family services, support programs and professional training including evolving expertise in relation to transgender children, youth and adults. Her exemplary efforts resulted in her being inducted into the Rockland County Civil Rights Hall of Fame in 2012.
The premise behind VCS is that community lay people can provide high-level counseling for clients with a wide range of serious social problems.  The model called "Volunteer Family Counseling Project" was initiated by Dr. Stephen Shapiro and Martin Eisman of the Family Service Association of Rockland County and funded by The Ford Foundation in 1970. The first group of 16 volunteers were recruited, trained and assigned to work with 34 families. The program quickly  expanded to 426 families and individuals by 108 trained volunteers. Later that year, the agency moved into offices at 151 South Main Street in New City.
Over forty years later, VCS  provides an array of services including child abuse prevention programs, services to older adults and their families and low cost counseling to Rockland residents for a variety of life issues such as separation, co-parenting children, unemployment and domestic violence.  VCS conducts a widely acclaimed counselor training program, administers a nationally recognized NY Model for Batterer Programs, and various social justice programs including Rockland County Pride.
In September 2016, Rockland County Pride, with support from VCS,  will separate from VCS and become the first dedicated LGBTQ+ Center for Rockland County in downtown Nyack.  Stay tuned!
To learn more or donate visit rocklandpridecenter.org.
An activist, artist and writer, Bill Batson lives in Nyack, NY. Nyack Sketch Log: "Gay Pride Rockland" © 2016 Bill Batson. Visit billbatsonarts.com to see more.