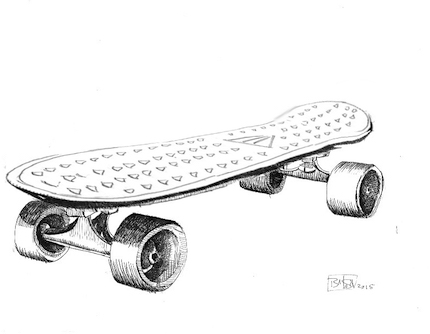 by Bill Batson
Organizers of the recently approved Nyack Skate Park have cancelled their vacation plans this August.  Unless $45,000 is raised in the next few weeks, construction of the park will be postponed until 2016.  If the funding is secured, construction can begin this fall. According to organizers, the delay will increase the cost for the project, which is now estimated to be $200,000. Parent and Nyack Needs a Skatepark Committee Chair Sarah Anderson told us what's required to keep the wheels of this project turning.
How is the Nyack skate park project progressing?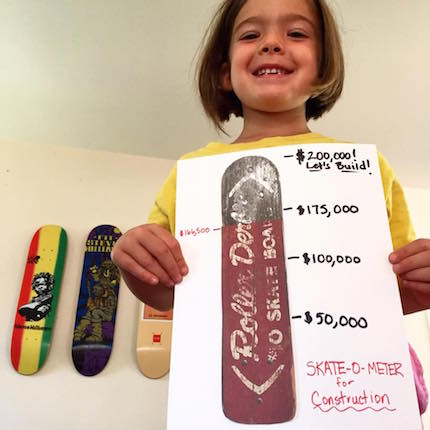 The Nyack Skate Park is shovel ready! It has been designed by the reputable firm Stantec, which is especially known for their design of the Charles River Skatepark in Boston. The lead designer, Kanten Russell, is a former professional skateboarder. To date $175,000 has been raised for the project. In summer of 2014, the project was the top recipient of the esteemed Tony Hawk Foundation grant. Nyack Village also received a generous grant of $100,00 from NY State for the skatepark. There is a very qualified lowest bid for the Nyack Skatepark. We are $45,000 shy of that bid. If we are able to get that funding in the next few weeks, the project can be completed this fall.
How did this effort come about?

Residents have been advocating for a public skatepark in Nyack since the 1970s. Four decades later, the dream has finally become a reality. The Nyack Village trustees unanimously voted to support the addition of a state of the art public concrete skate plaza, of approximately 5,000 square feet, to Memorial Park in March 2013, after the community efforts of Nyack Needs a Skatepark to gather over 1,000 petition signatures and many Village Hall meetings packed with people of all ages and backgrounds.
What are some of the benefits of skate boarding?
There are many benefits to skateboarding. It's outdoor recreational exercise and it's really fun. You don't have to belong to a team to participate, but it notoriously brings people together. It's the 3rd most popular sport among youth ages 8-18, after football and basketball (SGMA study), but it is also inter-generational. In a time when we are all becoming increasingly sedentary and infused with our electronics, it is crucial that youth have a variety of healthy, social, physical activities. Skateboarding is one of them.
How was the design for the Nyack Skate Park selected?
We had several public meetings with the designers (ASD/Stantec) as well as an online forum. The design was finalized after meetings with the community (skateboarders, residents, trustees) and the designer, and the Nyack Village Board voted to pass it.
How has the park been funded?
The initial money came in small chunks from the community. Wright Brothers Realty was one of our first bigger initial donors. We raised $12,000 with the Deckade board show. Then the Misfits played a benefit show and raised $22,000. Soon after we were awarded the top grant from the Tony Hawk Foundation ($25,000). Then New York State Senator David Carlucci procured a $100,000 grant from New York State. In all we raised $175,000.
Why is there such an urgent need for this last amount?
There is a very qualified lowest bid for the Nyack Skatepark. We are just $45,000 shy of that bid. If we don't reach our goal in the next several weeks, we will miss the build window (winter is coming), after which the project would be stalled and would likely have to go back out to bid, which could potentially cost more.
What's going on with skater culture? Are skate parks becoming more common around the country?
Skateboarding is more popular than ever. It's a multi-billion dollar industry with enormous media coverage including the X Games. Nike and Mountain Dew are among the corporate sponsors that have teams and hold regular events.
Skateparks are prevalent throughout the country. Long Island has at least six of them. New skateparks are popping up everywhere: Lake George, Staten Island… and new efforts are in the making: Stony Point, Newburgh. It's a lucrative business and the builders are seemingly always building! But currently there is no skatepark in Rockland County.
What is skater culture like in Nyack?
Nyack has been home to the skateboarding community since the 1970s. One of the first NY teams, The Wizards, emerged from this area. Charlie Samuels, one of the original members of that team, is making a documentary about the team. It's called Virgin Blacktop.
Nyack has an extremely diverse inter-generational skateboarding community, with people of all ages, backgrounds and genders. And everyone knows everyone. It's a well- knit community that needs a place to come together.
Oh yeah, and we have a skate shop now! It's called Alumni and it's skateboarder owned and run. They're on Main Street.
How well were the skate board classes that the Nyack Department of Recreation offered recently received?
Skateboarding Lessons are the most popular program of the Nyack Recreation Department according to Melody Partrick, the director of Nyack's Recreation Department. We have a scholarship program where we award two to three children free lessons and equipment. The program takes place in the former Riverspace parking lot. The kids need a real place to learn and skate!!!  They are held in the spring and fall.
What are some of the biggest misconceptions about skating?
The two biggest misconceptions about skateboarding are that there is one type of skateboarder (young male troublemaker), and that the sport extremely dangerous.
The reality is that skateboarders are as diverse as the general population itself. They are young, old, male, female, students, homeowners, business owners, professionals, and from all different economic and cultural backgrounds.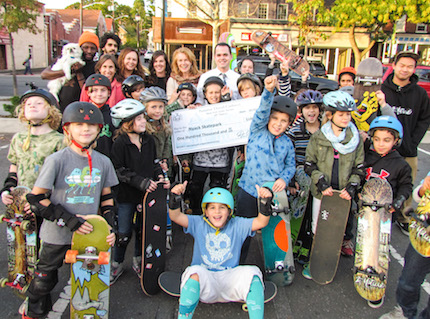 Skateboarding is no more dangerous than football, baseball, basketball, bicycling. Some statistics are available about this at brainandspinalcord.org.
I mean, I think back about some of my bicycle falls as a kid… metal swings to the chin… soccer concussions… Fear shouldn't stop us from recreating and doing things that we love.
What benefits will Nyack gain by having a skate park?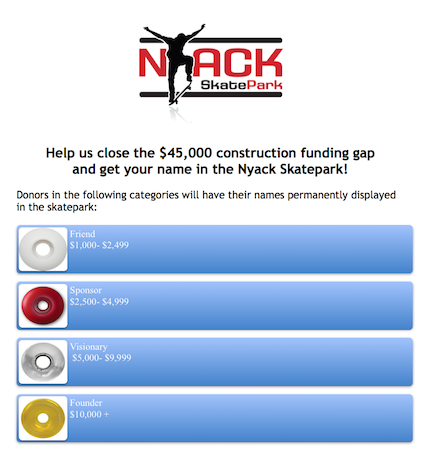 The skate park will have a ton of benefits for our community. It will give wheel lovers a place to play together. It will be beautiful (check the design!) It will give our young people a place to be. It will bring tourism. People will film skateboarders there- it has an incredibly beautiful backdrop. Nyack will continue to grow its reputation as a forward thinking, exciting wonderful place to be for people of all ages.
How can people help?
If we are able to get that funding in the next few weeks, the project can be completed this fall. Donations to the village for public use are tax deductible. Please contacted me, Sarah Anderson, at nyackskatepark@gmail.com or call me at 646-549-1203.
See also: NyackNewsandViews, August 8, 2014 NYS Awards $100K To Nyack Skate Park Project
An activist, artist and writer, Bill Batson lives in Nyack, NY. Nyack Sketch Log: "Nyack Sketch Log: Nyack Skate Park" © 2015 Bill Batson. Visit billbatsonarts.com to see more.