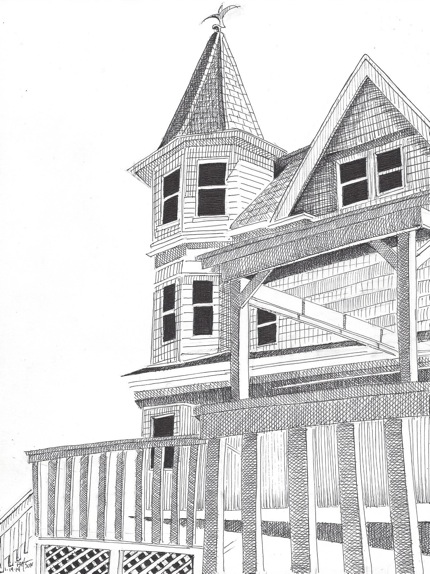 by Bill Batson
Rockland residents don't need to go to New York City to see the work of great artists because great artists come to Rockland. Operating from a home bequeathed by the family of modernist painter and teacher Vaclav Vytlacil, and an integral part of the prestigious Art Students League, a local artist-in-residence program attracts talent  from around the globe. This Saturday, July 11 from 2-5p you can visit this vibrant art center for an exhibition featuring over 30 diverse works from artists living in and influenced by the rich artistic culture in the lower Hudson Valley.
Every month, Vytlacil (add a "v" sound to wit-la-chill) hosts an open house for the artists that have been living and working there for the proceeding four weeks. The League Residency at the Vyt seamlessly stitches together the central threads of Vaclav's life: the house where he lived and made art and the school where he studied and eventually became a hugely influential art instructor.
Vaclav Vytlacil was born in New York to Czech immigrant parents in 1892. At 14, he studied painting at the Art Institute of Chicago on a scholarship from the school where he would hold court for decades, the Art Students League.
Located on 57th Street in Manahttan, The Art Students League was founded in 1875 and has played a pivotal role in shaping America's fine arts tradition. The aroma and atmosphere of the building have changed little during the last 139 years. The smell of linseed oil hangs in the air, emanating from classrooms where students in stained smocks stare intently at nude models or still lifes, manipulating the tools of sculpture, painting or drawing.
During Vaclav's tenure, his students included Robert Rauschenberg, James Rosenquist, Cy Twombly and Tony Smith. In his 2010 obituary in the New York Times, Louise Bourgeois cited her studies with Vytlacil as a singular event in her eduction as an artist.
Vaclav was a founding member of the American Abstract Artists in 1936. His work is in the collections of the Metropolitan Museum of Art, the Whitney Museum of American Art, the Cleveland Museum of Art and the Detroit Museum of Fine Arts.
The League Residency at the Vyt sits on a fifteen-acre estate set on the west side of Clausland Mountain and was built around the turn of the 20th century.  The complex accommodates seven artists. Three residents are housed on the 2nd floor of the Vytlacil House in private rooms, with a shared kitchen, shared bath, and laundry facilities, and four more are housed in a recently constructed residence hall.
What Vyt Artists Get
Single private bedroom
$2,800 for a 4-week residency session
Communal lunch provided weekly
Specialized equipment such as a bronze furnace, ceramic kilns, forging, and welding equipment
An extensive art library and reading room
Campus-wide Wi-Fi internet
Mentoring & critiques by professional, working artists and League instructors
Open Studio event
Group Museum trip to Dia:Beacon or Storm King Art Center 
Vaclav's north-lit barn has been transformed into the Trudy and Henry Gillette Studio for Painting.  A "GreenShop" (Greenhouse+Workshop) provides flexible workspace with areas for a foundry, metal-smithing, ceramics, woodworking and welding, and a large walk-in kiln. The grounds double as a sculpture park, with site-specific and donated works on display.
Sohos and Williamburgs come and go, but for over a century, great artists from every discipline have found their way to eastern Rockland County.  Some, like Edward Hopper were born here, others like Helen Hayes and Carson McCullers, moved here, and now, thanks to the legacy of Vaclav Vytlacil, a new group of creatives get to call our culturally fertile soil their temporary home each month.
Vyt will be the location for a series of workshops titled Painting the Nude in Nature. Each workshop will be held over two days and cost $320. Each instructor will be present each day. Enrollment is limited to 12 students and a supply list is available upon request.
Dan Thompson
July 18-19
Saturday-Sunday 10:00 am-4:30 pm
Fee: $320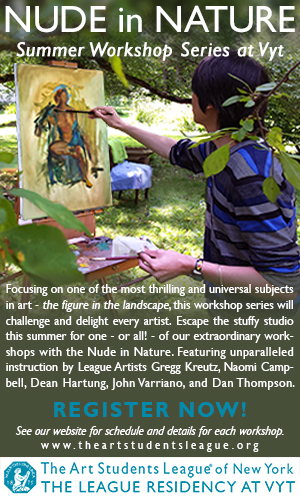 Dan Thompson's work has been exhibited in public and private collections throughout the world, including the Eleanor Ettinger Gallery, John Pence Gallery, Arcadia Gallery, the Art Gallery of Ontario, the Corcoran Gallery of Art, the Pasadena Museum of California Art, the National Arts Club, the United States Capitol in Washington, D.C. and the World Art Museum in Beijing. 
To Learn more about the workshop visit Art Students League.
Garin Baker
Nude in Nature-Alla Prima the Figure in Open Air
July 25-26
Saturday-Sunday, 10:00-4:30 PM
Born in 1961 in New York City, Garin Baker received his BFA in painting and art history at Pratt Institute with additional studies the Art Students league. As a traditional figurative artist and plein air painter he's had a long career as a professional artist with an impressive list of commissions and sales. He's also nationally recognized for his large -scale Public Art Murals for municipal, private and corporate collections in the US and abroad.
To learn more visit the Art Students League
The League Residency at the Vyt is located at 241 Kings Highway, Sparkill  (When programming your GPS, use Orangeburg) Vyt is located just south of the Rockland Cemetery.
An activist, artist and writer, Bill Batson lives in Nyack, NY. Nyack Sketch Log: "Vytlacil Artist Residency" © 2015 Bill Batson. Visit billbatsonarts.com to see more.