by Bill Batson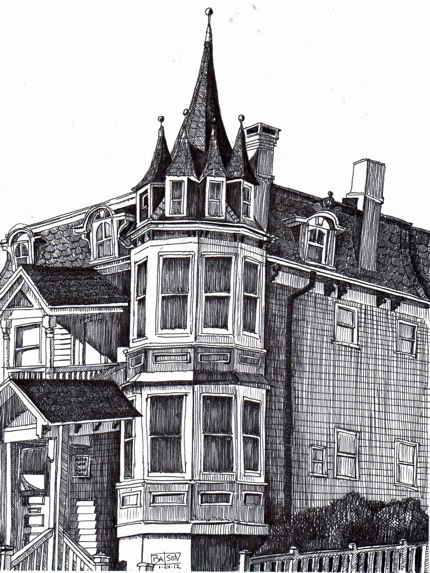 This structure, rising above the corner of South Broadway and Depew Avenue, with its distinctive five-peaked tower, was the home of the first woman to vote and practice law in Rockland County, Natalie Couch. On Saturday, March 14, the Nyack Center, located across the street, will hold the 11th annual Women of Leadership and Vision Brunch. Those recognized this year join an honor roll of women who have transcended gender bias to make a significant contribution to our community.
Visit nyackcenter.org to purchase tickets for this year's brunch honoring Judith Johnson, Dr. Lori Martin, Dr. Sharon Quayle, our Young Woman of Leadership and Vision Scholarship Winner and Honorary Woman of Leadership and Vision, Cynthia Hesdra.
Here are 15 Nyack Sketch Log columns that feature women who personify leadership and vision.
Robin Bell
Like millions of Americans, West Nyack's Robin Bell dreads her commute. It's not the time it takes to cover the 26,000 mile round trip, that is not the worst part, it's the carbon footprint from the passenger and ski-equipped cargo planes that troubles her the most. Robin Bell is a climate scientist and air travel is the only practical way for her to get to her "office" at Field Camp Twin Otter in Antarctica.
Nyack Sketch Log: Earth Day Action Near & Far, April 16, 2013
Kris Burns
Multimedia artist and Nyack resident Kris Burns helped take Hopper to the streets of the village though her summer long festival, Hopper Happens. The celebration of Hopper's life and work included flash mobs, site specific slide projections and the showing of Hopper inspired movies.
Nyack Sketch Log: Hopper Happens, August 14, 2012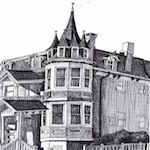 Natalie Couch
Natalie Couch graduated from Wellesley College in 1907 and was first in her class at Fordham Law School. When the issue of extending the right to vote to women first appeared on the ballot in Rockland County in 1915, the measure lost by 400 votes. The initiative passed two years later and in 1918 Miss Natalie Couch became the first woman to cast a legal vote in our county.
Nyack Sketch Log: Couch Court, March 26, 2013
Trudi Feiner
In 1974, Trudi and two partners bought their current location from the estate of a member of the Blauvelt family.  The structure once served as the hay loft for the horse stables used by the St. George Hotel.
Nyack Sketch Log: Squash Blossom, December 16, 2014
Phyllis B. Frank
In the late 1990s, if you lived in Nyack and wanted to attend one of the major Gay Pride celebrations that are held around the country each June, you had to travel to Manhattan. Phyllis B. Frank, Associate Executive Director of VCS, Inc. enjoyed the annual pride pilgrimage to the city, but thought aloud to others that "even if we had just a group walking behind one sign, we needed to do something for Gay Pride here in Rockland."
Nyack Sketch Log: VCS Gay Pride Rockland, June 3, 2014
Helen Hayes
From 1934 until 1990, the actress who was known to the world as the First Lady of American Theater lived here in the Village of Nyack as a mother, wife, neighbor and civic leader –not as a celebrity.
Nyack Sketch Log: Helen Hayes MacArthur,January 27, 2015
Cynthia Hesdra
Nyack will soon host a monument to the painful period of history when African slavery was a global industry. This commemoration is part of The Bench by the Road Project, a memorial history and community outreach initiative established by the Toni Morrison Society. The Bench by the Road in Nyack will honor a former slave, who became an entrepreneur and abolitionist, Cynthia Hesdra.
Nyack Sketch Log: Toni Morrison's Bench By The Road, November 18, 2014
Mayor Jen Laird-White
Holding public office is no different for men or women today.  It's equally tough for everyone because there has been such a breach in the public trust. This is, however, an exciting moment to be in public life because everywhere you look women are taking on leadership roles in business and government.
Nyack Sketch Log: Mayor Jen Laird-White, March 19, 2013
Maria Luisa Whittingham
(Nyack Sketch Log: Maria Luisa, August 5, 2014)
Maria Luisa Whittingham is a civic seamstress. She weaves business, social responsibility and family into a garment of retail longevity. From the durable and colorful threads of a matriarchal tradition and her own raw talent, she has created a popular business and brand: Maria Luisa.
Dr. Lori Martin
Dr. Lori Martin helped erect this street sign that honors the memory of Cynthia Hesdra. When she published The Ex-Slave's Fortune: The Story of Cynthia Hesdra in 2008, Martin saved an important figure in local history from obscurity. On May 18, 2015, a monument in Memorial Park will be dedicated to Hesdra as part of a global initiative sponsored by the Toni Morrison Society's Bench by the Road project.
Nyack Sketch Log: Scholar Puts Local History on Global Map, February 10, 2015
Frances Pratt
Elegant hats have become the symbol of local civil rights icon Frances Pratt. But when she arrived at the Port Authority Bus Terminal in New York City 62 years ago, she wore a borrowed dress and shoes too tight for walking. On Thursday, April 16, Pratt will officiate at the 56th annual Freedom Fund dinner for the Nyack branch of the NAACP at the Pearl River Hilton. From head to toe, France Pratt's personal story is as bold and compelling as her sartorial style.
Nyack Sketch Log: NAACP President Frances Pratt, February 3, 2015
Sylvia Roth
When printmaker Sylvia Roth moved into her home in South Nyack in 1977, she had no idea it was the birthplace of a major figure in American art, Joseph Cornell. This house on Piermont Avenue seems to have its own designs, selecting artistic occupants for over a century.
Nyack Sketch Log: A House Haunted by Art, August 26, 2014
Jane Sherman
In 1990, as a Presbyterian elder and the head of Nyack's Park and Recreation committee, Jane Sherman was also acutely aware of the need for space for young people in the community. Finding herself at the intersection of need and opportunity, Sherman was able to convince the Presbytery of New York to confer the church property to a non-profit for $1.
(This year is the 25th Anniversary of the founding of the Nyack Center.)
Nyack Sketch Log: Nyack Center, December 6, 2011

Michelle Solomon
The fight over fracking in New York State is reaching a fever pitch. Natural gas advocates claim the drilling technology is safe and can lead to energy independence. Opponents present evidence that the practice pollutes public aquifers. Here is the story of what transformed Valley Cottage resident Michelle Solomon into a committed fracking foe.
Nyack Sketch Log: Fracking Finds Fresh Foe, March 12, 2013
Anngela Vasser-Cooper
Women make up 8% of U.S. veterans, a number that is expected to double by 2035. Nyack's Anngela Vasser-Cooper is leading the charge to secure recognition and services for local women veterans.
Nyack Sketch Log: Defending the Honor of Women in the Military, June 10, 2014
Visit www.nyackcenter.org to purchase your tickets for the Nyack Center's Women of Leadership and Vision Brunch on March 14 at 10am. This Year's honorees are Judith Johnson, Dr. Lori Martin, Dr. Sharon Quayle, our Young Woman of Leadership and Vision Scholarship Winner and Honorary Woman of Leadership and Vision Cynthia Hesdra. 
An activist, artist and writer, Bill Batson lives in Nyack, NY. Nyack Sketch Log: "Women of Leadership And Vision" © 2015 Bill Batson. Visit billbatsonarts.com to see more.