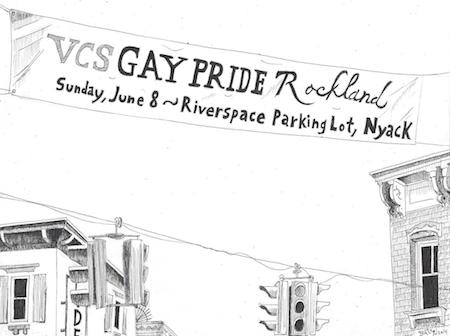 by Bill Batson
Over 1,000 people gathered for the first Gay Pride event in Nyack in 1999. As if to prove the positive force that this public affirmation of sexual identity can have, a Village of Nyack Trustee named John Shields, who would later serve four terms as Mayor, publicly came out of the closet that day. This pioneering local Gay Pride celebration will be held this Sunday.
VCS Gay Pride Events
Thurs -Sun, June 14
A Juried Art Exhibit & Sale to Benefit VCS Gay Pride Rockland at Rockland Center for the Arts( RoCA), 27 South Greenbush Road is on exhibit through  June 14, on Thurs – Sunday, 1:00 pm – 5:00 pm
Saturday, June 7
Well-Strung, a classically trained all-male string quartet takes the stage at Nyack Center, putting  their spin on the music of Mozart, Vivaldi, Rihanna, Adele, Lady Gaga, and more.
Nyack's own award winning recording artists, Bobby Belfry & David Budway will open for Well-Strung.
The evening is co-Sponsored by the Rockland Conservatory of Music.
Doors Open 6pm ~ Show 7pm
Tickets $25 in advance | $30 at the door
Call 845.634.5729 x307 for more information.
Sunday June 8
The 15th annual VCS Gay Pride Rockland festival will be held  from 12 – 5p in the parking lot formerly known as Riverspace.  Festivities include:
vendors
supervised children's activities
22' slide, bouncers,
balloons
face painting
Performances by:
The Nyack High School Marching Band
Autumn Hues
Laday Kenante,
Frankie Dee and the Boys
In the late 1990s, if you lived in Nyack and wanted to attend one of the major Gay Pride celebrations that are held around the country each June, you had to travel to Manhattan. Phyllis B. Frank, Associate Executive Director of VCS, Inc. enjoyed the annual pride pilgrimage to the city, but thought aloud to others that "even if we had just a group walking behind one sign, we needed to do something for Gay Pride here in Rockland."
Today, over 150 non-profit agencies, community organizations, faith communities, municipalities and elected officials from across the county and beyond, co-sponsor VCS Gay Pride Rockland. This number continues to grow and is matched only by the scores of businesses and individuals who advertise in a Directory of LGBT Friendly Businesses, Services and Community Organizations published every June.
This year's celebration comes at a time when countervailing global social currents reverberate through the gay rights arena. On May 21, a federal judge in Michigan declared that state's ban on gay marriage unconstitutional, bringing the number of states where gay marriage is legal to 19. However, governments in Russia and Uganda have passed laws that practically make it illegal to be gay.  In Uganda, sanctions include the death penalty.
Gay pride celebrations are held throughout the world this month to commemorate protests that followed a raid by New York City Police Offices on Stonewall Inn in June 28, 1969.  The uprising in Greenwich Village against a pattern and practice of harassment by public officials is widely regarded as the beginning of the Gay Rights Movement.
In another step toward the extension of full legal rights, The White House issued a proclamation by President Barack Obama on Friday, May 30, calling on Americans to eliminate prejudice "everywhere it exists,"  and declaring June as Lesbian, Gay, Bisexual, and Transgender Pride Month.
Since 1970, VCS Inc has developed programs to confront heterosexism, homophobia and transphobia, racism and sexism with a particular focus on violence against women. A social justice thread is woven into the fabric of the work of VCS. The first words on their website describe the organization as "a family service agency with an anti-racist, social justice mission."
Phyllis Frank joined VCS in 1974. Under her leadership, VCS has developed a wide range of LGBT family services, support programs and professional training including evolving expertise in relation to transgender children, youth and adults. Her exemplary efforts resulted in her being inducted into the Rockland County Civil Rights Hall of Fame in 2012.
The premise behind VCS is that community lay people can provide high-level counseling for clients with a wide range of serious social problems.  The model called "Volunteer Family Counseling Project" was initiated by Dr. Stephen Shapiro and Martin Eisman of the Family Service Association of Rockland County and funded by The Ford Foundation in 1970. The first group of 16 volunteers were recruited, trained and assigned to work with 34 families. The program quickly  expanded to 426 families and individuals by 108 trained volunteers. Later that year, the agency moved into offices at 151 South Main Street in New City.
Over forty years later, VCS  provides an array of services including child abuse prevention programs, services to older adults and their families and low cost counseling to Rockland residents for a variety of life issues such as separation, co-parenting children, unemployment and domestic violence.  VCS conducts a widely acclaimed counselor training program, administers a nationally recognized NY Model for Batterer Programs,  federally supported Foster Grandparent program and various social justice programs including Gay Pride Rockland.
In August of last year, Sarah Goforth joined VCS as Executive Director. Since 2006, she had served as Senior Director of Integrated Behavorial Health Services for Central City Concern in Portland Oregon. Goforth was selected because of her work serving clients whose needs are often overlooked.  She is originally from New York City and graduated from Stuyvesant High School.
Of the many pressing issues that face the communities that VCS serves, Goforth sites the situation confronting students in the East Ramapo School district as a priority. "We are presently focusing on the virtual absence of mental health services in the East Ramapo School district. We are finding an increase in requests for our services from youth," Goforth said. "It is unusual for youth to self-identify for mental health services, so we know there is a crisis in these schools."
For more information visit VCS-Inc.org
An activist, artist and writer, Bill Batson lives in Nyack, NY. Nyack Sketch Log: "VCS Gay Pride Rockland" © 2014 Bill Batson. Visit billbatsonarts.com to see more.