by Bill Batson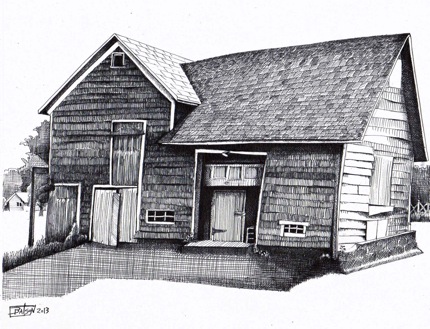 John McDowell admired this big barn every time he drove down Little Tor Road in New City. The award- winning composer/musician and his wife Alexandra moved to Pomona in 1999 to a property that had been a farm as early as 1780. One fateful day, he noticed the greenhouses adjacent to the red barn were being dismantled. "I feared that another farm was being lost to suburban development," he said. Fortunately, his fears were eventually allayed. Because of the enlightenment of the property's owner, incentives from local government and a non-profit now led by McDowell, instead of a field of 40 private homes, we have productive public farmland.
Jim and Pat Cropsey owned the barn that caught McDowell's eye. Jim's grandfather had purchased the farm in 1893 as a place to get away from New York City. "He was a lawyer and loved to buy real estate," explained Mr. Cropsey in a 2012 interview.
"There were over 500 working farms in Rockland County before World War II," he went on, "most were apple or apple and vegetable farms and a few dairy." Cropsey's father, William Wallace or  "Wally" as he was known, started his career as a bookkeeper at the Chevy plant in Tarrytown, but always wanted to farm. His neighbors at the George F. Smith and Sons farm taught him how to till the soil. Jim Cropsey continued the family farming cycle, but by 1999, the land was no longer being farmed and developers were circling the ample acreage.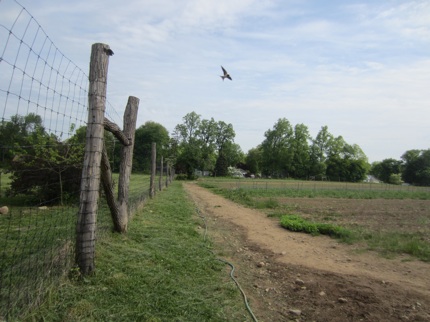 Ironically, it was the sale of the old Smith farm to developers that motivated McDowell. His response to the possible loss of one of the region's remaining family farms was shaped at a meeting with Rockland County officials in 2006. McDowell and another emerging farmer, Joy Macy of Bluefield Flower Farm in Blauvelt, were in the offices of the Rockland County Soil & Water Conservation District at the Environmental Resources Department, the branch of local government that has jurisdiction over small farms. After hearing about community enthusiasm for small farms, the directors, Allan Beers and Jim Dean said, "you guys should band together and form some kind of alliance."
This farmland was saved in two phases. In 2003, instead of selling to a developer, the Cropseys sold their acreage to the Town of Clarkstown and the County through the County's Open Space program.  This protected the land from development, but the fields laid fallow for many years.  Once the Rockland Farm Alliance was incorporated, the non-profit entered into an agreement with Rockland County and the town in 2010, launching the Cropsey Community Farm on five of the 25 acres.
At a recent event at the Orchards of Conklin, outgoing County Executive Scott Vanderhoff told McDowell that preserving open space for farming is one of his biggest achievements.  When RFA was founded, Rockland was down to four farms. Now there are over ten.
First Crop
In the first week of June, Cropsey Community Farm will harvest the first crop of their third season. A partial list of the organically grown yield includes:
lettuce
radishes
kale
collard greens
sugar snap peas
Followed later in June by:
cabbage
carrots
beets
Swiss chard
Cropsey Community Farm Manager Shane Hardy cautions that the yield is never guaranteed. "There can be crop failure, insects and weather events. We try to do everything to protect the crops except using pesticides and herbicides," Hardy said.
The programs that Rockland Farm Alliance operate from Cropsey Community Farm include a Community Supported Agriculture component and educational and internship initiatives.  A portion of the harvest of organic vegetables that they grow are shared by 170 families. There is a waiting list of 30 families.
CSA members can elect for a working or non-working membership. Working members can contribute 15 hours each season to reduce their membership fee. Their time can be spent planting, cultivating, pounding tomato stakes, stringing peas and tomatoes, picking up rocks, helping plant in the greenhouse, mending fences and cleaning the barn and the walk-in refrigerator according to farm manager Shane Hardy.
Hardy, a graduate of Nyack High School and Ithaca College worked on a variety of farms in New York State and Montana before becoming the farm manager this year. His experience included managing the crops on a 500-acre grain and bean farm in Tompkins County, New York.
Managing the Cropsey Community Farm is a dream come true for Hardy. "I never thought I'd be farming in Rockland, ten minutes from the house where I grew up.
Musician/Composer/Farmer
John McDowell wrote the soundtrack for the academy award-winning film, Born Into Brothels. His signature sound combines world music with western classical and pop idioms. He has a masters in composition for Northwestern University, produced albums and performed with Sting and Santana. He is currently scoring Jeffrey Brown's, Sold.
In addition to providing fresh produce weekly to almost 200 families, and supporting other local farms, The RFA supplies local restaurants and health food stores and cooperatives with organic produce including Hudson House, Union Restaurant, Taste of Distinction, Back to Earth –Nyack, Hungry Hollow Co-op and a Matter of Health. They also have a booth at the Piermont Farmer's Market on Sundays.
Hardy's interest in agriculture goes beyond the operation of the farm. "People are losing the knowledge of how to grow their own food.  That could be catastrophic."  To preserve the tradition and techniques of farming, Cropsey Community Farm offers a Junior Farmers Summer Program, led by RFA Program Director Jessica Kesselman. The half-day, week long program is available in two sessions from July 8 – 12 and August 5 – 9 for children 6 – 12 years of age.
Working with the soil can benefit young people in many ways according to Hardy: "Engagement with the natural world will expand and indulge their curiosity. They can get an idea of the work it takes to get food. We know some of the science behind it, but that does not take away the magic of a seed turning into a plant."
With Shane overseeing the growing edge of the operation, McDowell, and RFA co-executive directors Melinda and Mitch Darer focus on the administration of the organization and public policy. McDowell and Linda Concklin, of the 300-year-old Orchards of Concklin have revived the Farmland Protection Board, which they co-chair.
The Hudson River Valley Greenway Project recently cited RFA's farming on public land a "cutting edge model." "When we started out the American Farm Land Trust would not work with farms less than 20 acres in size. Now they do," McDowell said.
When asked which is more difficult, raising cash or crops, McDowell quickly answered that fundraising is harder. So if you care about the food supply, or the environment or you want to see more open space go to farming and not overdevelopment, plant some cash into this burgeoning local agricultural initiative.
To learn more about RFA's work to save and create farms in Rockland, make a donation, enroll a child in the Junior Famers Summer Program or join the Community Supported Agriculture waiting list at Cropsey Community Farm visit rocklandfarm.org 
Special thanks to Donna Schmidt for sharing her 2012 interview with Jim and Pat Cropsey.
John McDowell photo credit: Donna Schmidt

Bill Batson is an activist, artist and writer who lives and sketches in Nyack, NY. Nyack Sketch Log: Community Supports Agriculture in New City" ©: 2013 Bill Batson.
See also: "New" Farming: Can It Survive the Suburbs?  5/29/2013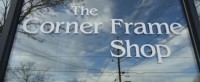 The Nyack Sketch Log is sponsored by The Corner Frame Shop at 40 South Franklin Street in Nyack, NY.