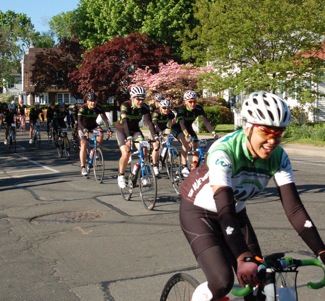 At one end of the cycling spectrum are occasional, fair weather weekend bikers. At the far other end are the world class competitive cyclists like Lance Armstrong. Between those two extremes are a lot of people who belong to bike clubs or are cycling enthusiasts, many of whom feel betrayed by the American cyclist and one time winner of seven Tour de France competitions.  Last week Armstrong confessed to Oprah Winfrey that he had been doing what he had been denying for many years: doping, cheating and lying.
"When I heard that Armstrong had confessed to doping, my first comment was 'yeah, that sounds about right.' Everybody dopes in professional cycling – it's basically part of training," said Jeremy Zornow, a B+ level regular cyclist who can keep pace at about 18 mph. "He doped to level the playing field. He is not a bad person: he's just the most popular representative of a broken system."
Although over the years many local bikers defended Armstrong and accepted his doping denials, no one interviewed for this story had any sympathy left for the former American biking hero. Armstrong was officially stripped of his Tour de France wins last October. "I don't think he believed a single word that came out of his own mouth in his interview with Oprah," said Heidi Broecking, a competitive rider and a member of Gran Fondo New York Gruppo Sportivo team. "As I watched him speak there was nothing, no joy, no love, no passion. It's all about the win, even now. This confession had nothing to do with remorse or understanding of the damage he has wrought. It had nothing to do with setting things right with others to heal relationships. It had nothing to do with truly acknowledging a complete break down in personal ethics."
Lance Armstrong once wrote a book called
It's Not About The Bike
. Apparently, it's not about dancing, either.
Yahoo/Access Hollywood reports
that Armstrong has turned down an invite to compete on the reality TV show Dancing With The Stars. Although cyclists often sound like they are wearing tap shoes when they walk around in their "clip-in" bike shoes, apparently Armstrong will reserve any dancing for future legal depositions.
"It is good he finally came clean, but confidently defending his innocence on being clean for almost a decade is sick," said Tom Pagano, a North Jersey A level cyclist who can keep a steady pace of about 20 mph. "The only reason I believe he came out was because there is substantial proof against him from which he cannot escape." Despite the disappointment, Pagano still conceded that Armstrong's record is impressive. "Even with these dark disclosures, no one can take away the unmatched success of seven straight Tour de France wins."
Supporters of Livestrong, the cancer survivor support group that Armstrong created after his recovery from testicular cancer, are worried about how the founder's fall will impact Livestrong. "My only concern is that it came too late and that it will impact all the good that the Livestrong organization has done and will continue to do," said Anne Bari, a Livestrong supporter and a steady 12 mph C Level cyclist. "I hope that people can separate Lance and his wrong doings, from his right doings, meaning Livestrong. My only hope is that Livestrong can recover." Pagano agrees that despite everything that Armstrong did wrong, Livestrong is one thing he did right. "People should separate the doping from the cancer foundation. They have nothing to do with each other, so you cannot hang them."
Now that Armstrong has admitted to doping, engineering an elaborate coverup and coercing others into silence, what will his legacy be? Andy Cooper, a North Jersey cyclist who counts 50 years in the saddle and almost as many watching competitive cycling, says it won't be much. "My reaction to the events of last week and the decades that preceded it, is to say nothing. I believe Armstrong is best ignored and forgotten."
See also: