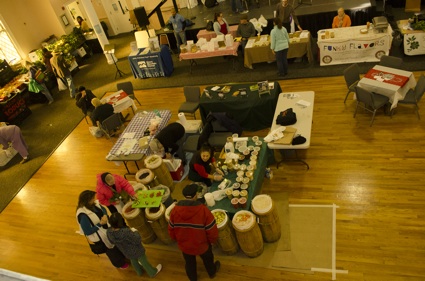 For years, locals who love fresh produce and family farm products had to go cold turkey when Nyack Farmers' Market vendors packed up their tents each November. Now, veggies and other farm fresh goods are available year round in Nyack.
Every Thursday until May 2 , from 8a – 2p, Nyack's Farmers' Market will operate indoors at the Nyack Center. The indoor incarnation of the Farmer's market is a collaboration between the Nyack Center and the Nyack Chamber of Commerce. Many of the vendors that have been staples of the outdoor market are now participating in the Winter Edition of the farmer's market.  They share the large, warm, well-lit sanctuary of the former Presbyterian Church with some new faces.
Here is a roster of all of the vendors at the new indoor winter market.  So while you're doing your seasonal shopping in downtown Nyack, remember this cornucopia of edible gifts and delicious ingredients on the corner of Depew and South Broadway.
Orchards of Concklins: The Orchards of Concklins is a three-hundred-year-old Pomona-based family farm. They are also the longest participating vendor at the Nyack Farmer's market.  Concklins has fruits, including a wide variety of apples, cider, eggs, honey and fresh baked goods.
Taiim Falafel Shack: Taiim Falafel Shack offers fresh, preservative free Middle Eastern specialties including hummus, cucumber salad, babaghanouj, baklava, and pita bread.
Doc Pickle: Doctor Pickle provides a selection of fresh pickles, sauerkraut, olives and marinated mushrooms and peppers served from their distinctive wooden barrels.
Dines Farms: Dines Farm is one of the few remaining family farms from Greene County New York. Dines provides consumers with naturally grown, authentically free-ranged poultry.  They also offer eggs, bacon, and their popular chicken sausage.
Dish Cafe: The Dish Café booth is an extension of their French inspired bistro at 366 North Highland Avenue (9W).  Dish Café serves their unique homemade ice cream brand, Funky Flavors and breakfast burritos.
Mostly Myrtle's: Mostly Myrtles is famous for their gluten-free biskookys, (a dipping cookie) muffins and brownies.  Enjoy their baked goods while you sip a cup of their fresh roasted gourmet coffee or hot mulled cider.
Bill Batson Arts: The official artist-in-residence for the Farmers' Market, Batson Arts sells cards based on his NyackNewsAndViews column Nyack Sketch Log. Each week Batson creates a drawing of life at the market.
Pie Lady & Son: Pie Lady & Son was launched from a porch on Burd Street in 1996.  The family run bakery now operates from a store at 366 North Highland (9W).  Each week, large and small pies and cookies are available and often sell out.
Meredith Country Bakery: Meredith Country Bakery is a Kingston, NY based bakery offering fresh breads, pies, and cookies.  Call in advance if you want to purchase one of their classic ginger bread houses, they go fast.
Hummingbird Ranch: Hummingbird Ranch harvests honey from their hives in Staatsburg New York.  Hummingbird Ranch produces honey and a variety of honey based products including beeswax skin care cream, lip balm and candles. They also produce Maple Syrup that they ship around the world.
Kiernan Farms: Marty and Thelma Kiernan raise and bring to market grass-fed beef and pork.  They also produce a wide variety of sausages including hot and sweet Italian, breakfast chorizo, andouille and kielbasa.
Ronnybrook Dairy: Ronny brook Dairy, a 3rd generation Hudson Valley Family farm, is new to the Nyack Farmer's Market.  They offer a full line of dairy products made in small batches.
Cascade Mountain Winery: Cascade Mountain Winery features a full range of award winning table wines.  Make online reservations to visit their restaurant and tour the winery.
Gajeski Produce: Gajeski Produce is the newest arrival to the Nyack Farmers' Market.  A 4th-generation family farm located on Long Island, Gajeski Farms grows a large variety of seasonal produce in high tunnel and conventional green houses.
Photo courtesy Dr. Arnold Roufa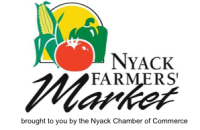 Read about food and healthy eating in Eats of Eden, sponsored by the Nyack Farmer's Market and the Nyack Chamber of Commerce. The Nyack Farmers' Market will continue through the winter on Thursdays from 8a-2p in their new indoor location at Nyack Center at the corner of Depew Avenue and South Broadway.