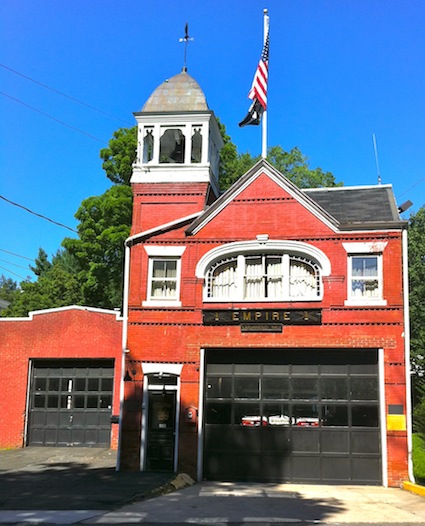 Nyack, Oct 6 — There's a lot going on around town this weekend, kicking off with a parade today and Nyack's Famous Street Fair tomorrow (10/7). Add to that some "sketchy" history, some science, a little bit of song and dance — and a book fair, too.
There's free parking in the Village of Nyack from 11a '€" 6p from Sat 10/6 to Tues 10/9 to accommodate many of the following special events.
The Nyack Fire Department holds a parade on Sat 10/6 at 2p down Main Street turning south on Broadway. Fire departments from across the region are expected to march and ride in the parade.
It's all about science on Saturday at Columbia University's Lamont-Doherty's Earth Observatory at their annual Open House from 10a-4p. Participate in hands-on earth science demonstrations, and learn from world-renowned researchers about their latest discoveries. You might even get to meet our neighborhood MacArthur Genius Grant recipient Terry Plank who works at Lamont, whose award was announced last week.
The Historical Society of The Nyacks hosts a reception on Sat from 1-4p for their new exhibit, "Nyack History: One Sketch At A Time." The exhibit features the work of Bill Batson, author/artist of the weekly Nyack Sketch Log feature on NyackNewsAndViews. The Historical Society of the Nyacks is located on the lower level of the DePew House at the corner of Hudson Avenue & Piermont Avenue (behind the Nyack Library and across from Memorial Park).
On Sat night, celebrate Gene Kelly's 100th birthday with TCM's Robert Osborne in Conversation with ArtsRock's Elliott Forrest at The Lafayette Theater in Suffern. Showtime is 8p. No dancing in the aisles will be permitted.
If science, historical sketches, or the silver screen aren't your idea of fun, you can go stick your head in a book. The Friends of the Nyack Library host a two day book sale on  Sat from 10a-4p and Sun from 12n-4p.
The 2012 Street Fair Season comes to a close with the Octoberfest edition of Nyack's Famous Street Fair from 10a-5p, rain or shine. Bring the family but leave your pets at home.
If that's not enough excitement for Nyack, you can look forward to Main Street milling and paving on Mon-Wed. The village will offer free parking in the Riverspace and Artopee lots from 11a-6p on Mon and Tues.