by Bill Batson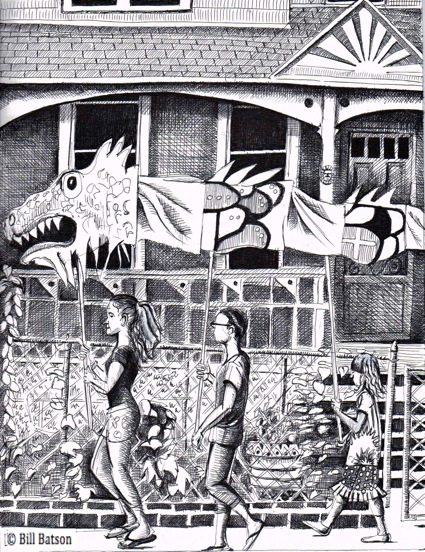 New York City may have a Big Apple, but Nyack has Amazing Grace. You might have seen the Amazing Grace Circus perform at a school, church, synagogue or mosque. Or when they marched behind an elephant to a massive tent pitched in Memorial Park, or every year at the Halloween Parade. In my sketch, the pint-sized performers are mesmerizing motorists during an impromptu parade on the way back from the Farmer's Market. And on October 6, this talented troupe of teens will teach a hippo how to fly.
Almost everything about the history of this circus is amazing and graceful. The idea to have a youth-led circus arts and fitness program in Nyack sprang from the emotional abyss that followed the attacks of September 11th. A group of young people at Grace Episcopal Church sought a way to comprehend the enormity of the violent event and the personal loss of members of their church community, Welles Remy Crowther and Stacey Sennas McGowan.
The teens were already part of the Grace Episcopal Church's Senior Youth Group chaperoned by Carlo Pellegrini and Janet Hayes, a group that Remy's sister Paige had attended. Pellegrini, a veteran circus performer and dancer had introduced some basic circus skills as team and esteem building activities. Hayes brought her experience as a licensed occupational therapy assistant to facilitate eight months of workshops.
'€œOne day the teens took Janet and me to what was then the Skylark Dinner. They had something to tell us.'€ Pellegrini recalled. '€œ We are teenagers, therefore we are amazing: and we are at Grace Church, that makes us the Amazing Grace Circus," the kids declared.
Pellegrini needed some convincing at first. Having spent a year of traveling the country as a member of the Roy Lichtenstein Quarter Ring Sidewalk Circus in the early seventies, he knew the demands of the art form.  But the young people would not take no for an answer. Thanks to their persistence, and sublime and resilient response to tragedy, during the last ten years 100 teens have been members of the troupe and approximately 30,000 young people and families have witnessed and been inspired by Amazing Grace Circus performances.
In addition to Pellegrini and Hayes, two other adults have brought their talents to help  Amazing Grace Circus performers tumble, juggle, clown and soar. Karen Gersch, a founding member of the Big Apple Circus and visual artist teaches acrobatics and clowning.  Hilary Sweeny, a ballet dancer since the age of five, who has trained with some of the leading aerial artists in the field teaches dance, silks and trapeze.
Pellegrini believes that eventually, youth circus will be as ubiquitous as youth soccer. Growing interest in three-ring recreational arts and sports could be the outgrowth of the mass appeal of Cirque Du Soleil, the Canadian-based company that stages year round performances in New York and Las Vegas. Twenty years ago there were only three youth circuses in the country; now there are 120.  Amazing Grace Circus recently participated in the American Youth Circus Organization conference in Sarasota, Florida.
The arts and fitness program that Amazing Grace Circus offers prepares young people for success in acrobatics and academics.  Kenneth Lindemann, a graduate of Amazing Grace, won a coveted spot in the Seven Digits circus troupe in Montreal. Matt Sheinman, the longest serving member of the youth group, who joined the program at age eight, just started his freshman year at Stony Brook. Aerialist Megan Grosmark now holds the position of teen dean of the circus.
A documentary entitled Runaway Circus, chronicled the Fellini-esque events that surrounded a week of performances by the circus in Memorial Park as part of the regional observance of the 400th anniversary of the arrival of Henry Hudson. The film that was an official selection in three family and children's film festivals, documents the troupe overcoming logistical difficulties and torrential rains to deliver two weeks of sold out performances.
In celebration of their tenth year,  Amazing Grace Circus is mounting an original production called '€œThe Hippo Who Wanted To Fly.'€ Tickets for the performances at Rockland Community College on October 6th and 7th are still available at brown paper tickets.
Amazing Grace Circus is the only year-round youth circus program in the region. During the year, young people can attend their after-school program, or experience the circus arts at an area school where they do half and whole day workshops and family fun nights.  Amazing Grace Circus also runs a summer day camp.  And last year, the group piloted a program to serve children on the autism spectrum called Sensory Circus.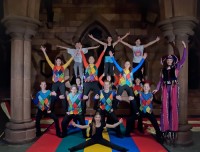 In circus custom, before a troupe toured the countryside, they were blessed by a church figure.  By chance, an Episcopal Bishop was on hand before their first performance in 2002 to perform the rite. But when you consider that this phenomenal and enduring program was the brainchild of young people responding to the one of the darkest moments in American history, we are all the recipient of the blessing that is Amazing Grace Circus.
All photos by Deborah Grosmark Photography
Bill Batson is an activist, artist and writer who lives and sketches in Nyack, NY. Nyack Sketch Log: "Amazing Grace Circus'€ © 2012 Bill Batson.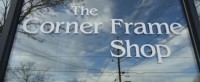 The Nyack Sketch Log is sponsored by The Corner Frame Shop at 40 South Franklin Street in Nyack, NY.