by Bill Batson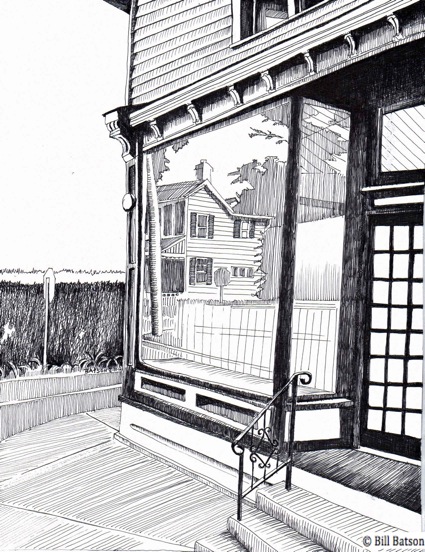 In 2004, Hopper was happening globally in London when 420,000 people visited the Edward Hopper exhibit at the Tate Gallery in only three months. In 2006, Hopper happened for comedian Steve Martin who sold Hopper's painting Hotel Window for $26 million at a Sotheby's auction. Locally, Hopper Happens whenever you drive past the Northwest corner of N. Broadway and School Street in Upper Nyack and see the empty storefront which was the inspiration for Hopper's 1948 painting Seven A.M. and this week's sketch.
Last summer Hopper was happening throughout the village on the 40th anniversary of the restoration and transformation of the Nyack native and internationally renowned-painter's boyhood home into the Edward Hopper House Art Center. In addition to the Hopper paintings on loan from the Whitney Museum of American Art shown inside, multimedia artist and Nyack resident Kris Burns helped take Hopper to the streets of the village though her summer long festival, Hopper Happens. The celebration Hopper's life and work included flash mobs, site specific slide projections and the showing of Hopper inspired movies.
Hopper Happens is back this year, with more films and new media innovation.  Some elements will be hidden in plain sight around the village and will require that you wave your digital device over a QR code decal to view.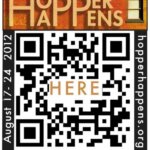 Burns is well-positioned to promote Hopper's contributions to our culture as an artist-in-residence at the Edward Hopper House Art Center. Her workspace is situated in one of Hopper's childhood bedrooms. Burns has organized numerous cultural and community programs in Nyack including co-founding Rivertown Film and producing a few seasons of Mostly Music.  In 2010 she received the County Executive Arts Award for Supporter of the Arts.
I got caught in the whirlwind of Burn's public art activity last summer at the first Hopper Happens festival.  One evening I witnessed a roaming flash mob of people dressed in period clothing strike Hopper-esque poses. A week later I viewed the paintings of Hopper and artists inspired by our native son projected on a wall. A month later, in homage to both Hopper and Burns, and their potent muse, the village of Nyack, I started  this sketch log.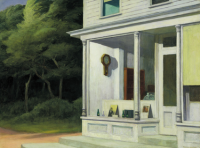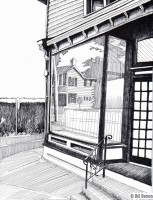 This week's sketch honors Hopper's Seven A.M. Recently, I visited the Upper Nyack corner that Hopper captured on canvas. I arrived at the scene at the exact time that the title of the painting suggests.   At that hour of the day, the color of the light is the main character.  The simple plot of a rising sun illuminating the natural and man-made landscape is universal and timeless.
The continuation of these outdoor, interactive tributes can help secure Nyack as an important destination for worldwide Hopper fans. If we are interested in encouraging part of the massive audience that visited the Tate in London for the 2004 exhibit to make a pilgrimage to Nyack, we need to ensure that Hopper Happens again and again and again.
A GUIDE TO HOPPER HAPPENS

August 10  – August 31, 2012


Hopper Happens 2012 consists of pop-up galleries, projections and films in unconventional places.

QR codes on strategically placed Hopper Happens placards will allow you to view films, reproductions of paintings and photographs on your digital devices.  If you come across one- take a picture and post it on your Facebook page and spread the word.

If you don't have a smart phone or ipad there will be a media lab at the Hopper House on August 17, 18, 23 and 24.   The second floor lab will allow you to view the digital media embedded in the QR code placards, get clues about current happenings that don't require a digital device, see an exhibit of past and current happenings and purchase Hopper Happens souvenir books and post cards.

POP-UP GALLERIES: AUGUST 17-24

Images of previous Hopper Happenings will be displayed unconventionally and unexpectedly in locations that hosted last year's events, encouraging visitors to carefully explore the inside of the store in order to see the exhibit.

A series of QR codes will also appear in the store front display windows of each pop-up gallery.  Scan the code with your smart device and watch an original short film featuring: Hopper images, footage and photographs from previous Hopper Happenings and interviews with Hopper Happening participants.

Grace Thrift Shop
Johnny Cakes
Maria Luisa
Nyack Gourmet
Pickwick

CHASING EDWARD HOPPER, A DIGITAL WALKING TOUR -AUGUST 17-24

QR Codes will be posted on strategic window as you walk across the village.  Scan the code and watch an original short film featuring footage of: previous Hopper Happenings and a day-in-the-life of that exact spot.

LOCATIONS:

Bridge St.  and Main St.
High Ave. and Broadway
South Broadway near Carson McCuller's House
Franklin St.- Across from the Old Havermales Hardware Store
Outside of the Edward Hopper House Art Center

As you walk past the windows, alleys and doorways of downtown Nyack you never know when you'll stumble upon a life-sized figure or scene seized from a Hopper painting.

POP-UP PROJECTIONS: AUGUST 19, 23, 24

August 19  High Ave. Videos and photographs from the "Chasing Edward Hopper Digital Story Tour" will be projected on the side of the building.

August 23  Franklin Ave. HOPPER'S WORLD- A series of doors, windows and figures collected from Hopper's world will be re-assembled and projected on the side of a building.

August 24  Midland  Screening of an original, site-specific short titled:"Chasing Edward Hopper" exploring Hopper's lasting influence and continued presence.

BACKYARD CINEMA: AUGUST 17, 31

Each film will be shown in the backyard garden of the Edward Hopper House Art Center at 82 N. Broadway in Nyack.  Admission is free but you'll have to bring your own chairs or blankets to enjoy the movie. The virtual curtain goes up at 8:30p or when it's dark enough to see the show.

August 17

Rear Window: Alfred Hitchcock, 1954

Short: A review of Hopper Happens pop-up projection images

August 31

Night of the Hunter: Charles Laughton, 1955

Short: Flash Sketch Mob, a slideshow
Bill Batson is an activist, artist and writer who lives and sketches in Nyack, NY. Nyack Sketch Log: "Hopper Happens" © 2012 Bill Batson.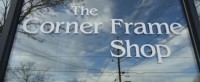 The Nyack Sketch Log is sponsored by The Corner Frame Shop at 40 South Franklin Street in Nyack, NY.