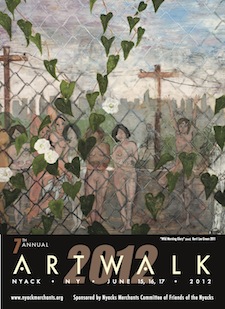 Art meets commerce this weekend when more than 20 Nyack stores will be turned into temporary art galleries during the 7th annual Art Walk. Local and regional artists display their work and are hand in each space to meet the public on Fri-Sun, June 15-17.
"Art Walk is a unique and successful marriage of art and culture," says Paulette Ross, the producer of Art Walk. She says that art provides people an outlet — in good times and bad. "Whether this plays out through the dark side or a bright fantasy place, art, in all its various forms, becomes the perfect medium of expression," she says.
South Nyack resident Kerri Lee Green's painting, "Wild Morning Glory," is featured on the 2012 Art Walk poster. Influenced by the 18th century Retablos of Mexico, Green's painting incorporates the earth, mother, animals and the child. "Her paintings explore our estranged relationship to nature, our cultural assault on the feminine and our modern search for the sacred," says Ross.
On Saturday morning, the ART WALK goes outside with Nyack's first ever Flash Sketch Mob. "One hundred artists will divide Nyack into grid sections and conquer their chosen medium to create a composite portrait of the village in two hours," says Bill Batson, who writes the weekly Nyack Sketch Log and who created the event in cooperation with the Nyack Center and the Village of Nyack. At 10a Saturday morning, Sketch Mob artists will gather at the Nyack Center to be assigned a specific location to sketch. Their completed works will be collected at 1p and then scanned for presentation later in the day. Batson will project the all artwork created during the Flash Sketch Mob on the wall adjacent to the Runcible Spoon Bakery at High Ave and N. Broadway in Nyack at 9:30p.
Parking is free all day and night on Sat June 16 in the Riverspace Theatre parking lot on Artopee Way.