by Bill Batson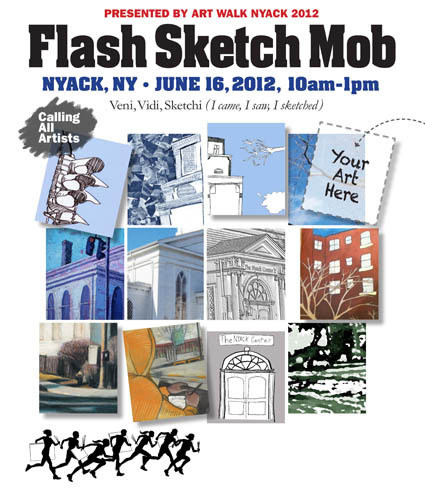 Veni, Vedi, Sketchi means I came, I saw, I sketched. The original boast from Julius Caesar was more ominous.  For our purposes, the Latin verb for '€œI conquered'€, '€œvici'€ has been replaced with a playful invitation to create.
On June 16 a legion of artists will divide Nyack into grid sections and conquer their chosen medium (pen, paper, brush, canvas or any other tool of the visual arts and yes, Etch-A-Sketchers are welcome) to create a composite portrait of the village in two hours.  The Flash Sketch Mob is part of ART WALK 2012, a three-day arts festival sponsored by the Merchants Committee of the Friends of the Nyacks.
Today's Nyack Sketch Log is an invitation to professional and amateur artists, students and art lovers to join the Flash Sketch Mob.  This graphic that replaces my weekly sketch was created by a mini-mob of nine artists of all ages and skill levels.  On June 16th, on a larger scale, we will cobble together a visual record of every inch, object, vista and structure of our Village.
Flash Sketch Mob Schedule
10:00a gather at the Nyack Center, the building depicted in this poster to receive a grid assignment.
11:00a, the bell of the Nyack Center will toll and you will proceed to your location to record what you see
1:00p, the bell will toll again inviting the sketch mob to return so that the art works can be collected, labeled and digitally scanned.
9:30p we'll have a pop-up projection exhibition of these images on the side of a building (to be announced) to celebrate our collective accomplishment.
The second phase of the project will combine the images created by the Flash Sketch Mob digitally into an interactive online map of the Village of Nyack.  An exhibition in the Fall will unite the actual and virtual material from our Flash Sketch Mob.
I have been sketching and writing weekly about Nyack since August 2011.  The idea for the Flash Sketch Mob came from this Oct. 11, 2011 column Nyack Sketch Log versus Google Maps:
'€œLike John Henry, I am at war with a machine. My antagonist is not a steam powered drill, but Google Maps. What my nemesis accomplishes through satellite surveillance and cars equipped with periscope cameras, I endeavor to create with my humble sketchpad and pen.
The legend of John Henry commemorates an individual who used human spirit and physical labor to triumph over a machine.  To accomplish what I envisioned in my Sketch Log'€"to create a complete visual compendium of Nyack, I realized that one John Henry would not be enough. I need one hundred John Henrys.  With your help, on June 16, 2012, I hope to transform my individual effort, "Nyack Sketch Log" into a collective experience "Flash Sketch Mob.'€
Nyack is a perfect location for the world's first Flash Sketch Mob.  The historic Hudson River Valley village was the home of many great American artists including Edward Hopper, Helen Hayes, and Carson McCullers.  Many of the most iconic images of American art created by Edward Hopper are of Nyack.
Participants in the Flash Sketch Mob will be able to spend the rest of the day enjoying the 7th annual ART WALK. The three-day event on June 15-17 invites the public to view, enjoy and purchase the work of established and emerging artists exhibited in various businesses throughout the river village with the artists in residence.
Nyack's Flash Sketch Mob is in large part homage to Kris Burns' Hopper Happens.   The public art event was a part of last year's 40th anniversary celebration of the Edward Hopper House Art Center and included flash mobs, pop-up projections and readings.  It was at one of the flash mobs that I decided to draw for the first time in years.  When that drawing was included in a pop-up projection, I was inspired to continue to make art.
The premiss behind Nyack Sketch Log and the Flash Sketch Mob is that the unexamined place is not worth inhabiting.  Our careful examination and hand made reproduction of our built and natural environment will create a unique human record.  As we sharpen our powers of observation, by joining the Flash Sketch Mob, or examining the perspective that dozens of artists will present of our village, we might become more aware of her needs and more zealous in her defense.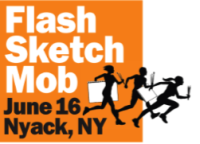 Be a modern John Henry.  Join the Flash Sketch Mob!  May the Google map machine beware!
Please register today.  For more information visit billbatson.net
The members of the mini-mob that created the Flash Sketch Mob poster are: Barbara Caress (collage), Joseph Giannella (pen and ink), Sue Barrasi (acrylic on board), John Papas (digital art), Tracy Kachtick-Anders (acrylic on poster), Loraine Machlin (pastel on paper), Kris Burns (pastel on paper), Jack White (pen and ink) and Bill Batson (pen and ink).

Special thanks to Paulette Ross for including the Flash Sketch Mob as part of ART WALK 2012, Loraine Machlin for the concept, design and execution of the poster and logo, Sue Barrasi and Annie Edwards for unleashing their dynamism in service of public art, Kim Cross for giving the Flash Sketch Mob a launching and landing pad, Dave Zornow for giving Nyack Sketch Log a home, Jane Newman for creating a digital depot to park my art projects and Mayor Jen Laird-White for her tireless support of the arts.
 Bill Batson, an artist, writer and activist draws sketches and writes essays curbside in Nyack, NY.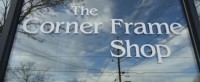 '€œNyack Sketch Log: Flash Sketch Mob'€ ©2012, Bill Batson.
The Nyack Sketch Log is sponsored by The Corner Frame Shop at 40 South Franklin Street in Nyack, NY.