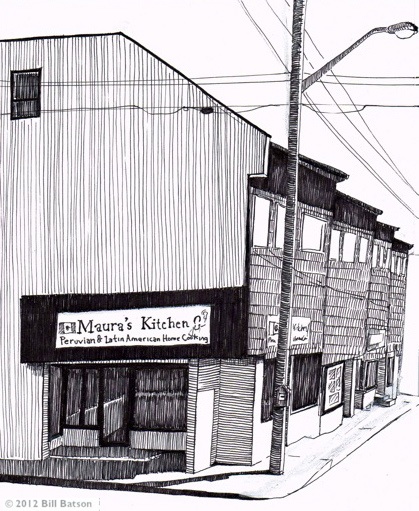 by Bill Batson
When she receives compliments for her cooking, Maura Azanedo has been known to say "I am not a chef: I am a cook." Home cooking, with all the feelings of fullness and satisfaction that the term conveys, is what 'Maura's Kitchen promises and delivers.
Maura arrived in the United States from Peru in 1970 to attend high school in Kentucky as a foreign exchange student.   Job opportunities and the desire to master English brought her to New York, where she met her husband Edwin in the tight-knit Peruvian community in Washington Heights. They moved to Rockland County in 1995.
"When I was growing up, I couldn't go out much at night because dinner was important and I had to be home," says Maura and Edwin's son Tyrone. I imagine that it wasn't just parental admonition that kept Tyrone at the table.  The food that his mother cooked for her family was so phenomenal that both father and son urged her to open a restaurant.
Maura didn't learn her cooking chops from a culinary school, which is why she insists she's more cook than chef, having learned her way around the kitchen from aunts and a grandmother in Lima, Peru.  Her father, Alberto Haro,  a prominent figure in the Peruvian folk music genre called Musica Criolla, was always on the road.  It was during his extended absences that four aunts and a grandmother gave young Maura her kitchen training.
When the Azanedo's opened Maura's kitchen in March 2011, they were afraid that an over emphasis on Peruvian cuisine might turn away diners.  The sign that they hung expresses that ambivalence offering Peruvian "and Latin American" cooking.  "We were shocked that from day one, some of the people who came into the store knew as much about Peru as we did," said Edwin.   Even more startling and serendipitous was how Peruvian cuisine exploded onto the culinary scene in 2011.
Thanks to super star chef Gaston Acurio, there is a growing global obsession with Peruvian food.  References to Acurio as the ambassador to Peruvian food would seem like title inflation if not for the fact that he runs 28 restaurants in 12 countries.  The recently opened La Mar Cebicheria in NYC was his 29th,  a launch "god-fathered" by renowned chef Danny Meyer.
When Tyrone saw the award winning documentary Mistura: The Power of Food last year that featured Acurio, he had two thoughts: "we need to go full-on Peruvian" and "I've got to get the film screened in Nyack." The film will be shown at the Nyack Village Theater to celebrate Maura's Kitchen's one-year anniversary and re-launch on March 30 and April 13.
The title of the film, Mistura, means mixture.  Peruvian cooking represents the convergence of Spanish, Japanese, Chinese and African cultures.  In a culinary world where fusion is the rage, Peruvian food is already fused.  Ingredients like raw fish in the ceviche and Chinese-style fried rice showcase the diversity of the cuisine.
The Azanedos credit their success during a very difficult business cycle to their loyal customers and distinctive menu that includes; Ceviche Mixto, a raw white fish prepared by "cold cooking" with lime juice that includes calamari and shrimp and is served with a salsa made from onion and Peruvian corn (a larger kernel that looks like a pale lima bean) and Lomo Saltado, steak strips sauted with onions and tomatoes and served with French fries and rice.
A sign outside a restaurant proclaiming "Home Cooking" can be deceptive: you may get healthy portions, but there's no guarantee that the food will approach the authenticity we expect from that proclamation.  That's not the case at Maura's where the mother runs the kitchen, the father stands behind the cash register and the son promotes the business.   The cuisine that the foodie world is now embracing as a formal phenom, is available right here in the village, minus the pretense, in an environment that will make you feel right at home.
Celebrate Maura's Kitchen's one-year anniversary at a screening of Mistura: The Power of Food.  The documentary by Patricia Perez that won best short film at the NYC Food and Film Festival in 2011 will be showing at The Nyack Village Theater on March 30 and April 13 at 8:30p and 11:00p.  Admission is $35.00 and includes Peruvian Food and drink throughout the event.
Bill Batson, an artist, writer and activist draws sketches and writes essays curbside in Nyack, NY.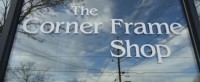 "Nyack Sketch Log: Maura's Kitchen" ©2012, Bill Batson.

The Nyack Sketch Log is sponsored by The Corner Frame Shop at 40 South Franklin Street in Nyack, NY.