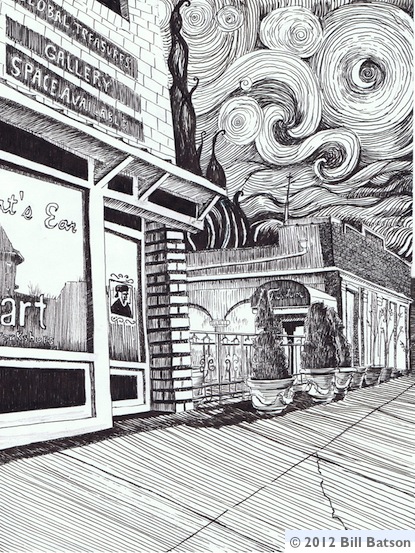 by Bill Batson
Until recently, painters in Nyack were second-class artisans. Nyack's musicians could fine-tune their instruments at Long Island Drum Center. Local writers could always haunt the stacks at Pickwick Book Shop. Our thespians were able to find an audience at Elmwood Playhouse. But Edward Hopper, were he alive today, could not have bought a paintbrush in his hometown. Tracy Kachtick-Anders appreciated this irony when she came to Nyack two years ago. In September, Tracy opened the doors of Nyack's only art supply store.
Vincent's Ear, located at 85 South Broadway, sells art supplies, offers workshops and exhibits art. The angst that is associated with Vincent Van Gogh's life is limited to the name of the store. The space is animated by bright light from a large picture window and the warm yellow, green and orange walls are reminiscent of Van Gogh's sunflower paintings.
The multi-purpose mandate of the space is immediately apparent. You enter a room that could be a gallery, a well-stocked artist's studio, or the art room at summer camp. Artists can find a variety of the tools of the trade at competitive prices. Many of the supplies that are available are appropriate for and even packaged to appeal to children.
Reasonably priced weekly workshops for children and adults are held in the back of the store on a long wooden table. Tracy teaches two-hour kids' classes on Saturdays, which include mask making, found object sculpture and painting. The Thursday night adult sessions offer a similar curriculum along with some wine and cheese available to round out the epicurean experience.
Paintings by Sara Goodman are currently on exhibit. Her work uses a cartoon motif to explore '€œrelationships, power struggles, spirituality, and surreal secrets'€ according to the artist. Goodman's work is similar to Tracy's paintings. Both artists present figures and narratives that invoke a feeling of childlike fantasy, with a slightly foreboding tone, more like the fairy tales of the Grimm Brother's than the animation of Walt Disney. Paintings by Tracy look like what would have happened if Hanna Barbera had hired Salvador Dali.
The philosophy behind the exhibition space is not just aesthetic. Ten percent of all sales go to charity. Future exhibitions will not only support humanitarian programs, but will include the work of non-traditional artists. The next exhibition will feature work by disabled adults from Camp Venture.
Directing part of the proceeds to charity is not just an after thought for Tracy but a way of life. She is the founder of the Open Arms Campaign, a non-profit that promotes adoption of children from foster homes and champions the rights of the LGBT community to adopt. There are approximately 600,000 children in our country who are currently living in foster care. There were six more before Tracy decided to adopt. Her family portrait behind the counter is a powerful testimonial for the Open Arms Campaign.
You cannot underestimate the impact that new businesses have on our village. We don't get to choose who does business here. Larger regional and global forces drive the business cycle. But we do have an influential vote, particularly in the early days of a new enterprise. Every purchase we make is a statement about the kind of village we want. If there are aspects of the character of our village that we value, like our history as the home of some of America's greatest artists, we need to patronize small businesses that preserve that legacy.
It is out of pure self-interest that Nyack Sketch Log would applaud the opening of a neighborhood art store. But there is something in Tracy's store for everyone. If you are an artist, or know someone who is; if you would like to attend a workshop or send your kids, or if you are an adoption advocate, I have a speech for you that starts like this: Friends, Rocklanders, Nyackers, lend support to Vincent's Ear.
Artist Bill Batson, an activist and former NYC resident, draws sketches and writes essays curbside in Nyack, NY.

"Nyack Sketch Log: Vincent's Ear" © 2012, Bill Batson.
The Nyack Sketch Log is sponsored by The  Frame Shop at 40 South Franklin Street in Nyack, NY.